Costa Rica may be small, but it is jam-packed with high-adrenaline fun, furry friends, and abundant biodiversity. With so many different animals like sloths and monkeys, and tons of cool things to see, like beaches, rainforests, and volcanoes, you can introduce little ones and teens to an abundance of different wildlife and adventurous activities.
The country is perfect for a family vacation with kids. We guarantee you'll have the adventure of your life, and the whole family will remember it forever.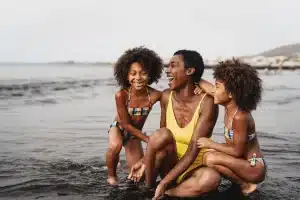 Is It Safe to Travel to Costa Rica With Kids?
Yes, it is! Visiting Costa Rica is a great idea if you're looking for a safe place to enjoy with your kids. This Central American country is considered one of the safest countries in the region, but you should consider some general recommendations to ensure safety during your trip:
Health and safety precautions:

Costa Rica is a tropical country, so take precautions against mosquito bites. Bring insect repellent, light-colored long-sleeve shirts and jeans. Avoid stomach diseases by drinking bottled or purified water.
Transportation:

Inexperienced drivers may struggle on Costa Rica's roads. Use private transportation or tours for safety. In larger cities, you can use taxis and Uber.
Activities:

Surfing, zip-lining, and rafting are popular in Costa Rica. These activities can be exciting for kids, but it's crucial to find trustworthy operators and ensure they're safe and age-appropriate. Here at

Find My Costa Rica

, we can help you ensure your family vacation with kids is safe.
Accommodations:

Before booking, explore Costa Rica's family-friendly hotels and resorts to verify that they match your needs. Renting a house or apartment can give families greater space and flexibility.
What is the best time of year to visit Costa Rica with kids?
The best time of year to visit Costa Rica with kids largely depends on your family's preferences and travel plans. Here are some things to consider:
Regarding the weather, Costa Rica has two seasons – the dry season (December to April) and the rainy season (May to November). The dry season is a popular time to visit, as the weather is generally sunny and dry, making it ideal for outdoor activities. However, prices and crowds may be higher during this time.
If traveling with school-aged children, consider visiting during school holidays to avoid disrupting their studies. You can also consider visiting Costa Rica during the wildlife viewing season. For example, sea turtle nesting season is typically from July to October, while humpback whale season is from December to April.
What Are Some Fun Things to Do in Costa Rica with Kids?
When planning your Costa Rica – family vacation, you might want to find activities that allow your children to explore the country, learn new things, and have fun. Look at this selection of the most exciting things for you and your little ones.
Wildlife Encounters
Sloths, monkeys, and colorful frogs What kid at any age—or even a 92-year-old kid at heart—doesn't want to see sloths, monkeys, and cute little colorful frogs?
Sloths are the number one thing that tourists to Costa Rica want to see, and there are several regions in the country where you can see them. Several species of rubbery dart frogs can be found if you are looking – green and black frogs, the nocturnal ruby-eyed tree frog, and the red-bodied "blue jean" frog.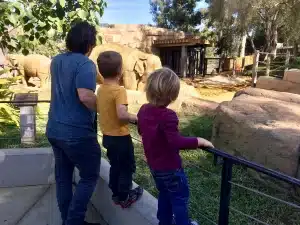 Here are some ideas to enjoy Costa Rica's wildlife:
Visit the Tortuguero National Park
Connecting with nature and witnessing wildlife in its natural habitat will be life-changing for you and your children. In the rainforest, you can find rare and unusual creatures, and during the nesting and hatching seasons, turtles call the beach their home.
Located on the Caribbean coast, this piece of heaven offers the opportunity to enjoy:
Experience comfort and natural beauty at Aninga Hotel & Spa

Take a walk on the fantastic black sand beach

Take a guided night tour

Explore the picturesque village

Learn more about turtles at the Sea Turtle Conservancy Museum

Visit Tortuguero National Park
2. Explore the Monteverde Cloud Forest Reserve
Monteverde is a must when visiting Costa Rica with kids. It has some of the most breathtaking landscapes on the planet and is also one of the most biologically diverse regions in the world.
These are some things to do with your children:
Explore a Cloud Forest Reserve and connect with nature

See the forest from a whole new perspective with a canopy tour

Take your kids on a coffee tour

Spot wildlife up close walking the hanging bridges

Learn about the different species of butterflies in the butterfly garden
3. Sloth-spotting at the Jaguar Rescue Center
Costa Rica is home to two of the six species of sloths living today. If you love these furry creatures and want to experience a lovely time with your children, the Jaguar Rescue Center is the perfect place.
Get close to wildlife and experience the unique biodiversity of the country. Take public or private tours to see sloths and other iconic animals like monkeys, birds like macaws or toucans, deer, snakes, and more.
4. Visit La Selva Biological Station
There is no better place to learn about the biodiversity of Costa Rica than La Selva Biological Station. This oasis is home to local wildlife such as:
More than 2,077 species of plants

125 species of mammals (72 of them bats)

470 species of birds

48 amphibian species

87 species of reptiles

45 species of freshwater fish
As a protected region, La Selva offers a wealth of data on the interaction between human activities and natural ecosystems. Come with your kids and live this unique experience.
Adventure Activities
Costa Rica is the right place to have unforgettable experiences. Volcanoes, rainforests, and beaches are just a few examples of the many landscapes that provide opportunities for thrill-seeking fun for your family.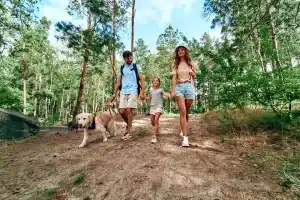 Zip-lining through the rainforest canopy
Soaring from tree to tree on sturdy cables is fun and exhilarating. Very young or timid kids can go in tandem with an experienced canopy guide. And the more extroverted kids who want to get a little zany can zip along upside down or do the "look ma, no hands" Superman pose when flashing in tandem with a guide.
Your kids will experience pure joy as they travel from platform to platform, looking for monkeys and birds. The smile just might become permanent!
2. Whitewater rafting on the Pacuare River
Whitewater rafting is wet and wild fun as you navigate a beautiful tropical setting. This is a great way to teach your kids the importance of listening to instructions given by their experienced guide and working as a team.
It takes grit and heart to paddle through thrilling whitewater rapids. River guides flip the rafts onto the bank during the break, and this makeshift table is quickly used to serve tasty fresh fruit snacks while you and your kids jump off the river bank into the refreshing water.
Bond-building and strengthening—the family that rafts together stays together! Fish On!
3. Canyoning and waterfall rappelling
What could be more fun than learning to rappel down the side of a canyon or through a refreshing waterfall? I bet that is something your kids haven't done where they live.
With beautiful settings and guides who pull out surprises, your family will indeed find this experience one of the highlights of their trip.
4. Aerial tram rides through the rainforest
Flying through the treetops on a one-of-a-kind Aerial Tram Tour, you'll get an up-close look at the forest and see nature from the heights. Travelers taking a tram ride in Costa Rica will have some of the best, most unrestricted forest views.
You should add this safe and fun activity to your Costa Rica trip.
Beach and water activities
If you're a water lover, you can't miss the chance to go fishing with your kids or enjoy the beautiful beaches Costa Rica offers. Take your kids to their first surfing lesson or to practice scuba diving.
See all the things that await you: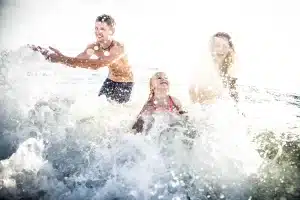 Fishing
If you are into sport fishing along the Pacific coast, you can angle for roosterfish, tuna, wahoo, dorado (mahi-mahi), and billfish (marlin, sailfish, and swordfish). Record-setting tarpon fishing is the game on the northern Atlantic coast, and there is some pretty good snook fishing.
In Arenal, you can catch machaca and guapote – a bump head bass. Also, if you like whales—and who doesn't?—two migrations of humpback whales come to Costa Rica to breed and give birth to their young along the Pacific Coast (Jan-Feb and July-Aug).
2. Snorkeling and scuba diving at Marino Ballena National Park
There is a one-day Discover Scuba Diving (DSD) experience if you want or have never tried diving and want to check it out.
With tons of shallow dive sites and year-round diving conditions along the Northern Pacific Coast, it is easy and fun to complete your kids' Open Water Diver scuba diving certification.
And they will see massive schools of grunts so thick they can swim through them, tons of eagle rays, puffer fish, eels, and many other critters. Identifying all that marine life might just put them on their way to becoming marine biologists!
3. Watch baby sea turtles hatch
It is hard work for the turtles, but you can join one of the park rangers in a small group and witness this up close. It is a moving encounter that families will never forget.
Turtle hatchlings can be seen in later months working their way back to the ocean under the light of the full moon in Costa Rica. Turtles return to the same beaches year after year; it is something all families should try to experience.
4. Surfing lessons at Tamarindo Beach
Tamarindo Beach is an excellent place for kids to learn how to surf! Its gentle waves and warm water provide the perfect environment for beginners to get comfortable on a board.
Surfing lessons are available for kids of all ages, and experienced instructors can provide personalized guidance to help them catch their first wave in the Pacific Ocean. Surfing is entertaining and teaches youngsters about ocean safety and environmental awareness.
5. Stand-up paddleboarding at Playa Samara
Want to take the kids on an exciting and educational tour of Playa Samara? Stand-up paddleboarding is the thing to do. This fun activity is an excellent way for families to take advantage of the beach's calm waves and beautiful surroundings.
Children can cruise across the water with a large, stable board and a paddle, taking in the scenery and the marine life below. Playa Samara's calm waters are ideal for paddleboarding beginners, and many experienced instructors assist them in getting started safely and enjoyably.
6. Beach hopping along the Guanacaste coast
If you're planning a family trip to Costa Rica, beach hopping along the Guanacaste coast is an adventure your kids will love! With so many stunning beaches to explore, each with its own unique character and attractions, there's something for everyone along this breathtaking coastline.
You can go swimming or snorkeling in the clear waters of Playa Conchal. The next stop should be Tamarindo Beach, a popular surfing destination known for its excellent waves suitable for surfers of all skill levels. If your family is feeling more adventurous, head to Playa Grande, a protected wildlife reserve home to nesting sea turtles.
Cultural Experiences
Costa Rica is rich in culture and history, making it a fantastic destination for families looking to introduce their children to new experiences and broaden their horizons.
From traditional dance performances and local cuisine to indigenous art and wildlife conservation efforts, there are countless opportunities for families to immerse themselves in the vibrant culture of Costa Rica.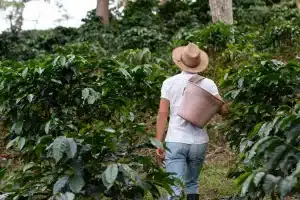 Visit a traditional Costa Rican coffee plantation
Introduce your children to the origins of the Costa Rican coffee industry. Tours to coffee farms can often be both informative and fun. From planting the beans to roasting them, you and your loved ones may experience the entire coffee-making process from seed to cup.
Some tours even offer hands-on experiences where kids can try picking and processing coffee beans themselves.
2. Participate in a traditional cooking class
Food is an essential part of Costa Rican culture, and there's no better way to experience it than through a traditional cooking class. Many cooking classes offer a fun and interactive experience where kids can learn about the ingredients used in Costa Rican cuisine and even try making dishes like casado or gallo pinto.
Plus, it's an excellent opportunity to bond as a family and share the joy of creating delicious meals together.
3. Visit the Boruca Indigenous Village
The Boruca Indigenous Village offers a unique cultural experience that your kids will never forget. Here, your family can learn about the customs and traditions of the Boruca people, including their colorful masks. It's an excellent opportunity to teach your children about preserving cultural heritage and respecting indigenous communities.
Outdoor Exploration
Costa Rica is a playground for outdoor enthusiasts, and there's no shortage of activities to enjoy with your kids. Here are a few ideas for outdoor exploration that your family is sure to love: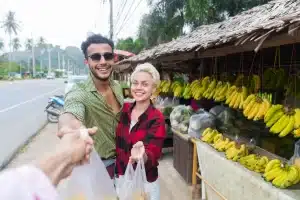 Hike to La Fortuna Waterfall
La Fortuna Waterfall is breathtakingly worth the hike in Arenal Volcano National Park. The trail to the waterfall is just under two miles, and while it's not the easiest hike, it's doable for most families.
Once you reach the waterfall, you'll have a stunning view of the cascading water and a refreshing pool. Remember to bring your swimsuits and a picnic lunch to enjoy by the water!
2. Horseback riding through the Rincon de la Vieja National Park
Take a break from hiking and explore Rincon de la Vieja National Park on horseback. Many tours offer guided horseback rides through the park, where you can spot local wildlife and enjoy the stunning views of the surrounding mountains and forests. It's a great way to connect with nature and learn about the different ecosystems of Costa Rica.
3. Explore Manuel Antonio National Park
Manuel Antonio National Park is one of the most popular tourist destinations in Costa Rica, and for a good reason. The park has some of the country's most beautiful beaches and abundant wildlife, including monkeys, sloths, and exotic birds. Stroll along the trails, enjoy a picnic lunch on the beach, or take a guided tour to learn about the park's flora and fauna.
Relaxation and family fun
Costa Rica offers both relaxation and fun for everyone. Whether you want to unwind on the beach, explore the great outdoors, or immerse yourself in the local culture, Costa Rica has it all. So pack your bags, grab your loved ones, and prepare for a family vacation you'll never forget!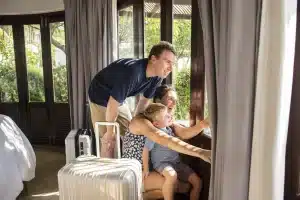 Enjoy natural hot springs near Arenal Volcano
After a day of exploring Arenal Volcano National Park, dip in the natural hot springs surrounding the area. Soak in the warm waters while admiring the spectacular views of the active volcano. The natural hot springs are a great way to relax and unwind as a family.
2. Visit an adventure park like Diamante Eco Adventure Park
Located in Guanacaste, the Diamante Eco Adventure Park offers a variety of activities for the whole family. Zip-line over the lush rainforest, walk across hanging bridges or take a thrilling ride on a Tarzan swing. The park also has a wildlife sanctuary where you can see local animals up close.
3. Family fun at Kalambu Hot Springs Water Park
In La Fortuna, Kalambu Hot Springs Water Park is an excellent spot for families to cool off and have fun. The park has water slides, pools, and even a lazy river. The hot springs are also incorporated into the water park, giving you the best of both worlds.
4. Ride the historic train on the Tico Train Tour
This historic train takes you on a scenic journey through the countryside, passing by sugar cane fields and quaint towns. The train also stops at local markets and craft shops, allowing you to experience Costa Rican culture up close. It's a great way to relax and enjoy the beautiful scenery as a family.
Practical Tips for Traveling to Costa Rica with Kids
Traveling to Costa Rica with kids can be a fun and memorable experience for the whole family. Planning is key to ensuring a stress-free and enjoyable vacation.
Here are some practical tips to keep in mind when traveling to Costa Rica with kids:
Pack appropriate clothing and gear for outdoor activities and unpredictable weather.

Choose family-friendly accommodations that cater to your needs.

Research and plan activities ahead of time to maximize your time and budget.

Pack snacks and drinks for long drives and outdoor activities.

Be aware of the local currency and exchange rates.

Learn some basic Spanish phrases to communicate with locals.

Keep a first aid kit handy and pack any necessary medications.

Follow safety guidelines and be aware of potential risks in outdoor activities.

Respect the local culture and environment, and encourage your kids to do the same.
Why Go With a Guide?
Going with a guide when visiting Costa Rica with kids can significantly enhance your family vacation experience. A local guide can provide invaluable information on the local culture, flora and fauna, and history of the area, making it a fun and educational experience.
Additionally, a guide can ensure that your family stays safe while exploring the natural beauty of Costa Rica. An experienced guide can streamline your travel plans so that you can spend more time with your loved ones and less time worrying about logistics.
Follow these tips when traveling with a guide:
Look for a reputable guide service with positive reviews and recommendations from other families.

Let your guide know the age range of your kids, any special requirements, and your interests.

Don't be afraid to ask your guide questions about the local culture, history, and attractions.

Respect your guide's time and be punctual for scheduled activities and tours.

Embrace the unexpected and be open to trying new things and hidden gems.

If you're happy with your guide's services, show appreciation by tipping or leaving a positive review.
Plan Your Trip Now!
Costa Rica is a family-friendly destination that offers various activities and experiences for all ages. Whether you're looking for outdoor adventures, cultural immersion, relaxation, or fun, Costa Rica has something to offer.
Plan your trip with Find My Costa Rica today! and prepare for an unforgettable adventure! With our expertise and personalized service, we can help you create a memorable and stress-free vacation that meets all your family's needs and preferences.