Costa Rica is known as the "green gem" in Central America and worldwide. Even though it's small, you will be amazed by how many beautiful places there are to see and experience the "Pura Vida" way of life.
Costa Rica is open to everyone, from solo travelers looking for exciting adventures to big families looking for activities in nature that are great for kids.
The ecological richness of the country contains six different ecosystems, three major volcanic mountain ranges, and 750 total miles of coastline. With these numbers, it is no wonder that Costa Rica is a top-rated ecotourism destination that everyone needs to visit at least once.
An itinerary for Costa Rica will always be exciting since it will include various activities such as white-water rafting, kayaking, scuba diving, surfing, camping, hiking, mountain biking, bird watching, and more. If you are planning to travel to Costa Rica soon or considering it as your next vacation destination, continue reading to find out the best places to visit in Costa Rica. Our local experts put together the places you can't miss.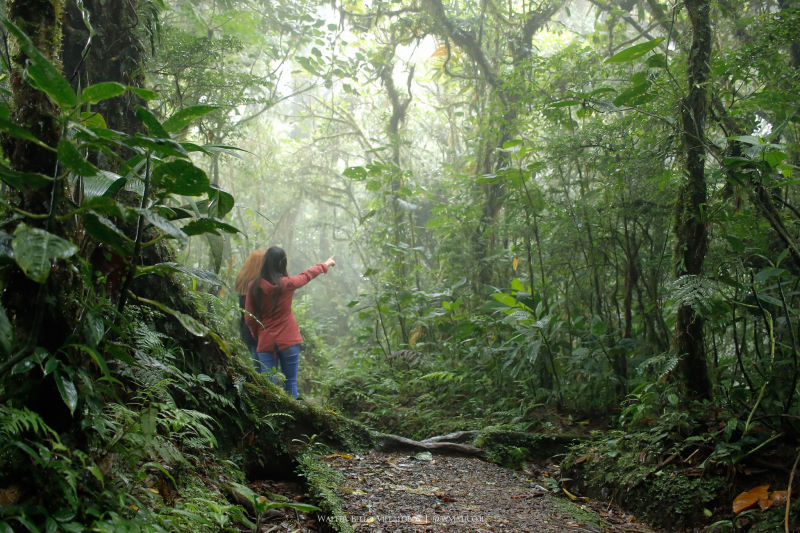 Warning note: In this article, you will find out about places that probably hadn't crossed your mind to visit on earth, including World Heritage Sites, perfectly shaped volcanoes, and beaches with crystalline water. We are not responsible for making you want to anticipate your visit and change flight tickets and reservations by telling you this. Now that you are aware, continue reading with preventive measures in mind.
Best Beaches in Costa Rica
Manuel Antonio
This is a natural paradise where the beach's allure and the forest's lushness mingle. There's a reason why more people from all over the world visit Manuel Antonio National Park than any other Protected Wildlife Area.
Because of its stunning natural beauty, Manuel Antonio Beach is widely considered to be among the best beaches in Costa Rica. The beach is especially well-liked by snorkelers, who flock there to explore the abundant marine life and pristine corals just off the shore.
Tamarindo
Tamarindo, in the province of Guanacaste, is a popular destination for tourists and locals, particularly those looking for an exceptional beachside vacation.
Playa Tamarindo, Playa Grande, Playa Negra, Playa Avellana, and Playa Langosta are all beautiful beaches that are known as some of the best places to surf in Costa Rica—making Tamarindo a popular place for both new and experienced surfers.
Aside from sunbathing, sailing, kayaking, fishing, and all beach and surf activities, there are many other things to do in town. You can try authentic Costa Rican cuisine at a local restaurant, hike or bike along a forest route, enjoy horseback riding, and play golf!
Uvita
Playa Uvita is a stunning beach on Costa Rica's southern Pacific coast. Located in the province of Puntarenas, Costa Rica, about 16 kilometers south of the famous surfing spot of Dominical.
Playa Uvita's best quality is the picturesque scenery of its estuaries and mangroves and the friendly locals and laid-back vibe of its nearby community. Since this stretch of sand is located within Marino Ballena National Park, fishing and hunting are prohibited. However, the sea is calm enough for swimming and other water sports to be enjoyed by visitors.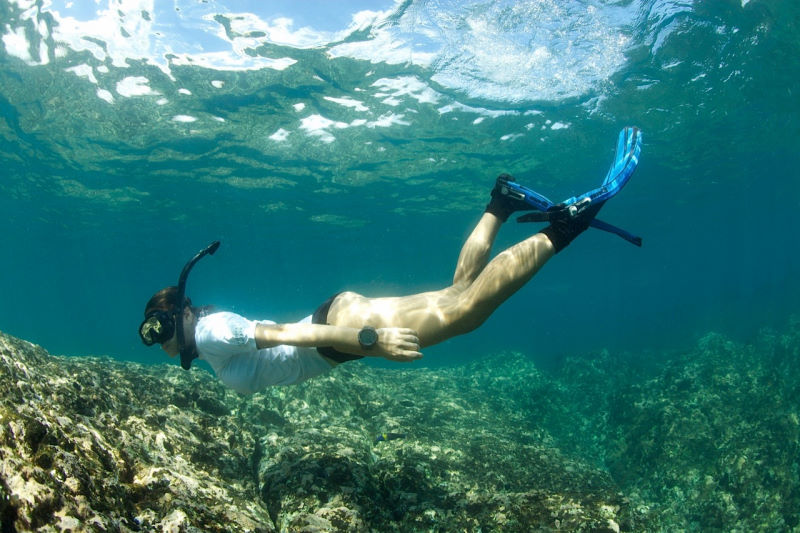 Conchal Beach
Conchal Beach is on the Pacific coast in northern Guanacaste province. It is considered one of the most exotic beaches on Costa Rica's Gold Coast. This beach is separated from Playa Brasilito by Punta Conchal, a rocky point whose name derives from the sand's composition of hundreds of millions of tiny shells.
Playa Conchal is a beautiful beach with exceptional weather virtually all year. From December to April, there are more than 12 hours of daylight. Swimming and snorkeling are possible year-round due to the pleasant temperature of the water.
Osa Peninsula
White sand beaches that stretch for miles contrast with the clear, turquoise waters. On each beach, you can enjoy spectacular sunsets. You may also find more than 400 species of birds and hundreds of different sorts of exotic mammals, reptiles, insects, and amphibians.
People who want to take advantage of the many eco-tourism options on the Osa Peninsula can choose from a wide range of exciting trips and activities. All types of water sports, including swimming, diving, and snorkeling in the Pacific's pristine seas, are ideal. Observing whales and dolphins, kayaking through tunnels or mangroves, and many other activities are available.
Puerto Viejo de Talamanca
Puerto Viejo is a rocky coastal town with a strong Caribbean flair, where you can find a mixture of Afro-Caribbean, Bribri Indian, and Tico mixed with a dose of Western peace and love vibes thrown in. It's not only their indigenous culture that makes this area a wonderful attraction; it is also their food, drink, music, and local costumes that attract many visitors, both local and foreign.
Full of beautiful beaches, this place won't disappoint. Spectacular Caribbean beaches surround downtown Puerto Viejo, and colorful corals lie offshore. Forget about your worries while you lie on the warm sand and gaze across the turquoise water.
As waves lap the shore and reggae music drifts through the air, Puerto Viejo is a dreamy destination you won't want to leave. This is one of the best places to visit in Costa Rica, whether traveling alone or with a small group of friends.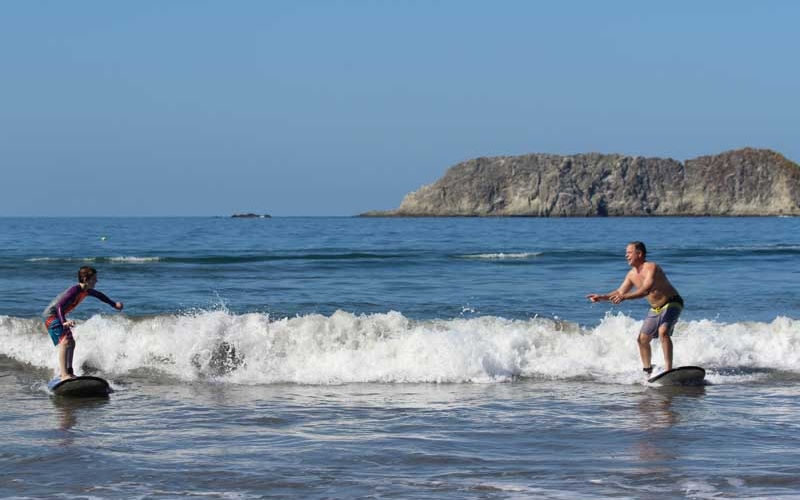 Santa Teresa
The small town of Santa Teresa is located on the southernmost tip of the Nicoya Peninsula in Costa Rica, far from any major cities or airports. Even though it's far from civilization, this beach town with a thick jungle on one side is anything but boring. It has all the hallmarks of the next big thing: trendy eateries, coworking spaces, beach parties, and a swarm of young expats.
Cahuita
Continuing with our list of the best places to go in Costa Rica, it's time to know more about Cahuita, best known for its national park and authentic cultural feel. Here you will also find vibrant coral reefs located in Cahuita National Park. With over 500 species of tropical fish and two shipwrecks, the crystal-clear water is an underwater dream for those who love to explore the aquatic world.
The tiny, grid-shaped downtown area consists of only a few blocks but packs incredible local flair. Good restaurants, a few bars, small shops, and neighborhood homes make exploring fun. Cahuita appeals to those looking to see wildlife, enjoy beaches, and, most of all, explore the local culture. If that's what you're looking for, Cahuita is where you'll find it.
Best National Parks in Costa Rica
Manuel Antonio National Park
Manuel Antonio National Park (PNMA) is located in Quepos canton, Puntarenas province. The park is south of the town of Quepos and is close to several hotels and restaurants, making it easy to get there. Even though it is the smallest national park in the country, its 683 hectares of breathtaking beauty and diverse wildlife are unmatched.
The National Park is a protected wild area with the highest number of national and international visitors. It's home to incredible flora and fauna, a mangrove, marine environments, islands, and one of the most beautiful beaches in the world. Manuel Antonio is a must-see destination for anyone traveling to Costa Rica.
Braulio Carrillo National Park
With 50,000 hectares, Braulio Carrillo National Park is one of the largest protected areas in Costa Rica and is situated in one of the country's most mountainous regions. Most of the plants in Braulio Carrillo National Park are evergreen and grow in a dense, varied forest.
The park is primarily covered by a thick forest, which is home to around 6,000 plant species, or roughly half of all documented species in the country. Numerous great activities are available, including a canopy zipline, trekking, an aerial tram tour, a butterfly garden, and more.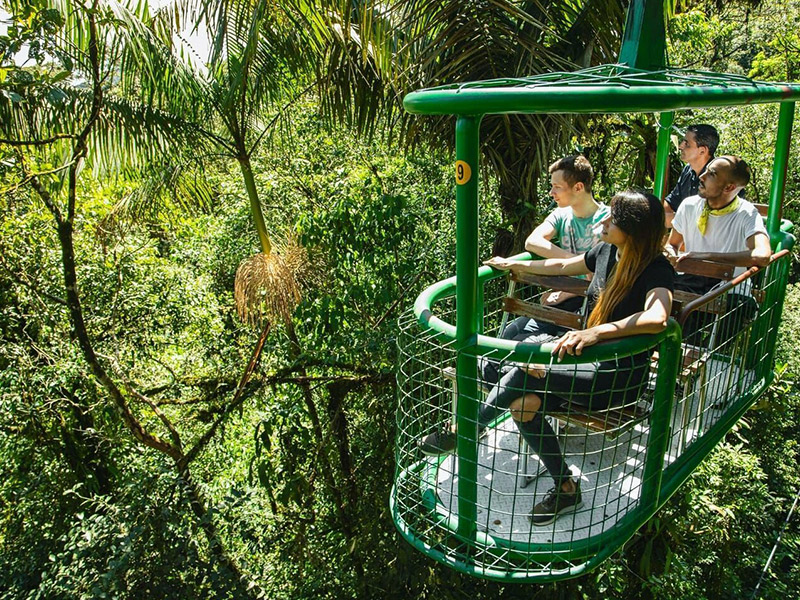 Parque Nacional Marino Ballena
Can you imagine being on a pristine beach in the shape of a whale's tail? As unbelievable as it sounds, you can find it in one of the best places in Costa Rica, the Parque Nacional Marino Ballena. This national park opened in 1989 to protect the plentiful coral reefs near the shore.
Nature works in mysterious ways. And one fascinating oddity of nature is the whale tail you can find in this maritime park. This colossal rock and sand formation is where hundreds of humpback whales gather every year. It also looks like a whale's tail.
The beach here remains relatively undeveloped compared with most beaches in Costa Rica, so bring a book along for some quiet and secluded time in a peaceful environment.
Corcovado National Park
When you set foot in this magical place, you will feel like you are in one of the famous Jurassic Park movies. Corcovado is another site in Costa Rica and one of the biggest and most remote national parks, where you'll enjoy nature without all the crowds.
Corcovado is more of a remote park than the others because it's a little more challenging to get to. However, once you're there, you'll be treated to deserted beaches, incredible hikes, and lots of wildlife and marine life. Furthermore, you'll have the opportunity to connect with nature in a place with 2.5% of the world's biodiversity.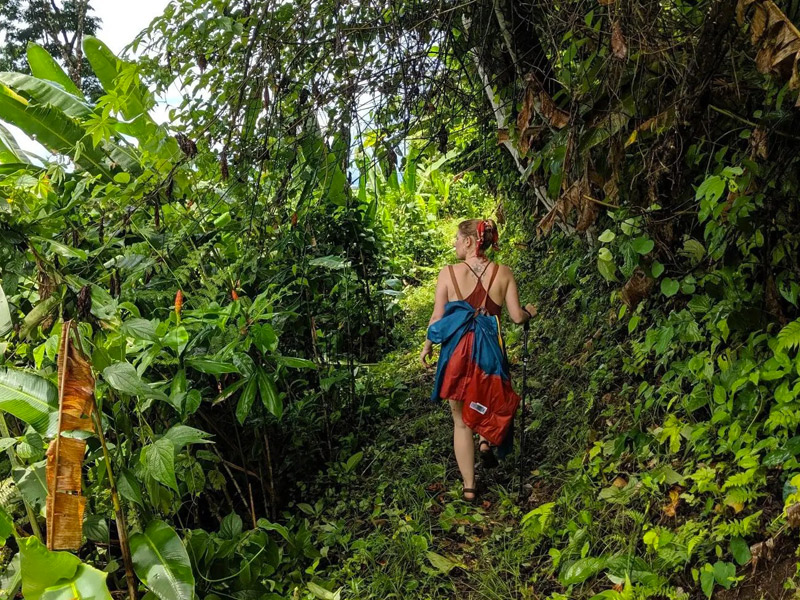 Tortuguero National Park
Believe it or not, Costa Rica has its own version of the Amazon rainforest and deserves a spot on our list of the best places to visit in Costa Rica. It is called Tortuguero, and this National Park is one of the country's top wildlife-viewing nooks. It stretches across a massive area and includes rivers and canals that crisscross the dense jungle. There are no roads in or out, and the small town can be reached only by boat or small plane.
Tortuguero is also a place where turtles go to lay their eggs. If you want to see this unique natural event, you should visit in April or May. The diversity here is astonishing. In addition to sea turtles, you'll see a half-dozen land turtles, manatees, crocodiles, and sea cows in its streams, as well as jaguars, sloths, and several monkey species in its rainforests.
The best part of any trip to Costa Rica, rainy season or not, is exploring the far reaches of this national park. You can do this on foot or by boat. And there's nothing better than doing it with a company with a long history of creating memorable experiences so that guests can experience the same sort of bliss that we have while traveling.
Best Waterfalls in Costa Rica
La Paz Waterfall Gardens
The park encompasses 70 acres (28 hectares) and is preserved as a private wildlife refuge. You'll also be able to find five well-known waterfalls. It's one of the most popular nature tours in the San Jose area and is home to Costa Rica's largest animal sanctuary.
This eco-park has many activities and attractions in the middle of a tropical forest. Connecting with nature and taking a minute to relax are two things everyone visiting La Paz Waterfall Gardens Nature Park & Wildlife Refuge will get out of their visit. Additionally, you can enjoy an abundance of hiking routes, wildlife, and waterfalls.
Nauyaca
These beautiful waterfalls are among the most popular places to visit in southern Costa Rica. Expect to experience unparalleled scenic beauty and superior services. Nauyaca is an excellent place for swimming, climbing, jumping, and watching the beauty of the tropical rainforest.
The Nauyaca Falls are situated in a roughly 80-meter-wide canyon. The waterfalls, one forty-five meters high in free fall and the other twenty meters high in staggered fall, create a pool that is one thousand square meters in area and six meters deep at its base.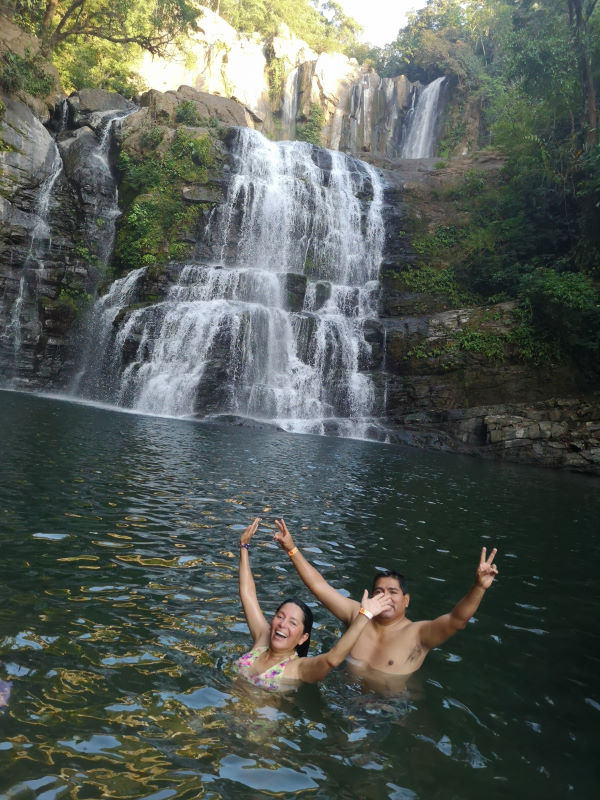 La Fortuna
La Fortuna is a small town in the north of Costa Rica. Road 142 goes through it, making it easy to get to San Jose and other parts of the country. The Fortuna River Waterfall is situated within a 210-hectare tropical rainforest nature reserve. It is 520 meters above sea level and is part of the National Park of Arenal Volcano.
There is so much to see and experience here that no matter how long you stay, you won't run out of ideas for fun things to do. This area is the perfect jungle destination, complete with incredible waterfalls, hanging bridges, zip lining, great hiking spots, white water rafting, hot springs, and its famous Arenal Volcano,
La Fortuna hides many beautiful places in Costa Rica that will astound you; this is only a partial list of activities you can do there. But in this place, anything is possible; all you have to do is let us know your mood for the day so our guides can recommend what to do and create a memorable day for you and your family or friends.
Rio Celeste
Rio Celeste is a paradise on earth. It's found in the Tenorio Volcano National Park. You can't visit Costa Rica and not see the breathtaking Rio Celeste Waterfalls. The stunningly blue waters, geothermal pools, lagoons, and rainforest walks will leave you speechless.
Legend claims that God painted the sky blue when he created the universe. After he was done, he took his brush to the river and washed it, giving the water its now-familiar blue color. If you want to learn more or experience the unique activities, don't hesitate to put Rio Celeste on your itinerary.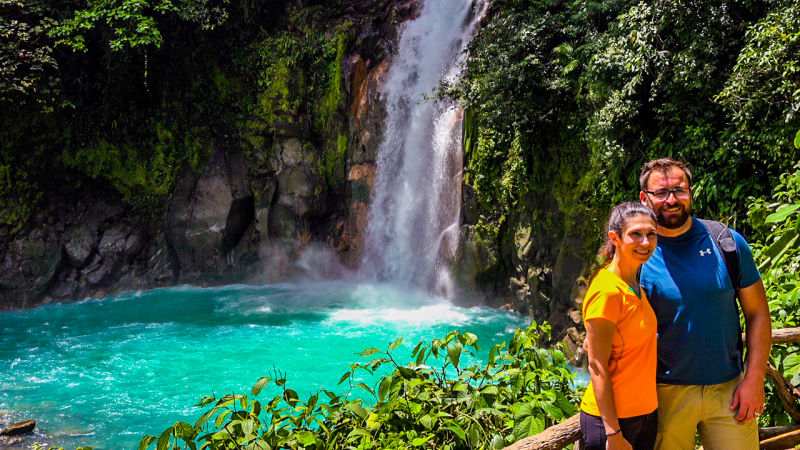 Bajos del Toro
A private reserve that is truly one of a kind is in the Central Highlands, close to Juan Castro Blanco National Park. Bajos del Toro is 40 miles from San Jose in the province of Alajuela, roughly 1000 meters above sea level. Because many homes own land with a natural feature like a river, swimming hole, or waterfall, the locals are slowly becoming more open to tourists.
Hiking is the best activity in Bajos del Toro. This rural region offers some of the most stunning waterfall treks in Costa Rica. There is not much else to do in Bajos del Toro, so if you enjoy hiking and the outdoors, this is the ideal spot.
Best Volcanoes in Costa Rica
Arenal Volcano
Arenal Volcano is distinguished worldwide for being one of the most perfect conical volcanoes, which is why we included it in the list of the best places to visit in Costa Rica. You can head to Arenal Volcano National Park and do some hiking.
You will find several excellent trails, ranging from easy to complex, which make it accessible to people of any age, from youngest to oldest. On every trail, you will admire breathtaking views of the surrounding jungle.
Irazu Volcano
The Irazu Volcano is located in the Cartago Province, 34 miles east of San Jose. It is one of Costa Rica's most visited natural attractions. You don't need to climb very far to reach the Irazu crater ridge because you are at the craters' level.
Visitors that go to the highest volcano in Costa Rica often spend the day exploring the area around Irazu because it is so accessible by car. The best opportunity to see the crater (and possibly both coasts) is between December and April, early in the morning.
Poas Volcano
Poas Volcano National Park is one of the most popular national parks in Costa Rica. Visitors can encounter a volcano in the cloud forest at an elevation of more than 2000 meters. It was established in 1971 to save the volcano, the local flora, and the wildlife.
Poás is a potent representation of the geothermal forces that shaped Costa Rica. When the mist and clouds clear, you will find a sulfuric, boiling, rain-fed green lake surrounded by fumaroles emitting smoke and steam. The best time to catch such a view is early in the morning, so check the month's forecast to see what the weather will be like.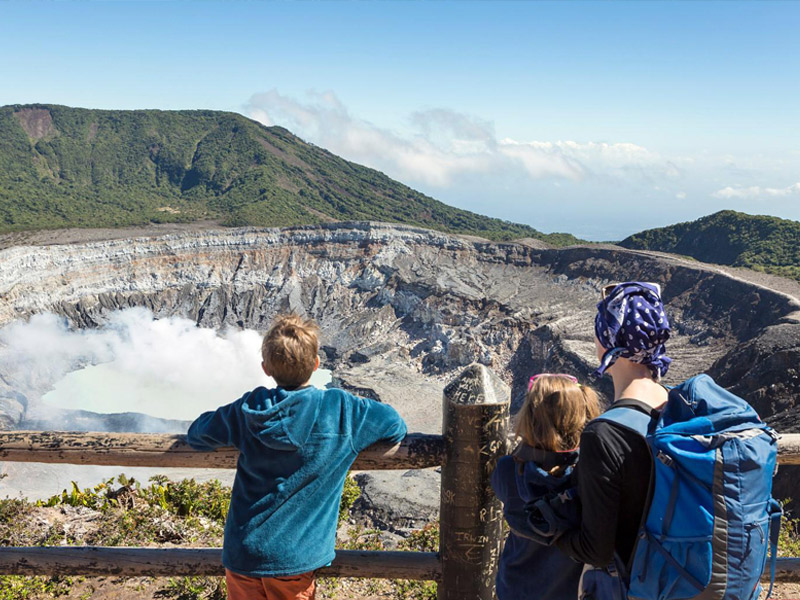 Rincón de la Vieja
Rincón de la Vieja National Park was established on October 23, 1973. It covers an area of 14,300 hectares. This national park is mainly for hiking, so you can choose a route from the available options. You can walk through the forest and see fumaroles, mud pools, water pools, a fumarolic lagoon, and waterfalls.
In a couple of hours, you can observe volcanic activity and visit a dry forest, a humid forest, a very humid forest, and a cloud forest. You can also visit the La Cangreja waterfall, which is sometimes called the "blue lagoon" because of the mesmerizing blue color it emits.
Best Cloud Forests in Costa Rica
Monteverde Cloud Forest
The Monteverde Cloud Forest Biological Reserve is an ecotourism and conservation model based on biodiversity research and education. Peace, joy, and reconnection with the fascinating natural world can be found here.
Monteverde is only three hours away from San Jose. It has 8 miles of trails available for visitors to explore independently or with a guide. The area is home to rare birds like the three-wattled bellbird and the resplendent quetzal, as well as endangered species like the jaguar, ocelot, puma, oncilla, margay, and jaguarundi.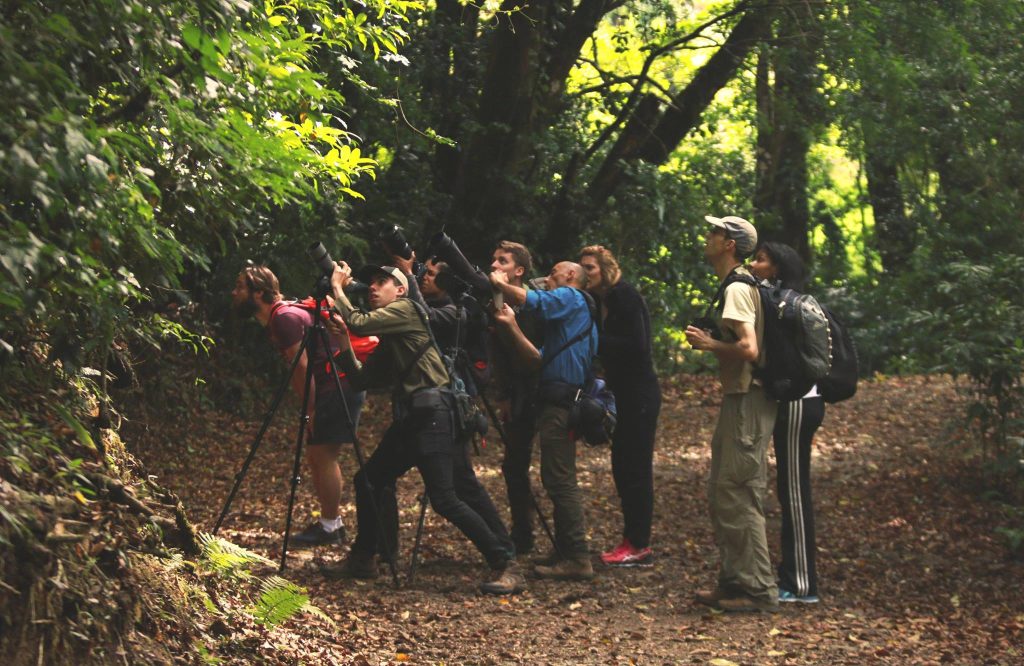 San Gerardo de Dota
San Gerardo de Dota, tucked away in the Talamanca Mountains, is a picturesque little town. Tourists flock to the area to observe some of the most common plants and animals in the region and to enjoy the beauty of the natural landscape. There are few tourists there, but it is one of the best places to get away from the city.
Final Thoughts
We warned you at the beginning: this list of the best places to visit in Costa Rica will make you anticipate your visit and extend your days to discover every inch of this dreamy destination. Either as a solo traveler or a fully packed family, everyone is welcome to share the experience of a lifetime in Costa Rica, home to approximately 5% of the species worldwide.
Contact us today to savor the best of Costa Rica and leave your dream vacation in our hands. At Find My Costa Rica, we guarantee personalized attention and multiple customized packages so you can choose the best fit for you and your needs.
FAQ:
What is the best side of Costa Rica to stay on?
When arriving or departing the nation, most travelers stay in San Jose. Also, because it's the country's capital, there are many ways to get to popular tourist destinations. However, there is a wide range of housing options in the most popular tourist destinations, so you can choose from affordable lodging to luxurious accommodations.
Keep in mind that there is no need to make the trip to the capital city if you plan to visit Liberia, as the airport is conveniently located near a number of hotels and means of transportation to the country's most popular attractions.
When's the best time to visit Costa Rica?
It depends on what types of activities you are interested in doing. Regardless, you are welcome to visit at any time of the year. It's important to remember that December through April are the months that get the least rain.