Get away from the winter blues and step into a tropical paradise! Come to Costa Rica in December for sun-kissed skies and balmy temperatures. With the start of the dry season, you can indulge in traditional cuisine, sip on refreshing tropical beverages, and bask in the warmest weather imaginable.
As you immerse yourself in the Christmas season in Costa Rica, prepare to be fascinated by the country's stunning beaches and breathtaking landscapes. Soon, you'll discover that spending the December holidays in our beloved country is an unforgettable experience.
At Find My Costa Rica, we're here to make your travel planning smooth and enjoyable. Let us help you create a dream vacation that's as unique and unforgettable as Costa Rica itself.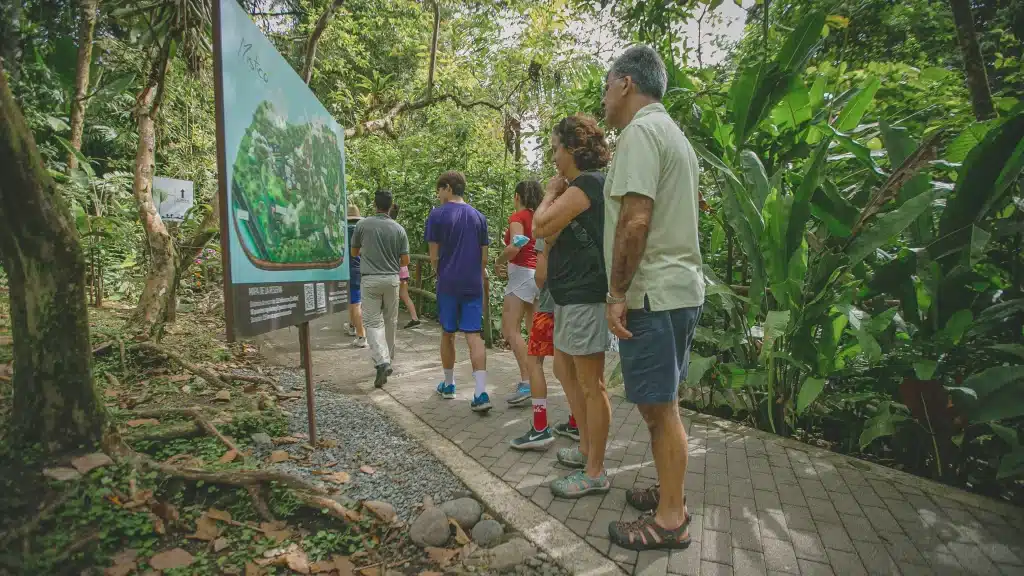 Costa Rica Weather in December
Costa Rica is a genuinely magical Central American country that enjoys great weather year-round. One of the first things you'll notice while visiting Costa Rica in December is that the rainy season leaves lush and green vegetation throughout the country. Still, you'll be able to enjoy Costa Rica's warm temperatures and indulge in many exciting outdoor activities.
The weather conditions by region
During December, Costa Rica enjoys its summertime and enters its dry season. There are usually warm and dry days, with the possibility of rain showers at the end of the month.
On the Pacific and Caribbean coasts, temperatures are generally warmer than in mountainous regions. Generally, the average temperature in coastal areas is around 80°F (30°C), while in the mountains, it's around 70°F (20°C). If you visit Costa Rica during this time of the year, you can expect high humidity levels too.
Here's what you need to know about Costa Rica's weather in December:
Pacific Coast
Weather: Warm
Temperature: The average temperature is 80.7 °F (27 °C)
Low: 72 °F (22.1 °C)
High: 90 °F (32 °C)
Central Valley
Weather: Humid
Temperature: 72.9 °F (22.7 °C)
Low: 66 °F (18.8 °C)
High: 80 °F (26.6 °C)
Caribbean Coast
Weather: Rainy
Temperature: 77.4 °F (25.2 °C)
Low: 71 °F (21.4 °C)
High: 84 °F (29 °C)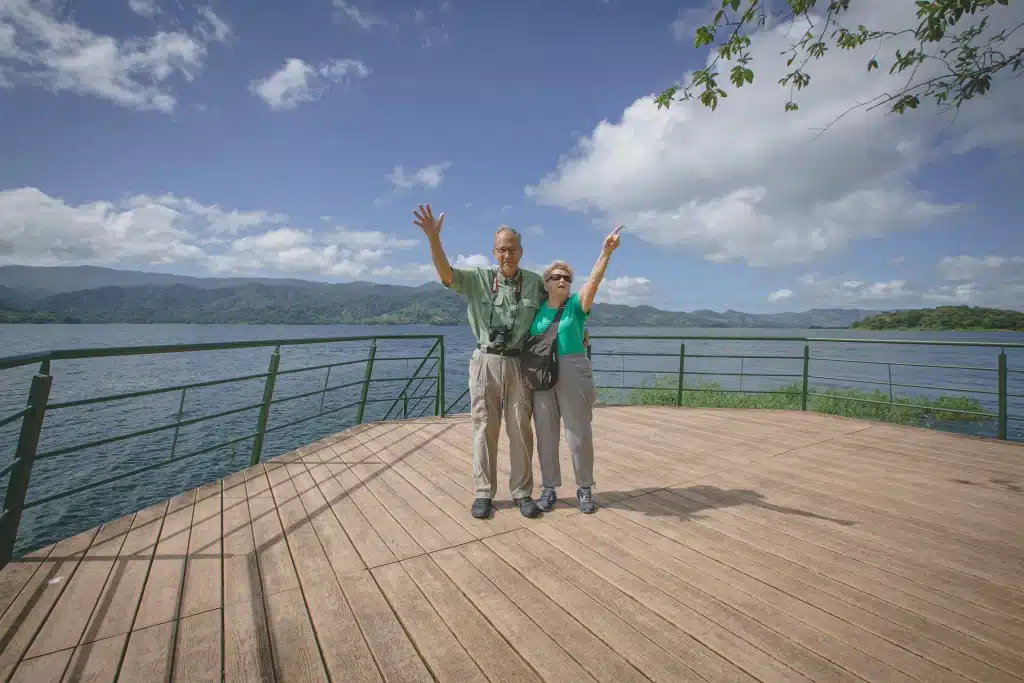 The Best Places to Visit in December
Whether you're an adventure enthusiast, a nature lover, or someone who wants to relax, a spot in Costa Rica is just right for you! To craft the perfect itinerary for a December trip to Costa Rica, you have to do your research.
To simplify the task, we've selected some of the most popular destinations that should be on your itinerary for a December trip to this vibrant country. Let's take a look!
National Parks
Costa Rica experiences a preferred climate that is perfect for making lush vegetation thrive and providing every visitor with outstanding landscapes. That's why visiting at least one of the many national parks in Costa Rica is a must for nature lovers.
Manuel Antonio National Park
Manuel Antonio National Park, a crown jewel among Costa Rican tourist destinations, teems with wildlife, including monkeys, sloths, iguanas, snakes, and an astonishing diversity of over 1,000 bird species.
When you visit the park, you can choose between wandering through its hiking trails or visiting the region's top-rated beaches like Escondido, Manuel Antonio, and Playa Espadilla Sur.
In this verdant ecosystem, you can also find numerous marine species, including moray eels, angelfish, and starfish.
Arenal Volcano National Park
Arenal Volcano National Park is a favorite among local and international tourists, boasting many outdoor activities amidst stunning landscapes.
Its most iconic feature, the Arenal Volcano, presents a perfectly symmetrical silhouette. Other park attractions extend beyond the volcano in the La Fortuna district. There's the expansive Lake Arenal, the refreshing La Fortuna Waterfall and Rio Celeste, and the renowned Tabacón Hot Springs.
Corcovado National Park
Corcovado National Park, situated on the remote Osa Peninsula in Costa Rica, is a biodiversity hotspot. The park protects rainforests, mangroves, beaches, and marine habitats. As a result of this diversity, wildlife enthusiasts can observe exotic creatures in their natural habitats.
Trails extend across the park's vast natural surroundings, making it a hiking paradise. There's nothing like a hike through the park with the Pacific Ocean as a stunning backdrop.
Tamarindo Beach
Tamarindo Beach is a popular destination in Guanacaste Province with its golden sand and clear waters. This beach resort offers everything from surfing and snorkeling to horseback riding and zip-lining.
After the sun sets, Tamarindo comes alive with an energetic nightlife scene. Watch the sunset over the Pacific Ocean while listening to live music and enjoying delicious drinks.
Playa Grande
North of Tamarindo lies Playa Grande, part of Marino Las Baulas National Park and a nesting site for endangered leatherback turtles.
In addition to its serene atmosphere, this beach is renowned for its excellent surf breaks, which are suitable for all levels of surfers. A vast expanse of sandy beach and verdant coastal vegetation provide a peaceful setting for strolls and sunbathing away from the usual tourist crowds.
Playa Matapalo
Playa Matapalo, located in Puntarenas, is an idyllic spot for those seeking tranquility. The uncrowded sands extend into the clear Pacific waters, making it an excellent location for sunbathing, swimming, and shell-collecting.
How crowded are tourist attractions in Costa Rica during December?
December in Costa Rica marks the peak travel season. Local and foreign tourists flock to popular destinations throughout the country.
In early December, San Jose, the capital, draws crowds with its parade of floats and light displays during the grand 'Festival de la Luz.' If you're seeking accommodations in town during this period, you might find them more crowded and expensive than in the rainy season.
Other regions in Costa Rica also experience higher prices and more crowds during the country's dry season. However, the vibrant atmosphere and splendid weather make visiting during the peak season highly rewarding.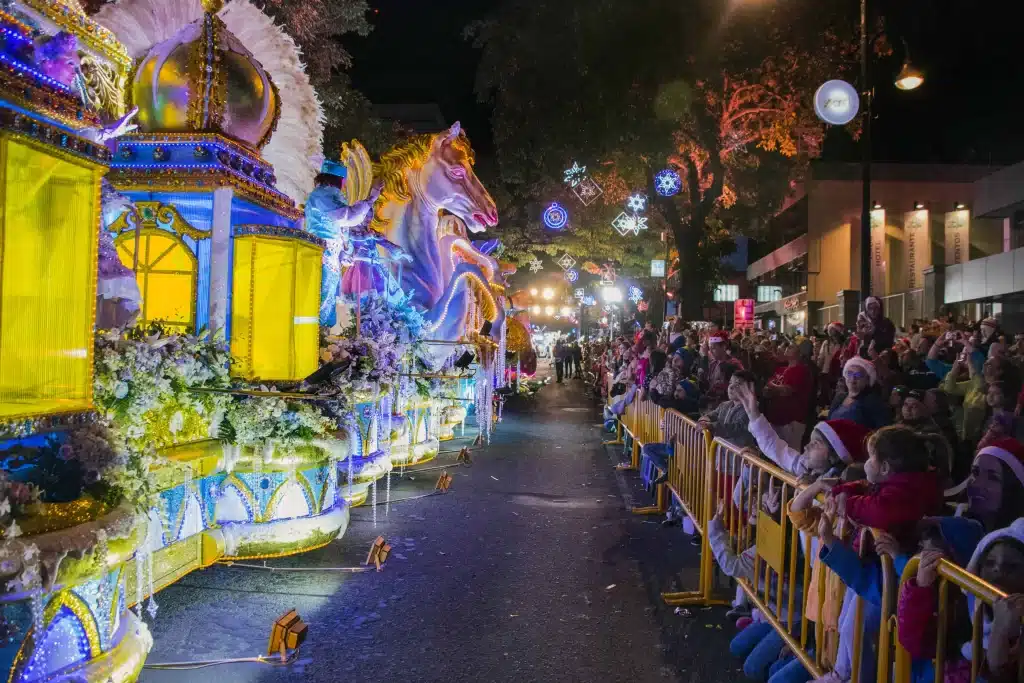 Packing Tips for December in Costa Rica
Traveling to a tropical paradise like Costa Rica in December promises an exciting adventure. However, the key to a seamless travel experience is practical packing. Ensuring you have the right items will increase your comfort and allow you to live this experience to the fullest!
Here is our top packing list to fully equip you for your journey to Costa Rica:
Lightweight clothing: Wear breathable attire to cope with Costa Rica's tropical warmth.
Light sweater or jacket: While daytime temperatures are warm, evenings can be cooler, so be prepared to layer up.
Rain gear: Don't let unexpected showers dampen your spirits; pack a lightweight, waterproof rain jacket and a travel-size umbrella.
Swimwear: If you're visiting the Pacific or Caribbean sides of the country, ensure you pack appropriate swimwear.
Appropriate footwear: Waterproof hiking shoes can make rainforest explorations and hikes comfortable. Consider water shoes for rocky beaches, river crossings, and wandering through the Costa Rican jungle. Casual sandals for beachfront strolls are also worth bringing.
Sun protection: With its equatorial sun, protection is a must. Pack sunglasses, a hat, and high-SPF sunscreen.
Insect repellent: Mosquitoes are common in Costa Rica. Therefore, insect repellent is an essential item.
Preparing for a trip can be as exciting as it is overwhelming. As you gear up for your Costa Rican adventure, remember that you're not alone. At Find My Costa Rica, we're more than just travel experts; we're fellow travelers eager to make your experience as unique as possible.
Don't hesitate to contact Find My Costa Rica. Whether you have a question about what to pack or need help crafting the perfect itinerary, we're here.