There's nothing like Christmas time. The snow starts falling, the lights shine a little brighter, and carols are heard around every street corner, but it's all a bit different here in Costa Rica.
While others wait for the first signs of snow, we wait for what we call Christmas winds, "vientos navideños", or, the ideal weather. That's when the sun starts shining after months of rainy days and the wind starts blowing harder as a result of the regional trade winds that hit the area. And to officially kick-off the season, many like to delight their culinary senses with a tamal, the epitome of the festive spirits.
The tamal, whose name comes from the Mesoamerican Nahuatl word tamalli, which means wrapped up, is a popular corn-based dish throughout Latin America. Every country has a distinguished way of preparing it and here in Costa Rica our tamales consist of cornmeal dough stuffed with pork or chicken, yellow rice (its yellow color is attributed to the use of achiote, a spice and coloring agent native to the tropical regions in America), peppers, sliced carrots, chickpeas, amongst other ingredients that get wrapped in banana leaves, tied with jute, and these are boiled until they are fully cooked. Families and friends gather throughout December to prepare and eat these. Tamales take over as breakfast, lunch, and dinner time food and are served warm and topped with our ever so famous Lizano sauce.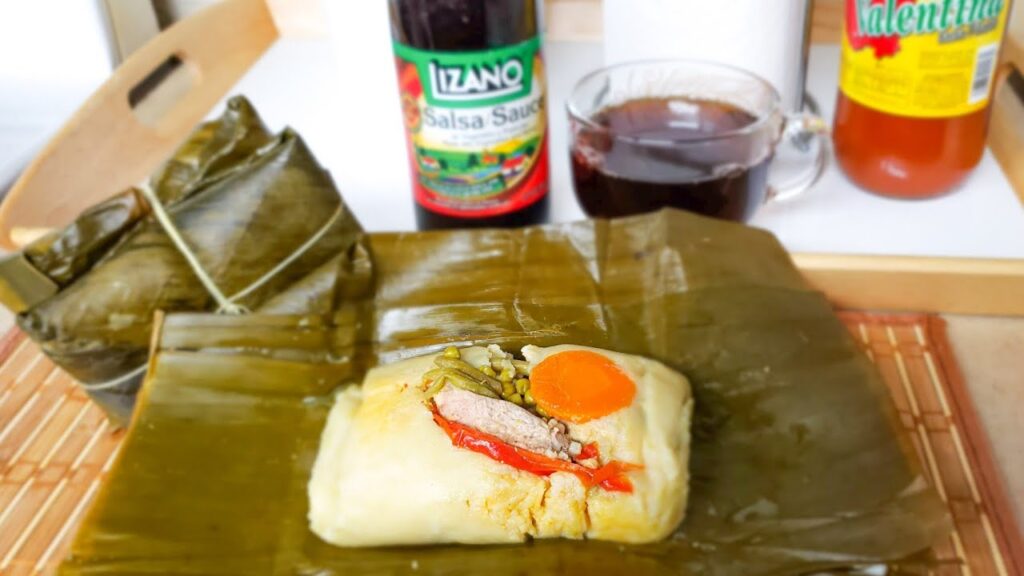 Just as families come together to prepare tamales, the traditional Christmas cakes are another reason for a festive gathering. These cakes are characterized by their fruity and alcoholic aftertaste. To prepare the cakes, candied fruits are simmered in sweet alcohol of choice (some people let the fruits simmer since July for an even richer flavor) and these are mixed in with the rest of the cake batter and dried nuts. The cakes are prepared everywhere, served even in coffee shops, and are the ultimate dessert to show up with at any Christmas celebration. 
All of these dishes are made and served since the start of the month alongside the traditional homemade sweet bread, coconut flan and accompanied with apples and grapes. The tradition of eating apples and grapes during this time of the year is all due to the fact that decades ago, these fruits were not locally grown and were only shipped in during December. Vendors sold them in the parks and after church services and people bought baskets full of these and took them home to enjoy with their loved ones. Nowadays, these fruits are cultivated in some regions of the country but they're also exported year round but, the Christmas tradition remains.
On Christmas Eve, families share the traditional Christmas dinner. Stuffed pork or tenderloin covered with cherry sauce is served along with mashed sweet potatoes, rice, vegetables, salad, and topped off with a good cup of eggnog. 
But don't you worry, because the food is just a plus to accompany the multiple activities that take over the month and even extend after Christmas day is over. 
The second Saturday in December after 6 in the afternoon, the country's capital is flooded with lights, colors, and music in the annual Light Festival (Festival de la Luz). This has been a yearly event since 1996 where companies and institutions make festive floats that parade through San Jose, the country's capital, with communal and student groups that dance, sing, and play instruments. Prizes are given out for the best performances and floats. For those that can't make it to the actual event, it is all on live television for at-home enjoyment.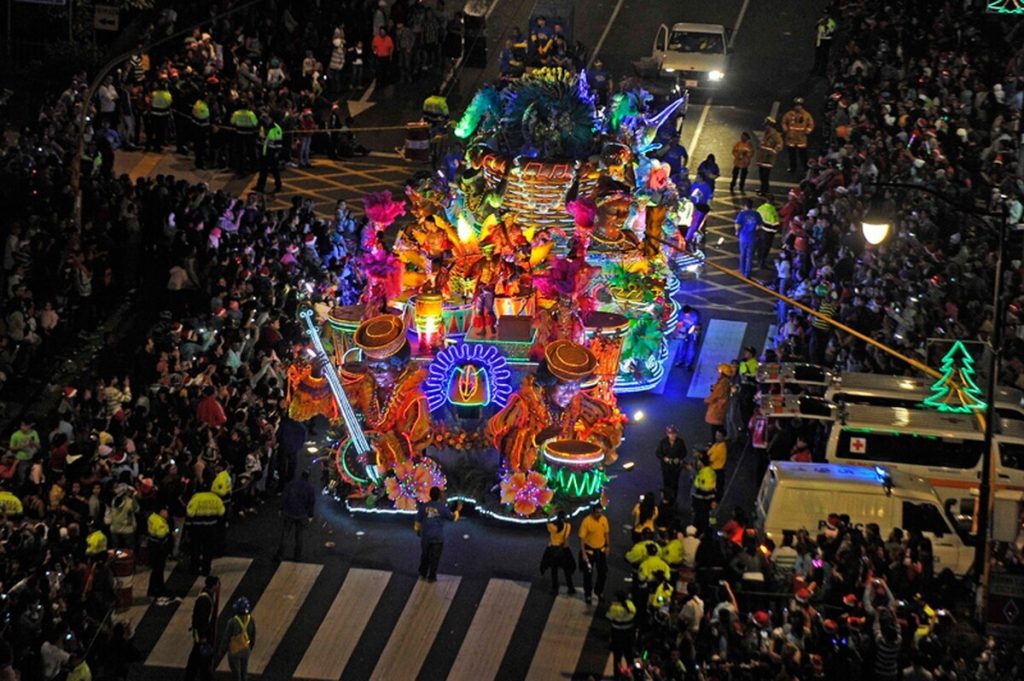 Houses are decorated with trees and covered in lights but the main attraction in a lot of homes are the big and pompous nativity sets. Catholic families all around the country set these up to represent the birth of baby Jesus. During 40 days, starting off on Christmas day, people go from house to house praying around the nativity set in what is known as "The Child's Prayer". Tamales, coffee, homemade bread and other dishes are offered to the Child, baby Jesus, and blessings are expected amongst those who gather around and pray. The food and the prayer are usually accompanied by Christmas carolers alongside guitars and accordions.
On Christmas Day, the traditional Tico Bullfights begin. This is a party for everyone where improvised bullfighters show off their skills in an arena where hundreds of people gather to watch but,  unlike the Spanish tradition, the bulls are not killed. It's not the fancy attires and capes but the music, games, and dances that accompany the bullfights that bring together people from all over the country. These events are televised every night for people to watch at home and they officially end the first weeks of January.
Tamales, cakes, parades, and lights announce the beginning of the month of December and the end of another year. Learn more about our traditions and come celebrate. Maybe it's not the traditional Christmas that you are used to, but with all the colors, parties, lights, food and music that overflood the country, we can assure you that you will have a pura vida Christmas and an unforgettable New Year!