Costa Rica is a dream destination for honeymooners. The country offers an idyllic setting for newlyweds to enjoy the beauty of nature, with its tropical forests and mountains.
One of our favorite things about our country is that there are so many different resorts that cater to every kind of traveler. Whether you want boutique resorts or a more low-key place where you can relax and enjoy nature, there's something out there for everyone!
Costa Rica is one of the most visited countries in Central America. The climate is warm all year round, making it an ideal holiday destination for couples who want to spend their honeymoon in a country with clear blue skies and warm sunshine.
If you're looking for the most romantic honeymoon package in Costa Rica, you've come to the right place. We specialize in helping couples find the best honeymoon destinations.
We know that the idea of planning a honeymoon can be overwhelming. There are many things to consider, from the all-important destination to the ideal activities to locating the best honeymoon resorts. We're here to help you narrow your options and ensure your romantic Costa Rica honeymoon is everything you imagined.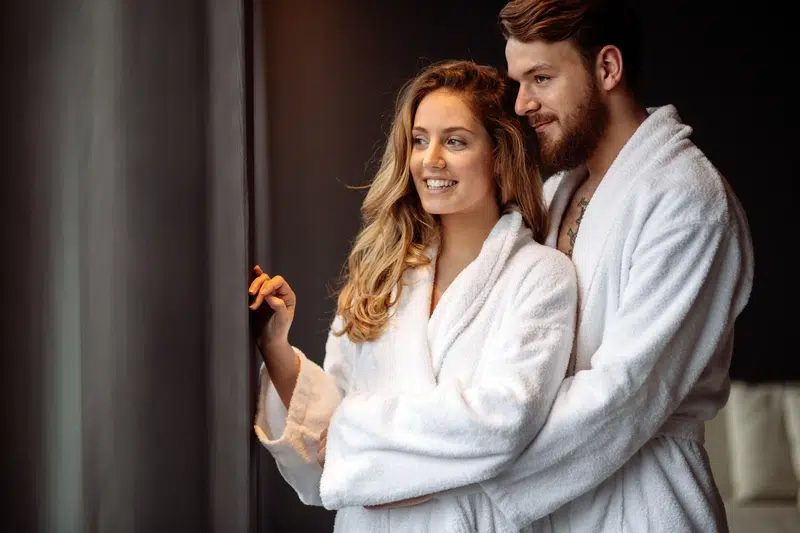 Things to Do During a Costa Rica Honeymoon
Honeymooning in Costa Rica is a magical experience. It's a chance to reconnect with your partner, immerse yourself in nature, and explore a new culture. Nature's wonders and lush terrain make this country a haven for one-of-a-kind experiences.
Here are some of our recommendations for your Costa Rica honeymoon:
Whitewater rafting
Challenge yourselves with an exhilarating white-water rafting excursion on the Pacuare or Sarapiqui rivers. Navigate through thrilling rapids and witness the mesmerizing beauty of the surrounding landscapes.
Snorkeling and scuba diving
Discover the vibrant underwater world of Costa Rica by snorkeling or scuba diving in spots like the Catalina Islands, Isla del Caño, or the Gandoca-Manzanillo Wildlife Refuge. Immerse yourselves in a kaleidoscope of colorful fish, coral reefs, and marine life.
Food experiences
Embark on a culinary adventure during your honeymoon and immerse yourselves in the tantalizing flavors and aromas that define Costa Rican cuisine. From rich, smooth coffee to creamy chocolate, prepare to have your taste buds captivated by the country's exceptional food experiences.
Go on a hike
Hiking is a great way to get out into nature and enjoy peace and quiet with your spouse. You can see beautiful views and learn about Costa Rica's flora and fauna along the way!
Visit Arenal Volcano National Park
Honeymoons are all about exploring new things, so why not take advantage of this opportunity by visiting one of the most famous national parks in the country? You'll get an up-close look at nature without traveling too far from San Jose.
Take a boat tour around Tortuguero National Park
This park is known for its lush rainforest and beautiful waterways—it's even home to some of the oldest living trees in the world and sea turtles.
Indulge yourself at Tabacón Thermal Resort
This is one of the country's most popular honeymoon natural hot springs, with a great view of Arenal Volcano and a bunch of other volcanoes nearby. It also features an incredible spa, luxury suites, and a swimming pool where you can relax after a long day.
Stay in an all-inclusive, romantic resort
This is a great place to start if you're looking for white sand beaches, clear water, and warm weather in the Pacific Ocean! Many honeymoon resorts offer exclusive amenities, including a private villa with a private hot tub, a private pool, a gourmet restaurant, spacious suites, spa treatments, spectacular ocean views, and much more.
Some of the most popular places are Cala Luna Boutique Hotel & Villas, Rio Perdido Hotel & Thermal River, The Royal Corin Thermal Water Spa & Resort, and Savegre Hotel Natural Reserve & Spa.
What to Pack for a Costa Rica Honeymoon
Costa Rica is known for its beautiful beaches and stunning landscapes, so it's no wonder resorts in Costa Rica are a popular destination for honeymooners.
Costa Rica honeymoon resorts are the perfect choice for your romantic getaway. The country is the ultimate tropical paradise with its lush rainforests, exotic wildlife, and white sandy beaches. You'll be surrounded by natural beauty that inspires you.
But before you go, there's one thing that you need to do: plan ahead! It's easy to get caught up in the excitement of planning a trip for your honeymoon, but if you don't take time beforehand to ensure that you have everything covered, things can get pretty stressful.
Whether you're looking for honeymoon resorts in the mountains or on one of the many gorgeous beaches, there are some things you should consider packing in your suitcase!
The following items will help ensure that you have a memorable vacation in Costa Rica:
Camera: Take pictures of the beautiful scenery and wildlife, as well as selfies with your partner!
Swimsuit: You'll want one that's comfortable and stylish.
Sunscreen: Pack plenty of sunscreen; the country is known for its sunny weather and beautiful beaches.
Hat: A hat is essential for protecting yourself from the sun's harmful rays while enjoying outdoor activities such as zip-lining or kayaking.
A beach towel: It's always better to have more than one because they can get wet or dirty easily. That way, if something happens to one of your towels, you'll still have another one to use.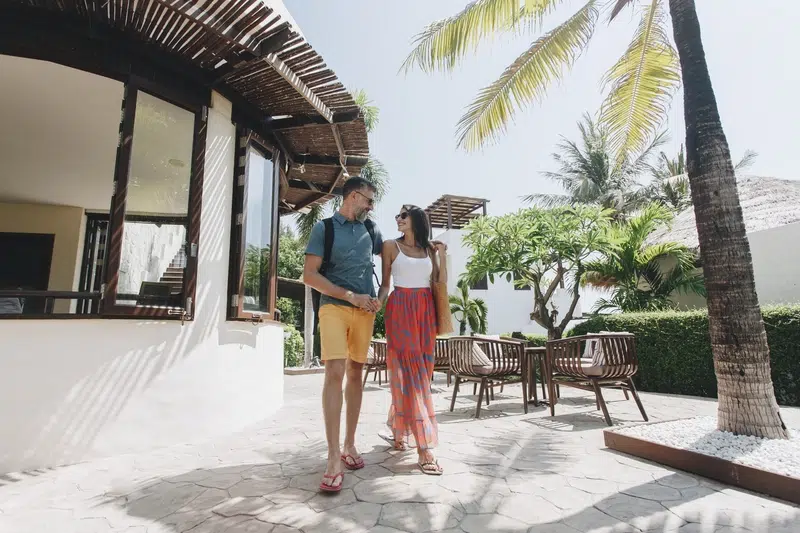 Budget and Average Costs
Costa Rica is a country that has it all: lush rainforests and rich cultural traditions. From the capital city of San Jose to the laid-back beach towns along the coast, you'll find abundant things to do.
Planning your honeymoon in Costa Rica is a fun and exciting process. But you don't want to get caught up in the details. That's why we've created this guide to help you plan your budget for your honeymoon stay in one of the many luxurious resorts or private villas.
Manuel Antonio National Park and Arenal Volcano are two of Costa Rica's most popular destinations for a memorable honeymoon. The average cost of a hotel room in Manuel Antonio National Park is USD 300 per night, while the average price of a hotel room in Arenal Volcano is USD 250 per night.
Additionally, you can choose other locations that offer exceptional experiences for a memorable honeymoon. You can stay at the Andaz Costa Rica Resort at Papagayo Peninsula, Santarena Resort at Las Catalinas town, or any other adult-only resort.
The average cost of an all-inclusive resort varies depending on the season. For example, during the low season, accommodation for a couple for 7 nights can cost between 1700 and 5500 dollars.
You can check our exclusive packages to start planning your honeymoon in Costa Rica:
Suggested Itinerary
Costa Rica is a land of breathtaking natural beauty. We know you've dreamed of your Costa Rica honeymoon for a long time. That's why we put together an itinerary so you can see what it's like to stay at one of Costa Rica's honeymoon resorts.
Here's our suggested itinerary for your romantic stay:
8 Days, 7 Nights Luxury Honeymoon in Arenal, Monteverde, Manuel Antonio & San Jose
Day 1: 1 night at San Jose Hotel
Arrival at the international airport in San José.
Transferred to your hotel.
Overnight in San José Hotel.
Day 2 & 3: Arenal Volcano National Park
Enjoy a leisurely breakfast at the hotel.
Private transfer to Arenal National Park, where you will hike through the pristine rainforest and take in stunning views of this active volcano.
Enjoy other amazing activities like horseback riding, zip-lining, and more.
Day 4 & 5: 2 nights at Monteverde Cloud Forest Hotel
Enjoy breakfast at the hotel before leaving the majestic Arenal.
Private transportation to Monteverde.
Choose adventures like Canopy Zip-lining, Butterfly and Hummingbird gardens, Or Guided Cloud Forest walks with a coffee tour.
Day 6 & 7: 2 nights at Manuel Antonio Beach Hotel
Private transportation to the stunning Manuel Antonio.
Check into your seaside hotel.
Enjoy the afternoon relaxing on the Pacific coast.
Overnight at the seaside hotel.
Private transfer from Manuel Antonio to San José
If you're looking for a honeymoon that's anything but ordinary, Costa Rica is calling your name. Our country has it all; lush rainforests, stunning beaches, and more wildlife than you can imagine. When you soak up the sun on your honeymoon in Costa Rica, you'll be treated to warm ocean breezes, crystal-clear waters, and a lot of adventure.
6 Days, 5 Nights of Honeymoon & Romance in Santarena, Las Catalinas
If you want a romantic getaway, this is the place for you! This package includes:
Liberia International Airport to Guanacaste Hotel
5 nights at Santarena (Moderate Room)
Guanacaste Hotel to Liberia International Airport
2 x 60-minute massages during your stay
1-Day Multi-Sport Adventure Pass (Kayaks, Stand up Paddle board, Boogie Board, Mountain Bikes, Snorkeling)
Guided Hike – Las Pailas, Oropendola Waterfall & Río Negro
Picnic basket with a bottle of wine for two to enjoy the sunset on the beach (fruits, juices, dessert)
Treetop Canopy Zip Line Adventure
Plan Your Romantic Paradise Getaway in Costa Rica With One of Our Packages!
One of the most romantic places on earth is Costa Rica. From the lush, natural beauty of this country to its rich cultural history and friendly people, it's no wonder that couples worldwide are flocking to Costa Rica for their honeymoon.
If you're looking to add a little extra romance to your vacation, we can help! We'll make it easier to plan your romantic paradise getaway. When you book one of our fabulous packages, you can rest assured that everything is taken care of for you.
Our packages make it easy to plan your trip and ensure you have everything covered, including the best honeymoon resorts and activities. You'll get all the information you need about the trip before you go, so there are no surprises.
Whether you want to relax on the beach, explore the jungle, or just spend some time in nature with your sweetie, we've got something for everyone! Contact Find My Costa Rica today, and let us help you plan an amazing Costa Rican Honeymoon vacation with your significant other.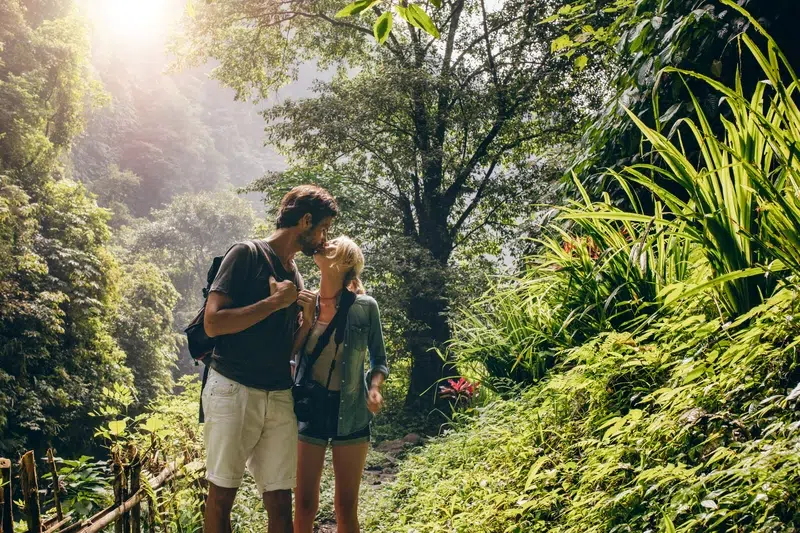 FAQ:
How expensive is a honeymoon in Costa Rica compared to the US?
Honeymoon destinations in Costa Rica are affordable and fun. Costa Rica is one of the world's most biodiverse countries. It has two coasts that offer tropical beaches and surf breaks, rainforests and cloud forests, volcanoes, and waterfalls.
Most resorts cost around USD 300 per night, and some of the top Costa Rica honeymoon resorts are between USD 400 and USD 1,000.
What is the best time of the year to go on a Costa Rican honeymoon?
Costa Rica has a dry season and a wet season. The dry season is perfect for hiking through the rainforest or exploring the bees in Costa Rica. Nonetheless, the country has tropical weather year-round, making it the ideal destination to travel to almost any time of the year.
Still, the best time of year to go to honeymoon resorts is December through March. That's when the weather is warm and sunny but not too hot, making resorts in Costa Rica the perfect place to stay during your getaway.
What is the most luxurious part of Costa Rica for a honeymoon?
If you're looking for Costa Rica honeymoon destinations, our local experts can help.
The Four Seasons Resort Costa Rica at Peninsula Papagayo boasts 15 hectares (37 acres) of oceanfront property. In addition to its wonderful amenities, this luxury resort also offers guests access to a nearby golf course and other activities.
But you can choose from a huge variety of options all around the country.
Is it better to do an all-inclusive honeymoon in Costa Rica or not?
The choice between all-inclusive honeymoon resorts can be difficult for first-time honeymooners. The best way to make this choice is to consider what kind of experience you are looking for.
Going to Costa Rica without the help of an all-inclusive plan might be more exciting if you're thinking about an adventure. However, if you prefer relaxing honeymoon destinations where you can focus on each other without distractions, then an all-inclusive Costa Rica honeymoon might be better suited for your needs.
How many days is enough for a honeymoon in Costa Rica?
When planning your honeymoon in Costa Rica, it can be hard to know exactly how much time you'll need. You want to make sure you have enough time to relax and enjoy each other's company, but you also want to make the most of your trip and see as much as possible.
Luxury resorts have so much to offer. From the beaches of Tamarindo to the rainforest of Manuel Antonio—and everywhere in between—there is much to see and do. You can't possibly fit everything into one short vacation, but you can make some memories that will last a lifetime. We recommend you stay at least one week and up to three weeks if you have the time.
Is Costa Rica safe for travelers?
Costa Rica is a safe destination for travelers. In fact, this country has one of the lowest crime rates in Latin America and the Caribbean. You can visit San Jose or walk around its beautiful beaches with confidence and security. The country has an excellent police force that works hard to keep travelers safe.