Halloween is widely celebrated worldwide and is known for its spooky costumes, trick-or-treating, and pumpkin carving. However, if you find yourself in Costa Rica on October 31st, you are in for a unique and culturally rich experience.
Costa Rica has its own way of celebrating this day, which differs from the traditional Halloween festivities you might be accustomed to.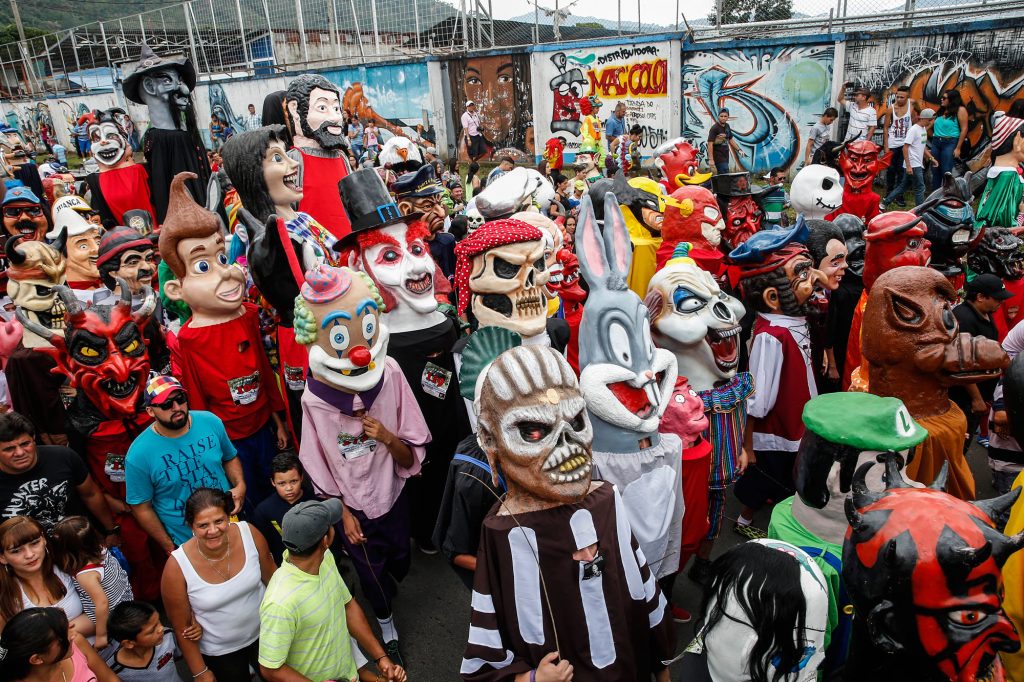 How Do They Celebrate Halloween in Costa Rica?
In Costa Rica, like in other countries in Central America, Halloween is not traditionally celebrated. Instead of spooky costumes and trick-or-treating, Costa Ricans celebrate "el día de la mascarada" or "masquerade day."
This national cultural holiday takes place on October 31 and celebrates Costa Rican culture and heritage. This is celebrated on Halloween, two days before All Saint's Day (also known as El Dia de los Muertos), a Catholic holiday.
El día de la mascarada
This is a colorful parade of giant masks accompanied by an authentic local tradition that could be traced back to the pre-Colombian customs, carnival, and depiction of giants during the period of Spanish Colonization.
People with giant costumed puppets and oversized paper mache heads march the streets. They are always accompanied by small music bands known as cimarron, whose skills are usually revered by the locals. Members of the Cimarron band are self-taught because there are no scores to read, so each member learns by ear.
The celebration is a fun, multigenerational family event that people of all ages enjoy.
History of Masquerade Day
The masquerades in Costa Rica go back to the pre-Columbian era when the indigenous inhabitants celebrated their parties with masks, a tradition that has remained popular and has led to numerous popular celebrations throughout the country.
In 1996, the government of Costa Rica signed a decree declaring October 31 of each year the Day of the Traditional Costa Rican Masquerade, with the primary objective of promoting knowledge of the different cultural manifestations as a contribution aimed at recovering and consolidating the cultural identity of the Costa Rican being.
Today, Masquerade Day is a way for Costa Ricans to celebrate their cultural heritage and pay homage to their indigenous roots.
Costa Rica's National Day of Masquerade is a beautiful event that combines all the eclectic attributes that have created this unique country.
The significance of the Costa Rican masks
The masks worn during masquerade day are a key element of the celebration. They are handmade from paper mache and painted with bright colors.
The designs of the masks are often inspired by traditional indigenous masks and can represent animals, mythical creatures, or historical figures. The masks are worn with colorful costumes and are used in dances and parades during the celebration.
How to Participate in Masquerade Day Celebrations
If you visit Costa Rica and want to participate in Masquerade Day celebrations, you should know a few things. First, it is essential to understand that this is a cultural event, and it is important to be respectful and mindful of local customs and traditions.
Here are some tips for participating in Masquerade Day celebrations:
Learn about the history and significance of the festival: Understanding the cultural value of Masquerade Day will enhance your experience and help you appreciate the event more fully. This is an authentic local tradition, with people showing their mask-making skills and celebrating pre-Colombian customs.
Dress appropriately: While tourists don't need to wear a traditional costume or a Costa Rican mask, it is important to dress respectfully and appropriately for the event.
Participate in the festivities: Join dancing, try the traditional food, and enjoy the music. This is a celebration, so have fun!
Where is the best place to celebrate Halloween in Costa Rica?
Masquerade Day is celebrated throughout Costa Rica, but some towns and cities have larger celebrations than others. Cartago, Escazu, and Barva de Heredia are known for their large and lively masquerade day celebrations.
If you are in San Jose, the capital of Costa Rica, you can also find celebrations in the city center and surrounding neighborhoods. It's important to note that some local businesses may celebrate Halloween parties in the American way, with Halloween costumes.
Let Us Help You Create a Memorable Experience!
Celebrating Halloween in Costa Rica is a unique and culturally rich experience. Instead of the traditional Halloween festivities, you can participate in masquerade day celebrations and learn about Costa Rican culture and heritage. Remember to be respectful and mindful of local customs and traditions, and most importantly, have fun!
At Find My Costa Rica, we are a tour operator specializing in creating personalized experiences for our clients. Whether you want to participate in Masquerade Day celebrations, explore the natural beauty of Costa Rica, or relax on the beach, we can create a custom itinerary that is perfect for you.
Contact Find My Costa Rica today to start planning your dream vacation!