Costa Rica is the place to go for your next family vacation. Whether you're looking to go on a cruise with your kids or want to enjoy a relaxing beach holiday, Costa Rica has what you're looking for.
With its diverse landscapes and rich wildlife, this is one of the most biodiverse countries in Central America!
Although Costa Rica is a small country, traveling on its roads can be time-consuming. Therefore, the best thing to do is list the top destinations you would like to visit. You can select outdoor adventures in a rainforest or cloud forest, a beach town on the Caribbean coast to take surf lessons or even a place with both.
Would you like to plan your Costa Rica family vacation? If so, let's get into the details!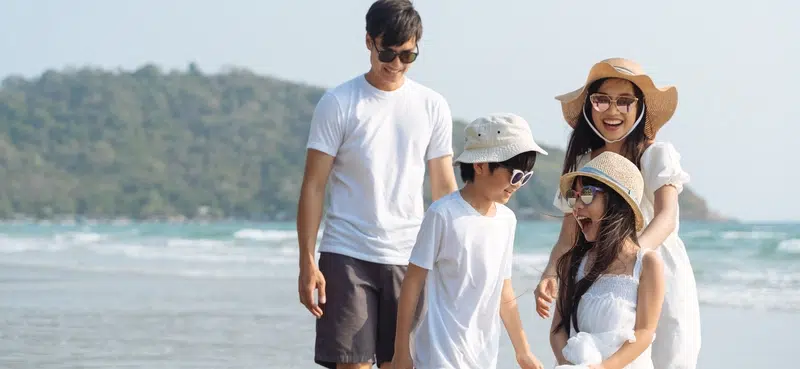 What Can a Family Do in Costa Rica?
There are many eco-lodges, all-inclusive family resorts, beachfront condos, and more. So, rest assured that your Costa Rica family vacation will provide you with a taste of the Costa Rican lifestyle.
All our tours and packages are designed to give you an unforgettable vacation experience while also giving your family a chance to bond, learn more about each other, and explore new places together.
Everything you can think of is available, from canopy tours and hiking tours that take you through lush rainforests to beachfront excursions that make you feel like you're on another planet. If you want to go whitewater rafting through a national park or snorkeling at a coral reef, you've got those options too!
During your trip to Costa Rica, you'll be blown away by its natural wonders and all the beautiful things the country has to offer!
Is It Safe to Go to Costa Rica With Kids?
Yes! Costa Rica has many attractions that make it a perfect destination for adults and kids alike, from national parks to great restaurants to outdoor activities. This is also a very safe country overall. If you're looking for an adventure-filled vacation with your children, this is the place to go!
Our country is full of natural beauty and adventure, and there are so many ways for your kids to experience it all. Whether you're looking for a relaxing beach vacation or a big-time adventure, we've got the perfect solution for your Costa Rica family trip.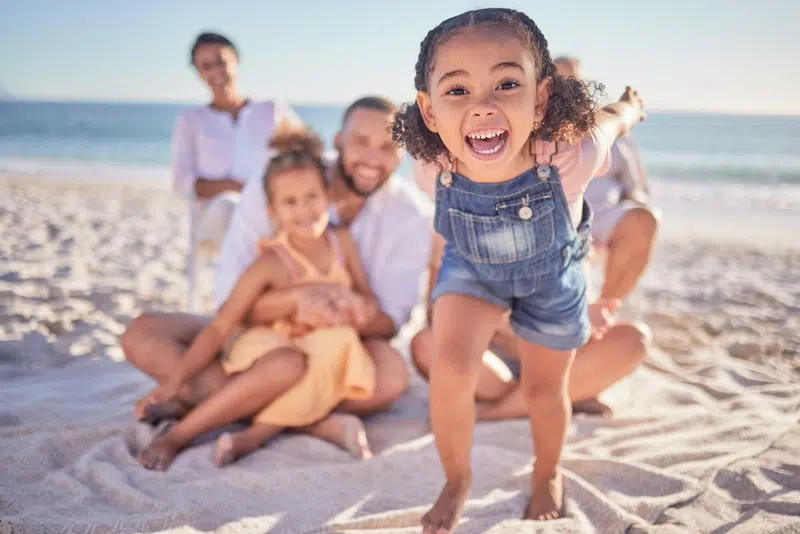 Best Things to Do in Costa Rica With Kids
Costa Rica is home to an incredible diversity of wildlife, and it's just as famous for its pristine beaches, national parks, and tropical forests as it is for its rich culture and exciting cities.
There's no shortage of things to do with kids in Costa Rica. Whether you're looking for adventure or relaxation, there are plenty of things to do with your family that will make this trip one to remember.
You can go bird watching, zip-line through dense forests, take a boat ride down an active river, hike through an active volcano and waterfalls, walk on hanging bridges, learn about sea turtles, or relax by the beach.
Here are some of the things you can do during your family vacation:
Butterfly Garden in Monteverde
Step into a world of vibrant colors and graceful fluttering at Monteverdes' extraordinary butterfly garden in Costa Rica. Designed to delight kids and families, this enchanting sanctuary is home to over 30 species of Costa Rican butterflies, each more fascinating than the last.
Bird watching
Costa Rica is a paradise for bird enthusiasts, boasting an astonishing variety of exotic birds that call its lush rainforests, misty cloud forests, and coastal mangroves home. Share the joy and excitement of discovery as you witness these magnificent creatures in their natural habitat, forging memories that will last a lifetime.
Join a chocolate tour
Embark on a chocolate journey in Costa Rica—an adventure that tantalizes taste buds and creates cherished memories for kids and families alike. Join us on a chocolate tour and immerse yourself in the irresistible world of cocoa, where sweetness and discovery await at every turn.
Coffee tours for the family
Embark on a delightful coffee adventure in the heart of Costa Rica, where the rich aroma and flavors of this beloved beverage come to life. Perfect for kids and families, coffee tours offer a captivating experience that combines education, fun, and, of course, delicious coffee.
Zip-lining tours at Arenal Volcano with breathtaking views
Several trails lead to different areas and sights within the park, including the crater lake and its surrounding wildlife. Explore the lush tropical rainforest by taking a hanging bridge tour!
Enjoy the beach at Manuel Antonio National Park!
During the tour, you will have the opportunity to see breathtaking panoramic views. You can enjoy activities ranging from ATV tours to whitewater rafting to scuba diving.
Safari and jungle tours
Get away from the ordinary and into something extraordinary with safaris and jungle exploration tours. You'll spot monkeys playing in trees, collared peccaries, ocelots, jaguars, and even toucans flying overhead.
Also, the country's landscape is unique and diverse, with a wide variety of terrain to explore, from mountains to beaches, making it one of the best places in the world for horseback riding.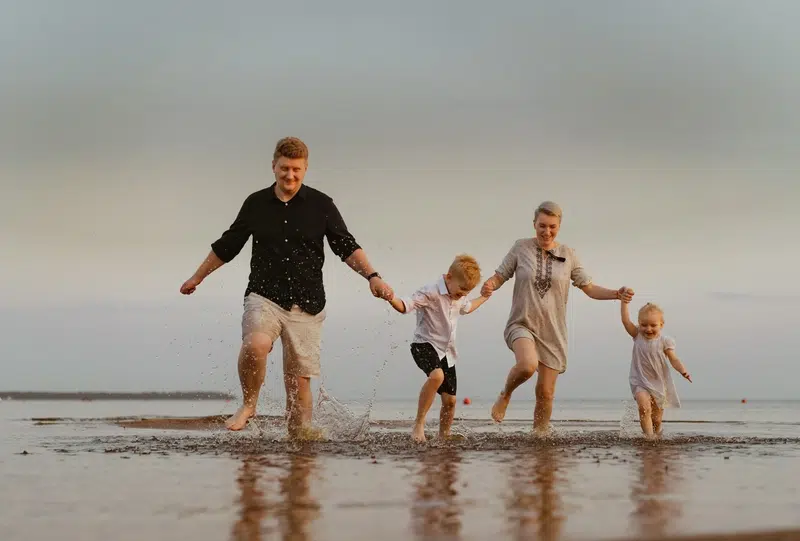 Tips on Traveling With Children
You might feel overwhelmed if you plan a trip to Costa Rica with your kids. There are many things to consider: What will the weather be like? What should I pack? How do I keep my kids safe?
Well, fear not! We won't let the family fun get ruined. To ensure your Costa Rica family vacation goes smoothly, prepare in advance.
Here are some tips for traveling to Costa Rica with kids:
Pack sunscreen, sunglasses, and hats for both parents and kids!
Bring clothes that can withstand both hot and cold weather because the country has both dry and wet seasons.
Bring medicine for common childhood illnesses like colds or allergies.
If you're bringing any medications with you, make sure to bring enough for each family member for the entire trip—you never know when someone might get sick!
There are bugs everywhere, including mosquitoes, flies, bees, and ants! Bring bug spray to keep these little critters away from your family.
Best Family Resorts in Costa Rica
Costa Rica is known for its natural beauty and is home to the most beautiful beaches, rainforests, and some of the friendliest people you'll ever meet. Also, it's known for its resorts and lodging options.
From luxury hotel rooms with private pools to all-inclusive vacation packages, you'll find many options when choosing a destination for your next family vacation. So, how do you pick? We've put together a list of things to consider to find the best family resorts in Costa Rica that suit your needs.
Costa Rican all-inclusive family resorts are perfect for an easy-going vacation with minimal stress, planned meals, and activities.
Your options include the following:
Playa El Jobo – Dreams las Mareas
Peninsula Papagayo (Playa Manzanillo) – Planet Hollywood Beach Resort
Playa Matapalo – Riu Guanacaste
Playa Flamingo – Margaritaville Beach Resort Playa Flamingo
Playa Tamarindo – Occidental Tamarindo
Jaco – Best Western Jacó Beach
Puntarenas -Fiesta Resort
Tambor Beach – Barcelo Tambor
Best Family Beaches
Costa Rica is known for its pristine beaches and warm, welcoming people. It's the perfect place to spend time with your family and make memories that will last a lifetime.
We know that when you're planning a trip with your family, finding the time to research all of your options is challenging. That's why we've done all of the work for you! Our list of the top family beaches in Costa Rica will help you decide where to go on your family vacation.
Are you ready? Let's get started!
Playa Pelada
There are many good beaches in Nosara, but Playa Pelada is one of the best. In addition to the gentle waves and calm water, there are tide pools for babies and toddlers to enjoy.
This is the perfect setting for families looking for a rejuvenating vacation together. Also, there are plenty of ATV tours, river safaris, and stand-up paddleboarding opportunities if your family is looking for adventure.
Playa Manuel Antonio
Manuel Antonio is a popular national park next to the Pacific Ocean. Tourists and locals alike enjoy this destination. It is home to some of the country's most spectacular viewpoints, hiking trails, and waterfalls.
Also, it is home to Playa Manuel Antonio, a fantastic beach for families. Aquamarine water, soft sand, calm waves, and almond trees provide shade in the cove. With its picturesque scenery, you'll want to stay here for your entire vacation!
Playa Samara
Located near a coral reef, the water is so calm and gentle that it makes this beach a great place to swim and participate in other water sports. Also, unlike other beaches in Costa Rica, this one is rarely crowded. Therefore, you can enjoy a sunny paradise in peace with your family.
While you're here, you can visit one of the many food stalls, restaurants, or bars to sample the local organic food. And, of course, you can enjoy watching the sunset on the beach or on a restaurant patio.
Playa Hermosa
Playa Hermosa lies on the northern Pacific coast. Slow, gentle waves roll up its broad cove. It's a great beach for toddlers and young children who aren't ready to swim in the rougher water.
Seashell hunting can be done without fear of riptides or undertows. Several family-friendly excursions are nearby. Along with snorkeling, jet skiing, and scuba diving, horseback riding is also an option.
Playa Conchal
Located in Guanacaste, Playa Conchal is one of the most visited beaches in Costa Rica. The beach gets its distinctive look and feel from the sand, which is actually crushed shells.
With its pristine water and rich marine life, this location is perfect for swimming and snorkeling. Tourists flock to the beach, which is surrounded by green vegetation. Playa Conchal is a popular tourist destination with a wide selection of hotels, restaurants, and stores.
Puerto Viejo – Manzanillo
The Costa Rican town of Puerto Viejo is a significant attraction for visitors to the country's Limón Province. Its cuisine and music reflect the region's Afro-Caribbean heritage and its reputation for a relaxed pace of life. The beach is well-known among surfers and travelers for its bouncy waves and exciting atmosphere. You may go on jungle treks, check out some waterfalls, and see exotic animals like monkeys and sloths in the local area.
Manzanillo Beach, located in the little village of Manzanillo, not far from Playa Puerto Viejo, is renowned for its beauty. The landscape prevails in the area, making it a prime spot for ecotourism and extreme sports. Visitors can see monkeys, turtles, and other exotic animals and birds at the nearby Gandoca-Manzanillo Wildlife Refuge.
Playa Santa Teresa
Playa Santa Teresa, in the province of Puntarenas, Costa Rica, is a beautiful stretch of coastline on the Nicoya Peninsula. Surfers from all over the world flock there because of the perfect waves that can be found there almost every day. Yoga, horseback riding, and exploring the surrounding jungle are popular activities for visitors.
There are many places to eat and shop close to the shore, and the region is also known for its exciting nightlife. Playa Santa Teresa is a popular tourist destination because it offers a unique blend of relaxation and adventure thanks to its stunning natural beauty and thriving cultural scene.
Playa Flamingo
Playa Flamingo is a beach located in Guanacaste and is considered one of the most beautiful and exclusive beaches in Costa Rica. It is known for its pink-hued sand and calm, clear waters, making it a popular spot for swimming, sunbathing, and other water activities.
The beach is surrounded by luxury resorts and high-end real estate developments and is a popular destination for tourists seeking a more upscale and relaxed beach experience. In addition to its stunning scenery, Playa Flamingo also offers visitors a variety of dining, shopping, and nightlife options.
Family Vacations in Costa Rica Are Easier Than You Think
Costa Rica is an outstanding all-around destination for families. From the breathtaking natural beauty of this country to the fact that it's home to some of the friendliest people in the world, Costa Rica has something to offer everyone in your family.
Our local experts have helped countless families book travel plans for years. We understand how stressful it can be to find a vacation spot where everyone will feel happy and relaxed—especially when there are so many options.
Start planning your Costa Rica family vacation with our help! Contact Find My Costa Rica now!
When you arrive in this beautiful country, it won't take long before you start feeling like this is your new favorite place on Earth.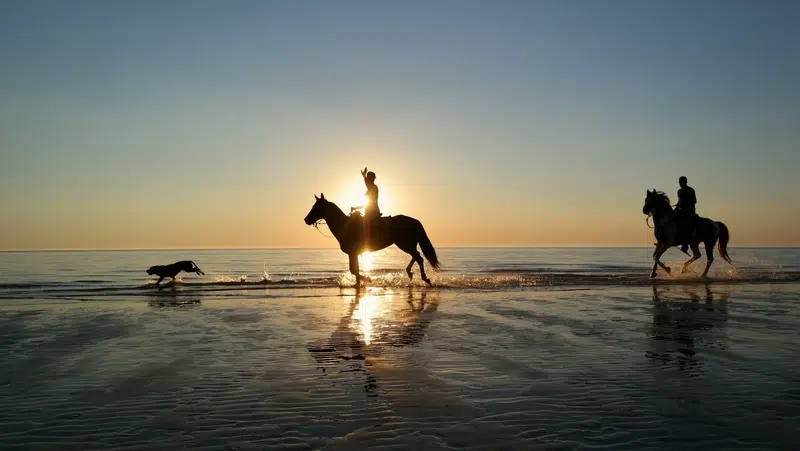 FAQ:
Is Costa Rica a good place for a family vacation?
Costa Rica is a great family vacation destination. With its beautiful beaches and rainforests, Costa Rica is one of the most popular vacation destinations in the world.
The country has a wide range of climates and temperatures, so it's easy to find a spot that feels like home. There are also lots of activities to do with your family, from surfing to zip-lining through the jungle canopy!
This is your best choice if you're looking for an adventurous family vacation. Don't think about it twice; start planning your Costa Rica family getaway.
What part of Costa Rica is best for families?
Planning your Costa Rica family vacation can be overwhelming. One of the first things to consider is whether you want to stay in one place or move around Costa Rica. Instead of moving around, staying on the west coast is a good choice. There are plenty of beaches and family adventure activities available within an hour's drive of each other.
If you prefer to stay in one place, choose Tamarindo, which offers beautiful beaches and access to adventure tours like surfing lessons or zip-lining. It's also close enough to Monteverde that it's easy to get there for a day trip if your kids want to see wildlife while visiting Costa Rica.
How is the weather in Costa Rica?
The weather in Costa Rica, as in other countries in Central America, is generally hot and humid. Still, it can vary by region. San Jose, the capital of Costa Rica, is usually humid, and overall, the country has a tropical climate, meaning that there are two seasons: dry and wet. The dry season runs from November to April, while the wet season lasts from May to October.
Is Costa Rica an affordable vacation destination?
Yes. Costa Rica is a very affordable family vacation destination. This tropical paradise offers a variety of hotels, restaurants, and activities. If you're looking for an affordable vacation spot to relax on a beach, explore the rainforest, or hike through lush forest trails, Costa Rica is definitely the way to go! Get ready and plan your next Costa Rica vacation trip!
What time of year is best to visit Costa Rica?
Costa Rica is a beautiful place to visit year-round. The weather is warm and sunny all year, except from December through February, which is its rainy season. We recommend visiting Costa Rica during the summer months of July and August because the temperatures are warm and the days are long, so you won't have to worry about rain ruining your Costa Rica vacation.
How is the food in Costa Rica?
The food in Costa Rica is as diverse as its landscape. Like other countries in the region, the diet in Costa Rica is made up of traditional dishes passed down from generation to generation, and the locals are proud to share their culture with visitors.
How long should we stay in Costa Rica to explore the country?
The answer to this question is: it depends on you. It depends on how long you want to stay in Costa Rica. If you're looking for a quick getaway, maybe a few days will do it for you. But if you have more time and budget, you could spend up to three weeks or more in our lovely Costa Rica!
Are there any educational things to do in Costa Rica?
Yes! You can visit the Museo del Jade, which focuses on pre-Columbian art. Or, visit the Museo Nacional de Costa Rica, which features pieces from all over Latin America and Europe. If you're interested in learning more about the wildlife in Costa Rica, you've got plenty of options.
You can visit Las Catalinas Turtle Farm, where you can see sea turtles up close, the Tortuguero National Park, the Manzanillo Wildlife Refuge, or the Santa Rosa National Park. These places offer tours where you can learn about different animals found throughout the country's ecosystems. In addition, you can sign up for Spanish classes in San Jose and other areas of the country.
Additionally, you can engage in rewarding projects that empower local communities, working alongside dedicated organizations and making a lasting difference.
You can support Asociación Crear in implementing education projects around Playa Samara, help Proyecto Asis Wildlife Rescue Center with its conservation programs or engage with Asociación de Desarrollo Integral de La Fortuna (ADIFORT) to ensure the community's well-being through education and conservation projects.