Costa Rica is a paradise for nature lovers, and Monteverde is one of its most magical destinations. Nestled in the cloud forests of the Tilaran Mountains, Monteverde, which translates to green mountain, is a haven for biodiversity and adventure enthusiasts.
From the lush cloud forests to the vibrant wildlife and thrilling activities, there is something for everyone in Monteverde. Discover why visiting Monteverde, Costa Rica, is a must and some tips for your stay!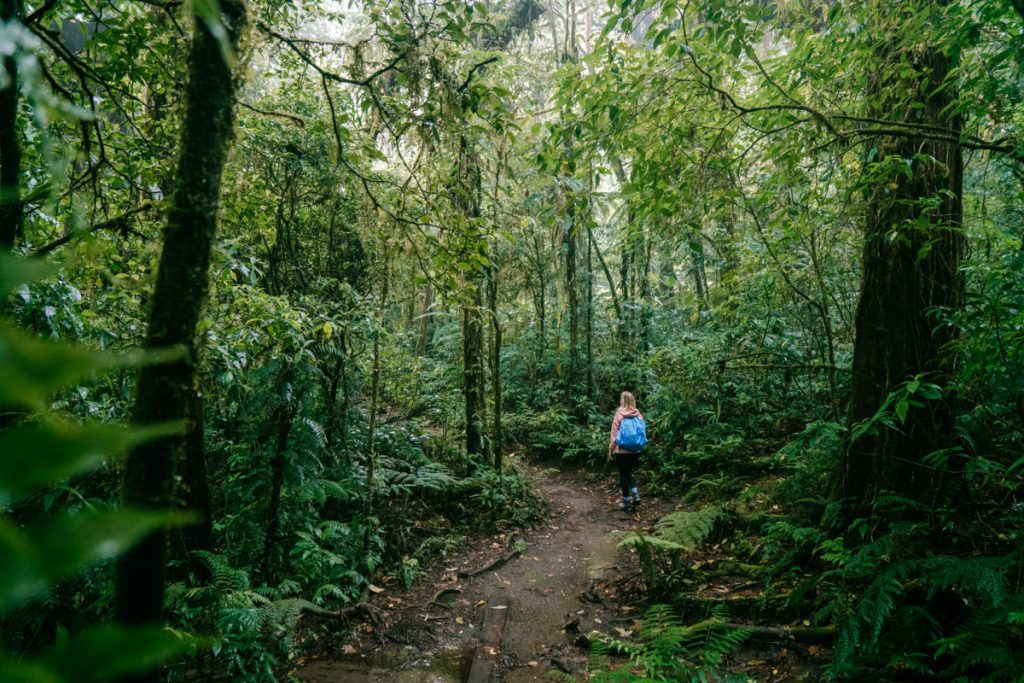 What to Expect When Visiting Monteverde, Costa Rica
You're in for a memorable experience when visiting Monteverde, Costa Rica! Walking through this cloud forest is like walking through a magical green world. Monteverde is near San José, about 180 km, in Sierra de Tilarán. This forest is huge—over 10,500 hectares! Most of it is like a hidden treasure; 90% is untouched, and only a tiny 3% is open to visitors.
Monteverde is incredibly humid because it is a cloud forest, which is why it is so lush and green. You'll find lots of mosses, ferns, and various plants. It is estimated that there are 2,500 different types of plants in this area. The forest is also home to 153 types of reptiles and 400 different bird species, half of Costa Rica's bird population.
Things to Do in Monteverde
Monteverde offers a magical blend of breathtaking landscapes, thrilling adventures, and a rich diversity of wildlife. Whether you're a nature lover looking for lush cloud forests, an adrenaline junkie craving exhilarating activities, or a curious tourist looking to learn about the local culture, Monteverde has it all.
Here are the must-do activities that will make your visit an unforgettable experience:
Explore a cloud forest reserve
In the Monteverde region of Costa Rica, you can find two cloud forest reserves that are famous for their conservation and education efforts. These two forest reserves are Monteverde Cloud Forest and Santa Elena Reserve.
Located relatively close to each other, about a 20-30 minute drive apart, both are popular destinations for tourists visiting the Monteverde regions because of the diverse range of activities such as hiking, bird watching, and guided tours.
About Monteverde Cloud Forest Reserve:
The famous Monteverde Cloud Forest is known for its rich biodiversity, lush cloud forests, and extensive trail system. It is located on the eastern side of the Tilaran mountain range. Considering that cloud forests comprise less than 1% of the world's forests, visiting Monteverde Cloud Forest provides an excellent opportunity to contemplate this enchanting ecosystem.
About Santa Elena Cloud Forest Reserve:
This reserve is located on the western side of the Tilaran mountain range, and it is less visited than the Monteverde Cloud Forest Reserve, making it a quieter alternative. It also has rich biodiversity and offers stunning views of the Arenal Volcano on clear days.
Things to remember when exploring the reserve:
Take a guided tour: A guided tour is the best way to learn about the cloud forest's unique ecosystem and spot wildlife you might miss on your own.
Visit early in the morning: This is the most convenient time to spot wildlife and avoid crowds.
Stay on marked trails: This is imperative to minimize your impact on the environment and avoid getting lost.
Bring essential gear: A waterproof jacket, comfortable hiking shoes, water, and snacks.
Respect wildlife: Observe animals from a distance, do not feed them, and stay quiet to avoid disturbing them.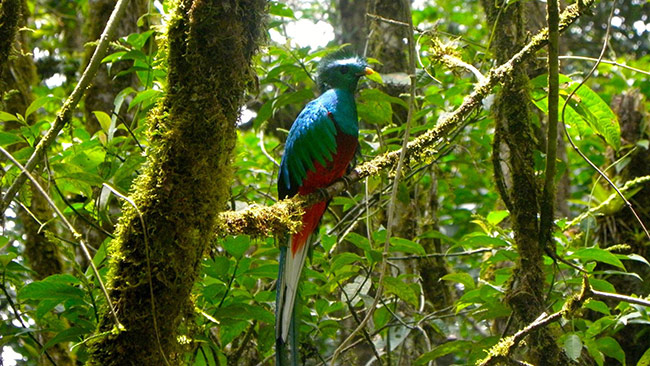 2. Taste Costa Rican cuisin
Costa Rica isn't just known for its natural beauty and delicious food. Monteverde has tours that combine both. You can take coffee tours and taste freshly brewed coffee made from beans picked right in front of you, or chocolate tours where you can learn how chocolate is made.
There are also farm-to-table experiences where you can visit local farms, learn about sustainable agriculture, and enjoy a meal made with fresh, local ingredients.
At Find My Costa Rica, we have tours that offer a unique opportunity to explore the beautiful landscapes of Monteverde while indulging in the local cuisine.
For example, the Don Juan Coffee & Chocolate Tour provides insight into coffee and chocolate, two of Costa Rica's most important exports. You will learn about the production process from bean to cup and taste freshly made coffee and chocolate.
Another unique culinary experience is the San Lucas Gourmet Dining Tree Top Canopy Experience. This coffee tour offers a culinary adventure in an elevated setting.
3. Visit adventure parks
Monteverde is home to several adventure parks that offer a variety of activities for all ages, including hiking trails, zip-lining, bird watching, and horseback riding.
Here are some popular adventure parks in Monteverde:
Sky Adventures Monteverde Park: This park offers a variety of activities, including zip-lining, hanging bridges, and a gondola ride through the cloud forest.
Selvatura Park: This park offers zip-lining, hanging bridges, the famous Monteverde butterfly garden, a hummingbird garden, and a reptile and amphibian exhibit.
100% Aventura: This park offers the longest zip line in Latin America, a Tarzan swing, a Superman zip line, and hanging bridges.
Extremo Park: This park offers zip-lining, bungee jumping, a Tarzan swing, and a Superman zip line.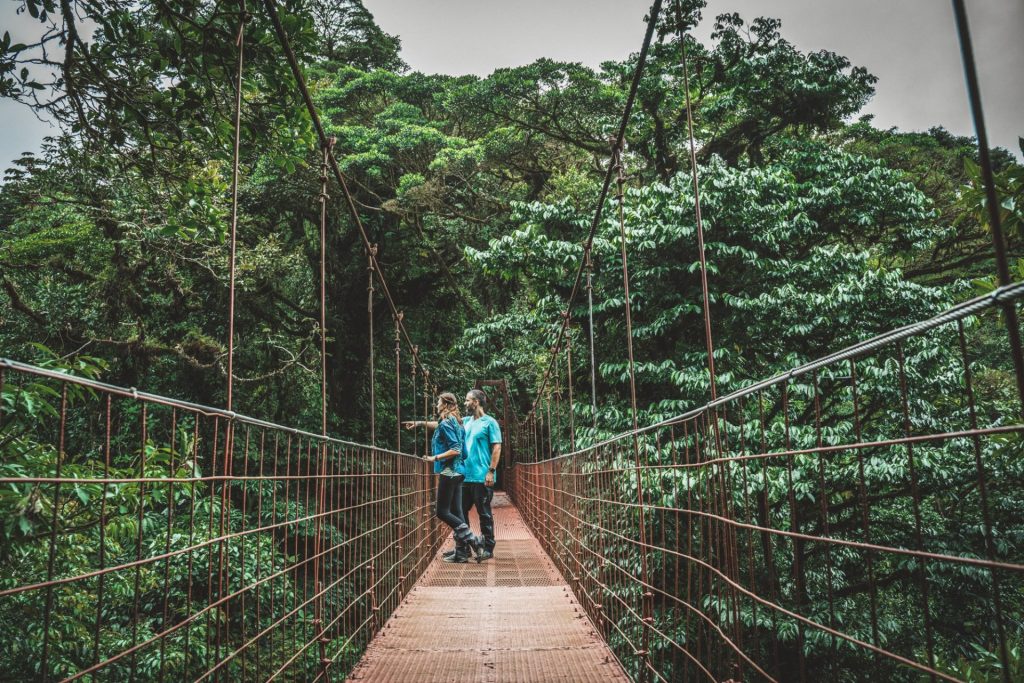 How to Get to Monteverde, Costa Rica
Monteverde is located in the northwestern part of Costa Rica. It is accessible from several major cities. It's about a 3.5-hour drive from the capital, San Jose, and a 3-hour drive from Liberia. However, the roads to Monteverde are mostly unpaved and bumpy, so a 4×4 vehicle is recommended.
Shared shuttles and public buses are also available from San Jose and Liberia, but they take longer and may require transfers.
Once in Monteverde, Santa Elena town is the central hub for accommodations, dining, and tour operators. Most attractions are within a short drive of downtown Santa Elena, and taxis are readily available. Some tours also include transportation from your accommodation.
Where to stay in Monteverde, Costa Rica
Monteverde offers various accommodation options to suit all budgets and preferences. From budget-friendly hostels to luxurious hotels in Monteverde with stunning cloud forest views, there is something for everyone.
Take a look at the following Monteverde hotels:
Budget hotels
Pension Santa Elena: This is a popular, budget-friendly option located in the town of Santa Elena. It offers private rooms and dormitories with private or shared bathrooms.
Sleepers Sleep Cheaper Hostel: This is another budget-friendly hostel located in Santa Elena. The hostel has nine rooms and is conveniently located near attractions like the Ecological Sanctuary and the Monteverde Cloud Tropical Forest Biological Reserve.
Mid-range accommodations
Monteverde Country Lodge: This is a mid-range hotel located in Santa Elena. It offers comfortable rooms with private bathrooms and a restaurant on-site.
Hotel Fonda Vela: The Fonda Vela property is wide and spacious, with lush tropical gardens. The rooms are cozy yet elegant, spacious, and comfortable, with huge windows that let the outdoors in.
Luxury accommodations
Hotel Belmar: Hotel Belmar is your door to Costa Rica's cloud forests. As Monteverde's main hotel for 37 years, it offers warm hospitality, stunning views, exciting eco-adventures, tasty food, and eco-friendly practices. It's perfect for nature-loving travelers.
El Establo Mountain Hotel: This luxurious hotel is also located in Monteverde. It has spacious rooms, two restaurants, and a spa. With the best view of the Gulf of Nicoya, it's the perfect place to relax, unwind, and enjoy your stay in Monteverde.
Eco-friendly accommodations
Monteverde Lodge & Gardens: Up in the mountains, where Costa Rica splits by the continental divide and clouds surround you, is Monteverde Lodge & Gardens. Set in this special place, it has comfy rooms, a quiet pool, and lush surroundings.
Chira Glamping Monteverde: This unique accommodation option offers luxurious tents with private bathrooms. Nestled in the heart of the cloud forest, this enchanting destination lets you experience the beauty of the outdoors while enjoying the comforts of modern accommodations.
Airbnb
There are also plenty of Airbnb options available in Monteverde, ranging from private rooms to entire homes. This is a great option for those looking for a more homey experience or for larger groups traveling together.
What's the Best Time to Visit Monteverde?
Visiting Monteverde from January to May is recommended since these months have the best weather. You can still visit the area during the rainy season, which runs from May to November, but you should be prepared for the downpours.
Also, if you plan to visit Monteverde Cloud Forest, make sure to go early since, in the early hours of the day, its fauna is much more active.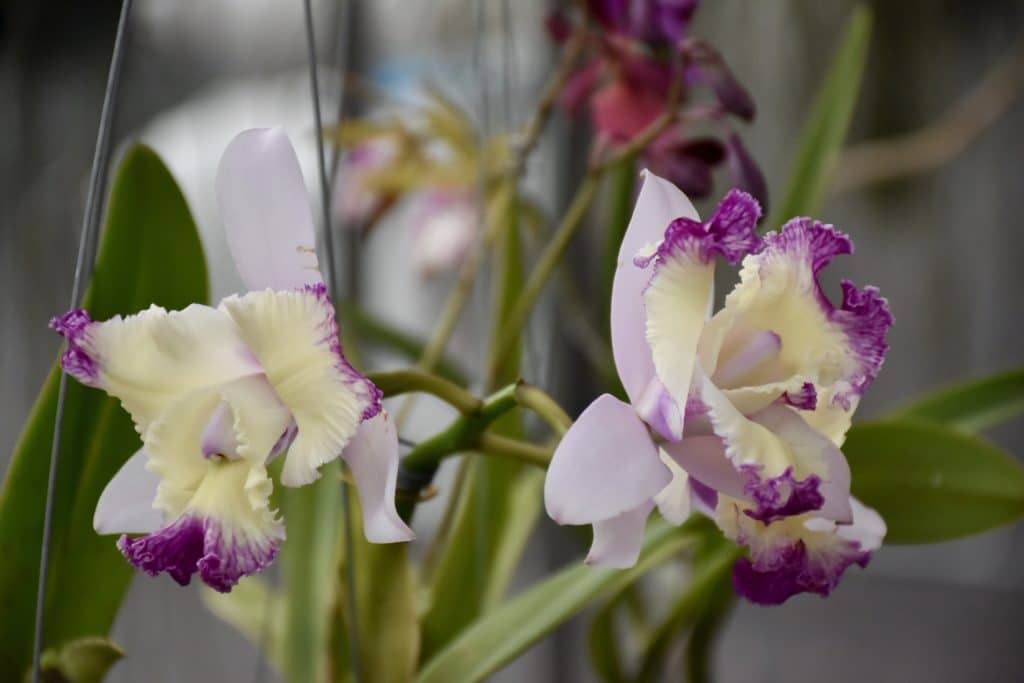 Tips for Your Stay in Monteverde, Costa Rica
Monteverde is a destination like no other. However, to make the most of your visit to this unique region, it's essential to be prepared. Here are some tips to help you make the most of your stay in Monteverde, Costa Rica:
Pack for variable weather: Monteverde weather can be unpredictable, with temperatures ranging from 15°C (60°F) to 26°C (80°F) and frequent rain showers. Pack layers, a rain jacket, and comfortable hiking shoes.
Respect the environment: Stay on marked trails, do not feed wildlife, and dispose of your trash properly. The Monteverde Reserve is a precious ecosystem, and minimizing our impact is essential.
Book in advance: Monteverde is a popular destination, and tours and accommodations can fill up quickly, especially during the high season (December to April). Book tours and accommodations in advance.
Hire a guide: It is highly recommended that you walk with an experienced guide in order to get the most out of this activity in the middle of the forest.
Protect yourself from insects: The cloud forest is home to many insects, including mosquitoes. Bring insect repellent and wear long sleeves and pants to protect yourself.
Bring binoculars: If you are interested in bird watching, bring binoculars. Monteverde is home to many bird species, including the resplendent Quetzal.
Ready to embark on an unforgettable adventure to Monteverde, Costa Rica? Contact Find My Costa Rica to plan your visit. Our local guides will help you customize your trip to suit your needs. We will take care of all the details so you can relax and enjoy your vacation.