The abundance of beautiful beaches that line the Pacific and Caribbean coasts of Costa Rica is a significant factor that contributes to its appeal as a dream eco-destination. If you are planning your next vacation or choosing your next work destination, and beaches are your thing, let us show you the best beaches in Costa Rica.
Before you visit Costa Rica, our local specialists have worked hard to compile important information on the country's top beach destinations. That way, you can plan your itinerary and decide what is ideal.
Keep on reading while you picture yourself walking through the sand of the various beaches you're about to explore.
Best Pacific Coast Beaches in Costa Rica
Playa Conchal
Playa Conchal is one of the most extravagant beaches on Costa Rica's Pacific coast. It's highly unique because of its famed white sand, composed of billions of crushed shells and rock fragments. This pristine beach spans 2 kilometers and is about 4 hours away from Juan Santamaría International Airport.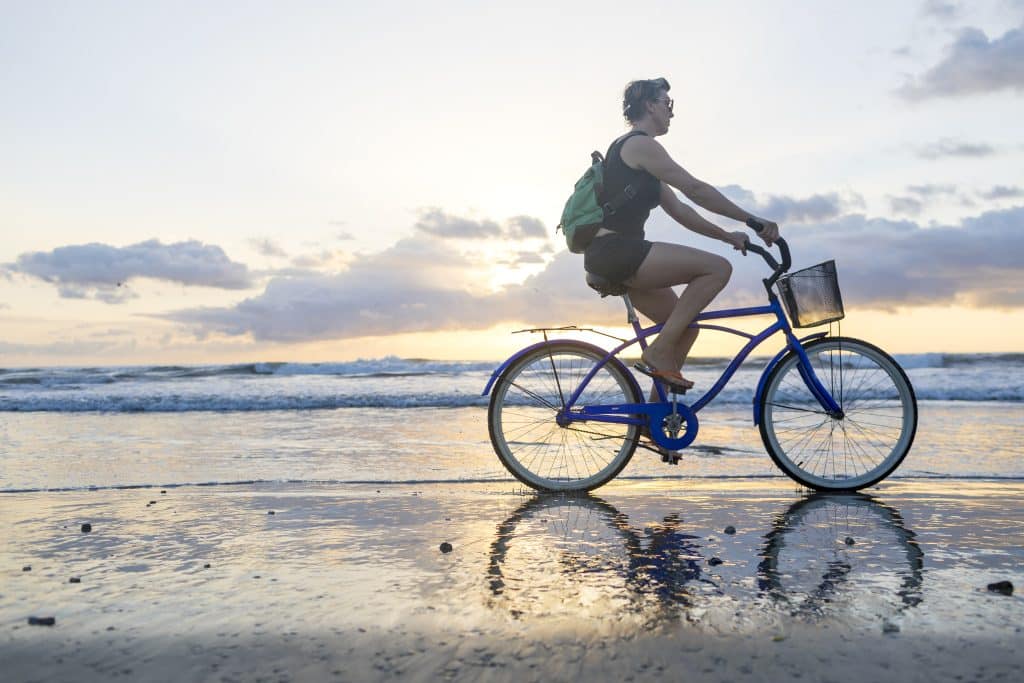 From December to April, there are 12 hours of daylight on this beach, which is typically reasonably sunny. The water is transparent, has a great temperature, and is surrounded by luxuriant tropical vegetation. Scuba diving, horseback riding, boat cruises, and snorkeling are just a few of the standout activities at Conchal Beach.
Tamarindo
Tamarindo deserves a spot on the list of the best beaches in Costa Rica. The mix of excellent waves, wildlife, a robust tourism industry, and nightlife possibilities make this place paradisiacal. It's located right in the province of Guanacaste, just 4 hours and 30 minutes from San José.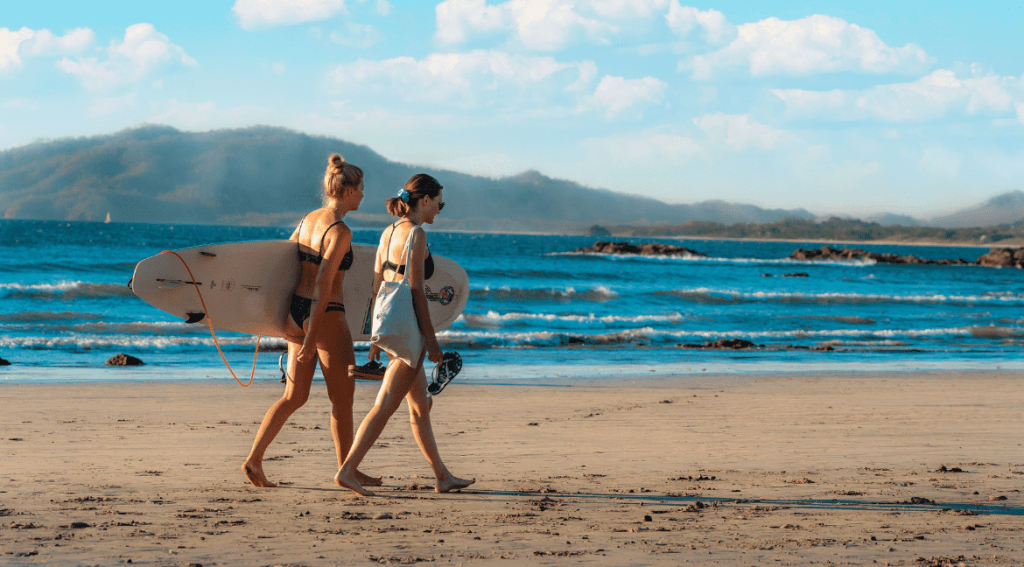 It's perfect for surfing due to its excellent waves and currents, which makes Tamarindo an ideal option for those who want to learn to surf. Surroundings such as oak, tamarind, and coconut trees complement this location's beauty.
Manuel Antonio
The perfect fusion of sandy beaches, coral reefs, and a local vibe amid beautiful, green-covered mountains makes Manuel Antonio beach one of the best beaches in Costa Rica. A green crescent harbor frames this lovely beach, which Manuel Antonio National Park protects. If you're up for some rainforest exploration, the park is interconnected by hiking trails leading to other beaches within the park.
You can also appreciate the local wildlife, including monkeys, sloths, coatis, and many species of birds. The best thing is that it is only 3 hours away from San José Province.
Best Caribbean Coast Beaches in Costa Rica
Cahuita
About 5 hours from the capital city is the charming, distinctive village of Cahuita, situated in the Limon Province. You might even mistakenly believe that you are in Jamaica due to the pervasive Afro-Caribbean cultural influences that still strongly permeate the area.
With its warm, tranquil waters, this tropical paradise is perfect for those searching for a quiet beachside retreat. Cahuita's stunning black sand beaches can be found next to the Cahuita National Park, one of the most popular in Costa Rica. This paradise is gaining popularity as a tourist destination, but it has maintained its laid-back beach town vibe and unique Afro-Caribbean cuisine.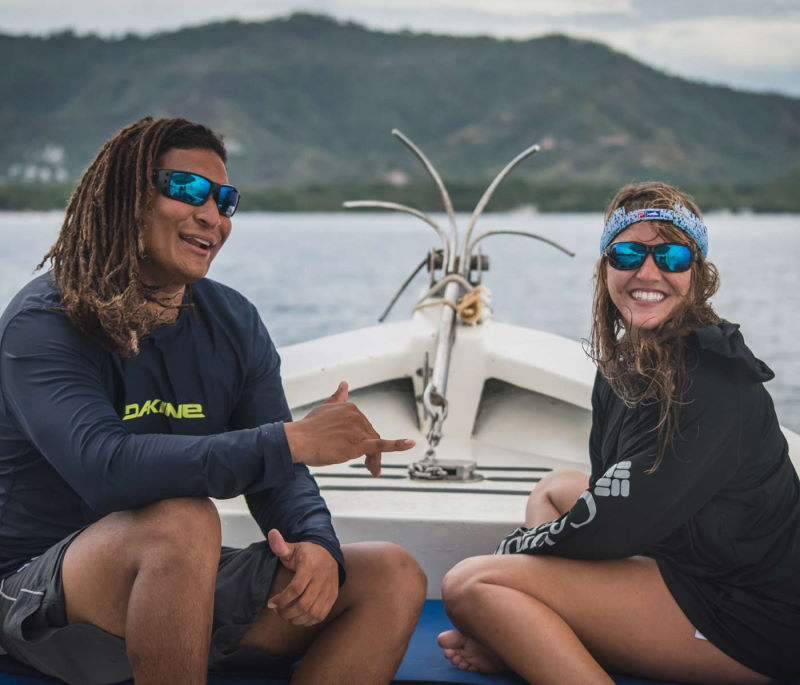 Cahuita's main attractions are Playa Negra and Playa Blanca in the Cahuita National Park, which conserves more than 2,700 acres of pristine beaches, reefs, and coastline. Sea turtles use it as a key nesting location. The best underwater visibility is usually from February to April, making it the best time of year to visit. 
Puerto Viejo de Talamanca
Puerto Viejo de Talamanca is a small coastal town surrounded by beautiful tropical jungles, picture-perfect white sand beaches, and a wide variety of fauna. What makes this area unique is the mixture of Afro-Caribbeans, Bri Bri Indigenous, Ticos, Americans, and Europeans alike, allowing you to experience a diverse and multicultural vibe.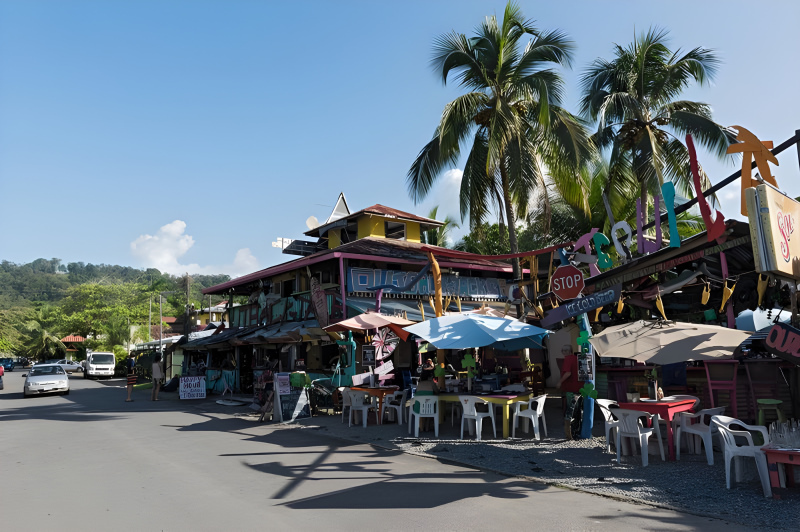 There are six main beaches around Puerto Viejo de Talamanca that you can't miss, starting with Playa Chiquita, Punta Uva, Manzanillo, Playa Negra, Playa Cocles, and Cahuita. You can engage in activities such as tanning on the beach, surfing, or exploring the area's vibrant underwater life.
Punta Uva
On the Caribbean coast, playa Punta Uva is a quiet beach village not far from Puerto Viejo. The region is most recognized for having some of Costa Rica's magnificent white sand, blue sea, and palm tree-lined beaches.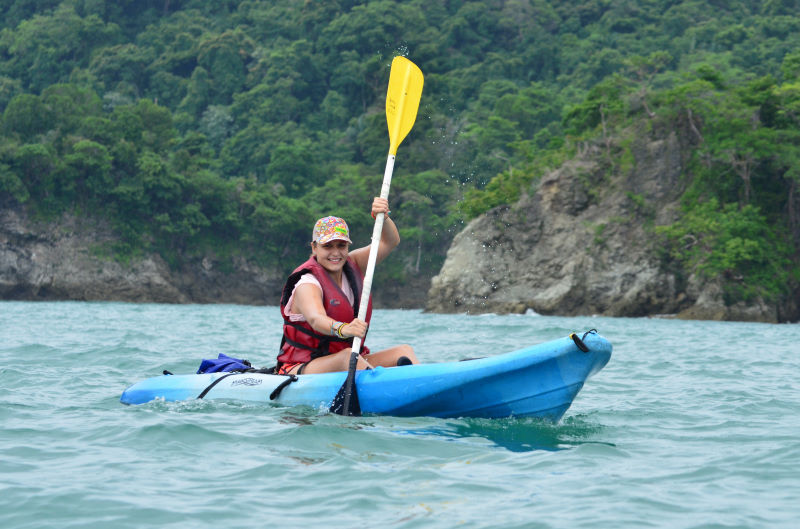 This area is even more special because it's located within the Gandoca Manzanillo Wildlife Refuge, so it's fantastic to see wildlife. This beautiful beach also features quiet waters, making it one of the best swimming beaches in Costa Rica for kids.
Costa Rica's Pink Sand Beaches
Playa Penca
Costa Rica's nature amazes in different ways, and one of them is through its pink sand beaches. One of these natural wonders is Playa Penca, which can be found in Guanacaste between Playa del Coco and Playa Hermosa and is only 4 hours from San José. Unmarked and largely unknown, you'll have the impression that you are in the thick of the untamed Costa Rican jungle as you go down the trail to Playa Penca.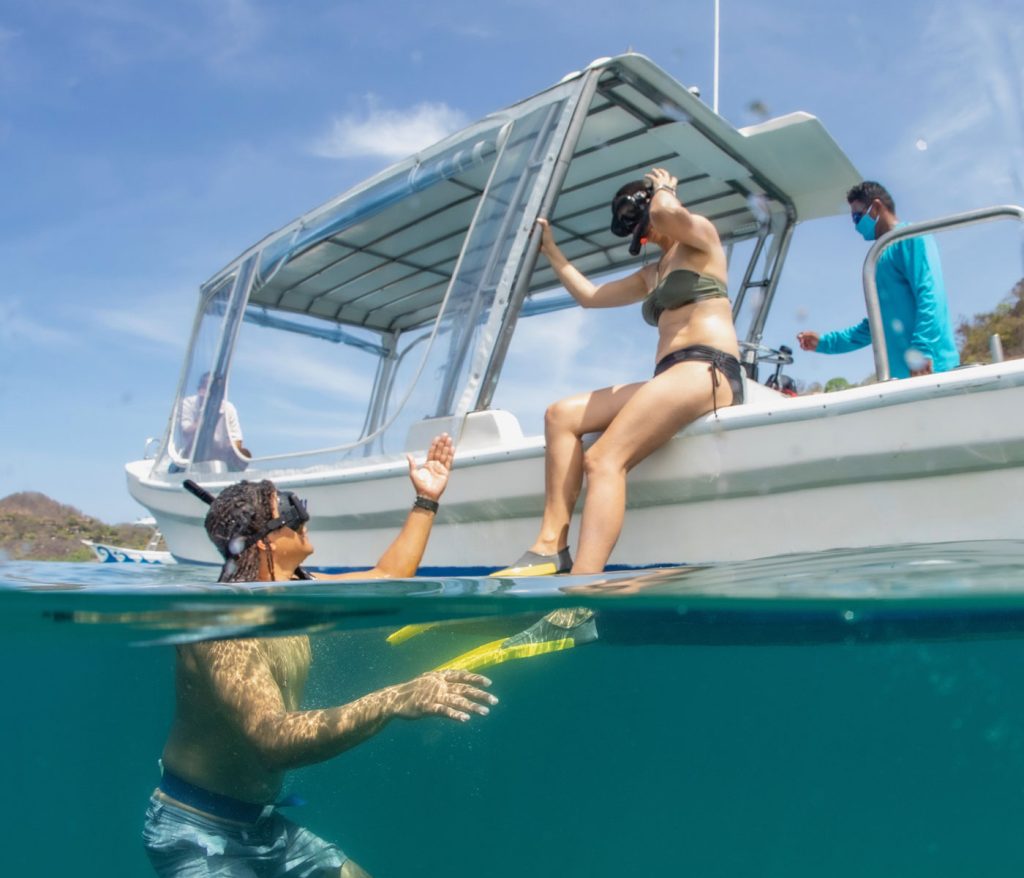 This beach stands out due to the calm and beautiful semi-bay with shell and coral fragments and clear turquoise waters. And let's not forget about its pink sand. For the most part, the color of the sand is a reflection of its mineral composition.
The soft pink sand in Playa Penca and the pleasant feeling it transmits to the soles of those lucky enough to walk across it is indescribable. It goes without saying that experiencing the effects of Playa Penca is a must.
Playa Rosada
Playa Rosada is another unexpected and beautiful Costa Rica beach. The sun's rays merge with the abundance of tiny, dusty shells scattered over the white sand to color the beach pink. There are also tiny quartz stones that contribute to the creation of this impression.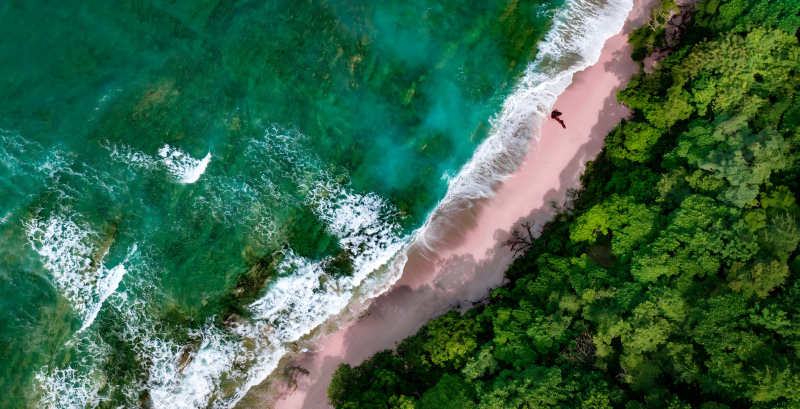 One thing to keep in mind is that the beach is remote and that, at low tide, you may access it from three different directions: from Playa Guiones to the south, from Playa Garza to the north, and from the Pacific Ocean to the west. Playa Rosada's calm waves are another feature that makes it an ideal place for snorkeling.
Playa Flamingo
Located just north of Playa Conchal, Playa Flamingo is renowned as one of Costa Rica's most stunning beaches. Flamingo Beach is a nearly white sand beach named after the white sand's pinkish hue when viewed in the proper lighting.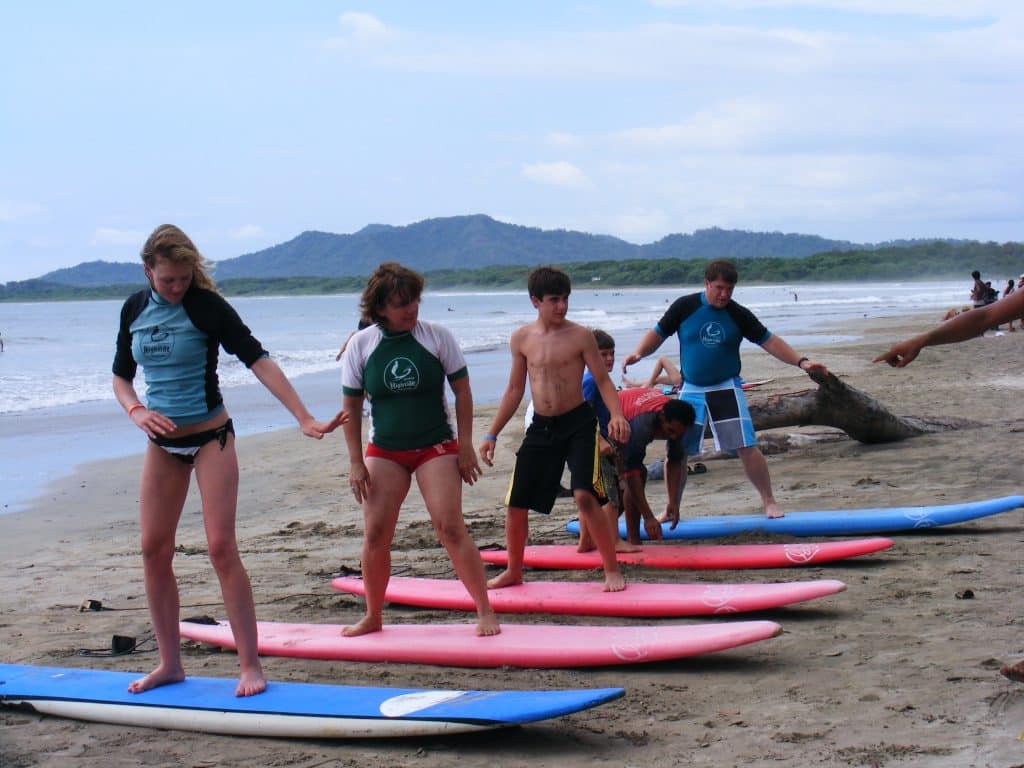 Flamingo is well known for its picturesque coastline and gentle waves that are excellent for swimming. With incredible green scenery overlooking the ocean, it's the perfect place to relax after a long day of swimming and walking through its beautiful sand.
White Sand Beaches in Costa Rica
Gulf of Papagayo
What makes the Gulf of Papagayo an excellent destination, you ask? A blend of tourism and nature. Several highly opulent hotels and luxurious villas with ocean views can be found in this area of the northern Pacific Coast, which is only 4 hours from San José.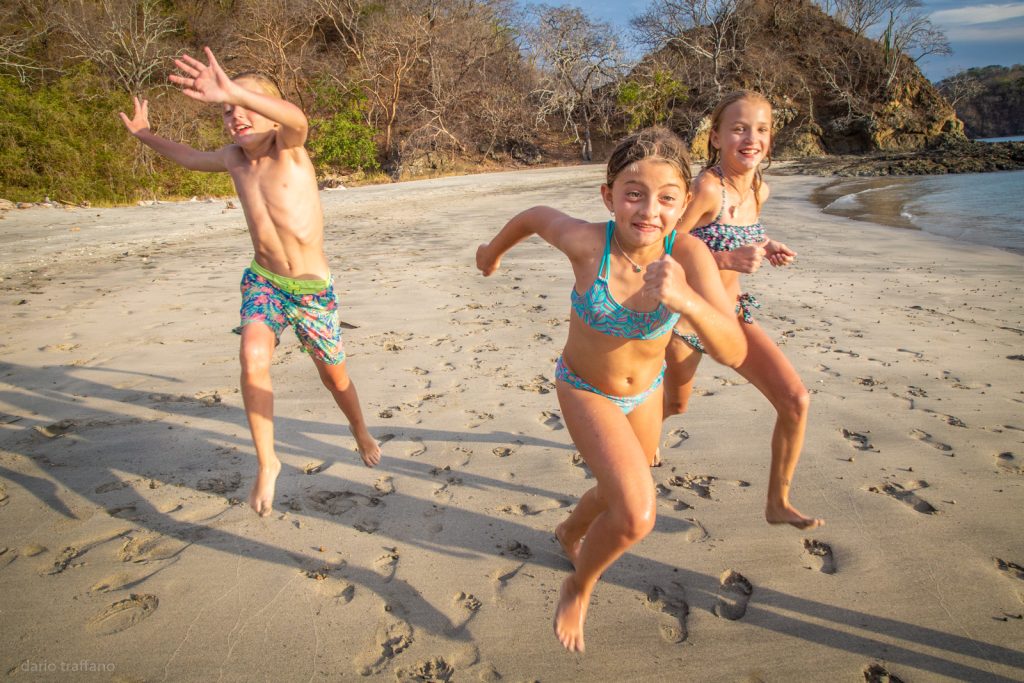 Papagayo is the ideal location to appreciate nature and unwind, offering calm waters, the finest sand, and breathtaking views. There are many activities available, such as kayaking, fishing, scuba diving, snorkeling, paddle boarding, and more.
Playa Cocles
Playa Cocles, which lies just outside Puerto Viejo's main settlement, is crowded with surfers and volleyball players. It has a more developed hotel infrastructure than other beaches in the area, making it a fantastic choice if you visit with your family.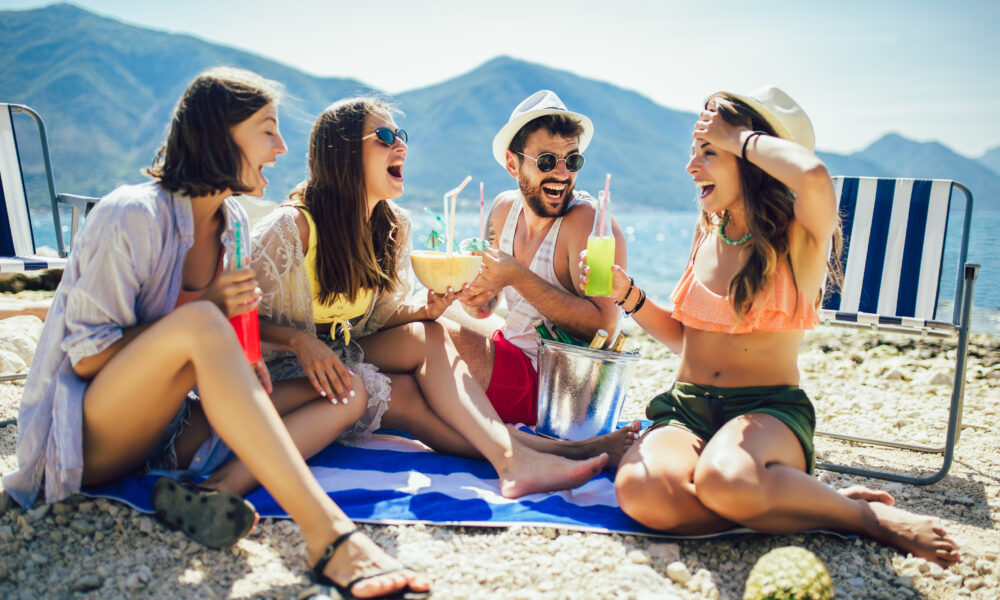 Tan beaches and stunningly pure turquoise waters can be found at the well-known Playa Cocles Beach. It's easily accessible and consists of nearly two miles of white sand fringed with palm trees and lush greenery as a backdrop.
Playa Blanca
Your best bet for beaches close to San José will be Playa Blanca, which is only two hours away. It is open to everyone despite being a part of a private resort called Punta Leona.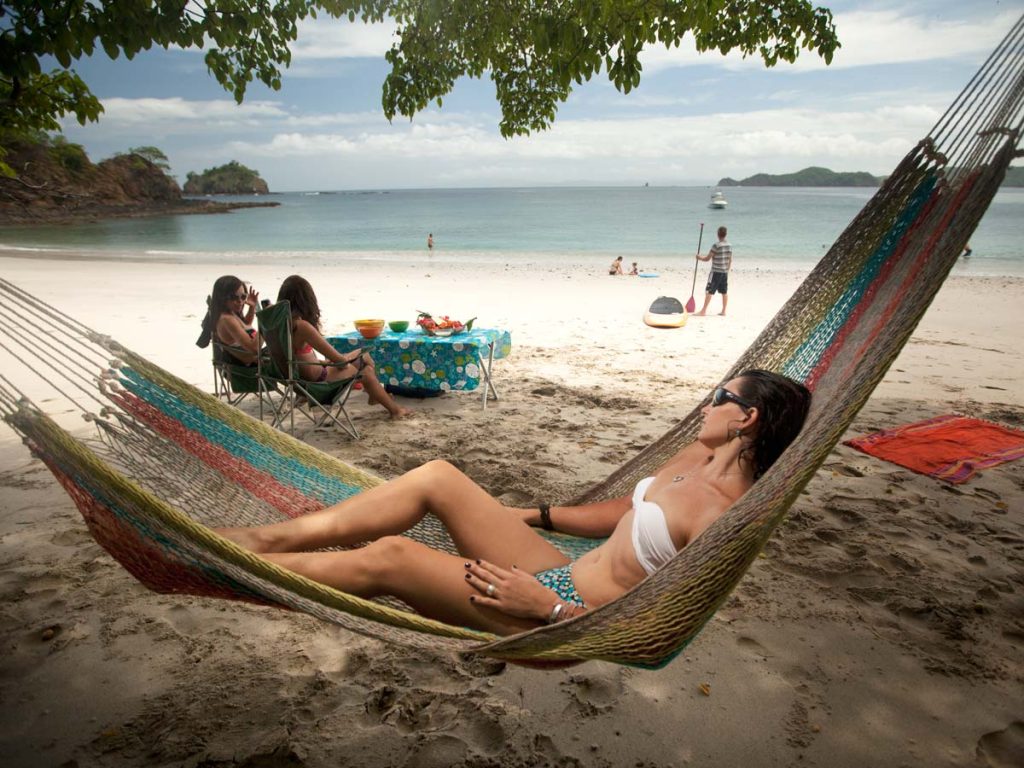 A 750-acre expanse of thick, tropical rainforest surrounds the area, contrasting with the blue ocean, white sand, and green rainforest, making it quite picturesque. The beach's exceptional water quality, cleanliness, and suitability for snorkeling led authorities to award it the Ecological Blue Flag.
Best Swimming Beaches in Costa Rica
Playa Dominical
In Puntarenas Province, Playa Dominical is a vast, undeveloped stretch of powdery sand that is peaceful, secure, and perfect for wandering. It's also a fantastic location for surfing because the waves are robust and reliable here, making this town a sanctuary for surfers.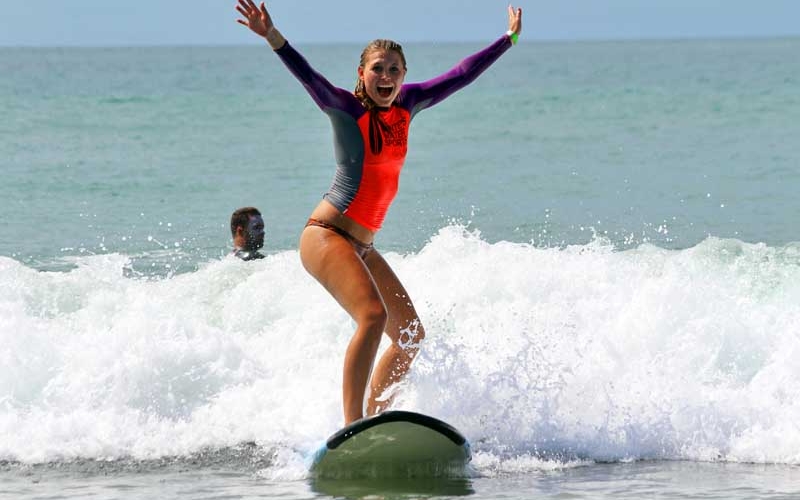 It caters more to vacationers on a tight budget than those looking for a lavish getaway. Since this is a well-known backpacker resort, there are many inexpensive lodging alternatives, some luxurious villas, and mid-range hotels. 
Bahía Ballena
Bahia Ballena is a 35-kilometer stretch of coastline comprising three vastly unique towns: Dominical, Uvita, and Ojochal. Here, palm-tree-lined beaches and lush hilly terrain meet, which is why all these beaches get the title of "Costa Rica's Best Beaches."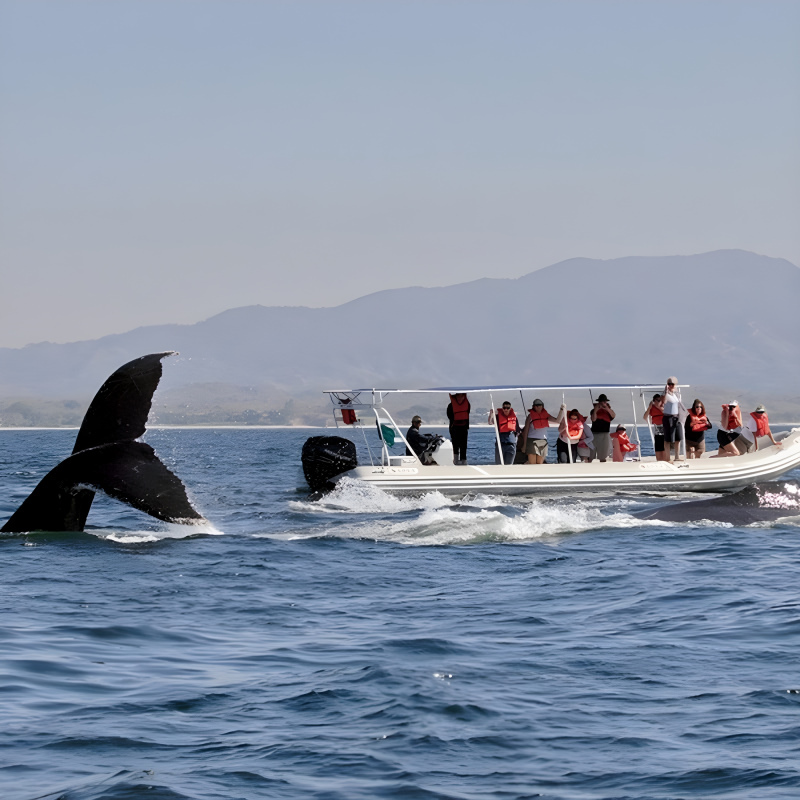 Just about a four-hour drive from the country's international airport, the raw authenticity of this southern strip of coastline belies its relative accessibility. The beaches of Bahia Ballena will allow swimming without any problem and offer various water sports opportunities like snorkeling, kayaking, surfing, scuba diving, and unique whale and dolphin watching adventures.
Playa Carrillo
Playa Carrillo is a beautiful beach in the Guanacaste province of Costa Rica, known for its white sand, palm trees, and clear blue water. There aren't many buildings around, and the waves are typically small. Because of this, families with young children or anyone who simply prefers swimming in less turbulent waters.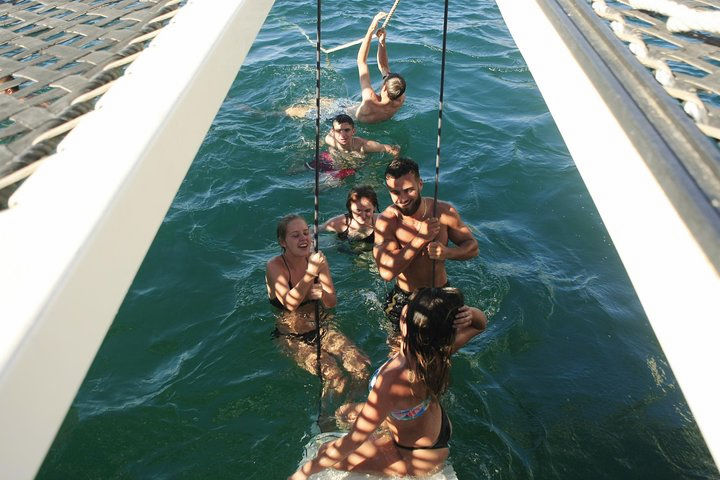 Located in the town of Puerto Carillo, it is popular among vacationers from all over the world because of its laid-back vibe and the wide variety of restaurants, hotels, and outdoor adventures available there.
It's a place between mountains with an incredible view. The beach is perfect for swimming and snorkeling because the water is clear and wave-free. Not to mention how amazing the light-colored sand is.
In addition, a free bus service runs to the beach from 8 a.m. to 5 p.m.
Best Surf Beaches in Costa Rica
Jaco Beach
Along the central Pacific coast of Costa Rica is where you'll find Jaco Beach, only around 1.5 hours from San Jose. This beach is renowned for its vibrant party scene, magnificent black sand beaches, reliable surf, and Pura Vida attitude.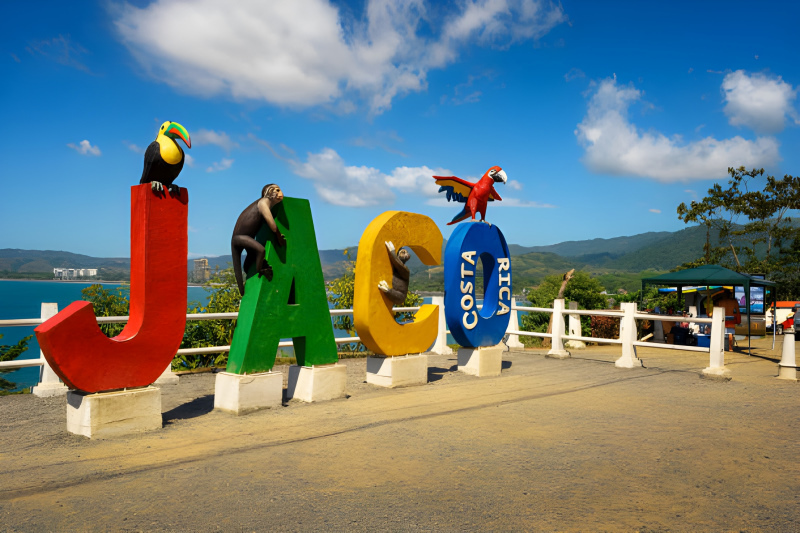 Jaco's location is a great surfing beach due to its relatively large waves. It would be best if you were wary of rip tides, but you can still wade in the shallow water. You may enjoy the beach in various ways due to the town's bustling lifestyle, including surfing, beach yoga, horseback riding, jogging, and more.
Playa Guiones de Nosara
This tiny town in Guanacaste is a little piece of paradise, thanks to its 7 kilometers of pristine white sand and excellent conditions for a wide range of activities. Its beaches are so clean, eco-friendly, and well-maintained that they were awarded the Blue Flag. There is no partying or loud music here, so it's a great place to relax and reconnect with nature.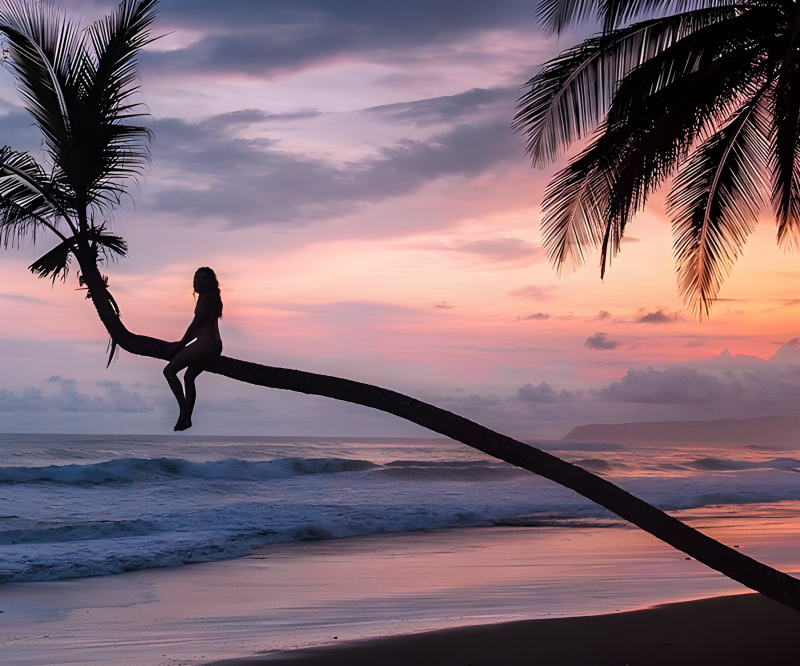 Playa Nosara, a charming town just to the north of Playa Guiones, is another great spot to experience the genuine Costa Rican way of life. Both locations offer a wealth of history and fantastic waves for surfing.
Hermosa's southern tip has a protected natural area where you can see different wildlife and plants. The region is surrounded by curving green hills and is home to beautiful toucans and macaws. You may also see monkeys playing around in the surrounding vegetation.
Playa Pavones
The small beach village of Pavones is located on the Pacific coast of Costa Rica, not far from the Panama border. This remote village can be challenging, but the trip is worth it. You will be surrounded by diverse wildlife in the lush rainforest nearby.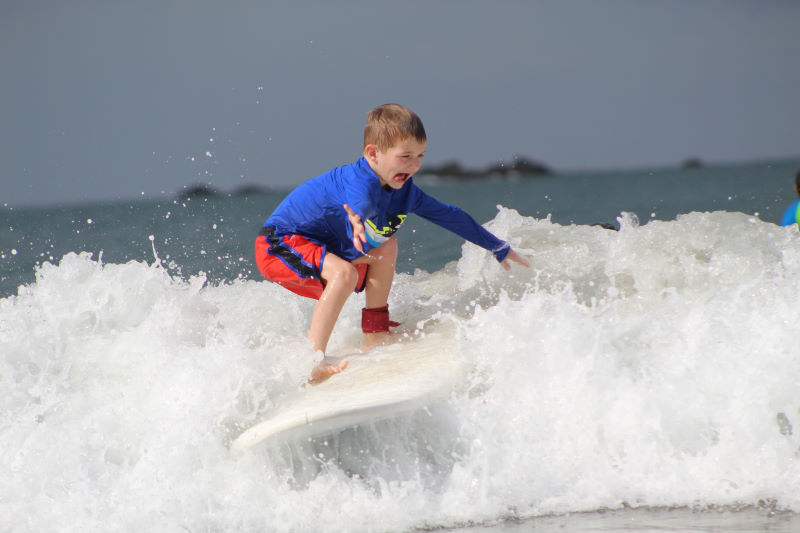 One of the world's most prolonged and significant left-breaking surf waves can be seen at Playa Pavones. From April through September, surfers and tourists from around the world come to Pavones to catch the perfect waves that break along the beach.
You deserve a Costa Rica vacation planned by experts!
Thanks to our local experts, who made an effort to choose from various possibilities, you can now decide which option best suits your needs. As you can see, whether you come here alone, with friends, or with family, there is always a location that will accommodate you.
Let our qualified team assist you in selecting the ideal tour for your memorable honeymoon, family vacation, weekend getaway, or spring break trip. We deliver the most secure, distinctive, and memorable experiences possible. Before, during, and after your vacation, Find My Costa Rica is committed to upholding the highest standards of quality and service. Let's communicate today!
FAQ:
Which beach has the clearest water in Costa Rica?
Some travelers consider the beaches in Guanacaste, like Conchal Beach around Brasilito, to be the best and most transparent in the country. We think they're right. That's why we offer a full-day deluxe tour package in Guanacaste.
On this trip, you'll enjoy Guanacaste and Papagayo's beautiful coastlines. On a private charter ocean discovery tour, you can go to secluded beaches, swim in crystal-clear water, observe breathtaking landscapes, and play with an abundance of water toys.
Which side of Costa Rica is best for beaches?
You'll find the most breathtaking beaches in northwest Costa Rica (Guanacaste and the Nicoya Peninsula). Some travelers say that the southern Caribbean (Puerto Viejo, Cahuita) also offers beautiful beaches. Light sand, warm tropical water, and excellent surfing opportunities can be found in both areas.
Join us on this tour to visit Guanacaste beaches and have an unforgettable experience.
What is the best beach on the Pacific side of Costa Rica?
Costa Rica has many beautiful beaches on the Pacific side. Still, due to the different activities, the breathtaking landscapes, and the connection with nature, Manuel Antonio Beach is the preferred option for many travelers.
If you want to experience it and form your own opinion, join us on this fantastic tour we've created exclusively for you.
Spend five glorious days and nights of luxurious rainforest bliss in the only hotel in town that is steps away from the beach. You'll soar through the jungle canopy on a canopy tour, sail and snorkel on a catamaran, and trek through Manuel Antonio National Park on your hideaway.
Is the Caribbean beach side of Costa Rica worth visiting?
Definitely yes! This area has a smaller tourist population and a stellar reputation among foodies. Cahuita, Puerto Viejo, and Manzanillo are three of the most well-known beach towns in the region south of Limon, and they are popular with seasoned travelers.
On this coast-to-coast tour, you'll have the chance to experience Tortuguero, a beach where green turtles find an ideal place to dig their nests. You'll definitely enjoy this part of the Caribbean coast and catch the uplifting energy and sense of oneness with nature.
Does Costa Rica have swimmable beaches?
Costa Rica's beaches are among the best for swimming and other water sports, thanks to their year-round warmth, low waves, and clean sand.
If you want to enjoy Costa Rica beaches, book the Catamaran Sail & Snorkeling Tour. Pass some of Guanacaste's exotic bays, white-sand beaches, and tropical jungles as you silently glide along Costa Rica's Gold Coast. As our crew prepares a refreshing tropical drink, you can relax and enjoy the view as you look for marine life, such as dolphins, sea turtles, flying fish, and maybe even a breaching whale off the bow.
Which beach in Costa Rica has the whitest sand?
Playa Blanca will surprise you with its beautiful sand and crystalline water and its proximity to Jaco Beach and the capital city of San Jose, even though the country isn't typically known for its white-sand beaches.
If you want to explore the area after visiting this amazing beach, come with us to Carara National Park. About 48% of Costa Rica's bird species make their home in this wonderful, protected region covering about 4,700 hectares. With its location at a crossroads between the arid tropics and the wet Pacific, this journey will give you a sense of the area's significance.
What are the best beaches in Costa Rica for families?
Most travelers say that the best beaches for families are:
Playa Hermosa: The northern Pacific coastline is where you'll find Playa Hermosa. The waves are slow and gentle as they roll up the beach at this wide cove. This is the perfect beach if your little ones are unprepared to brave the waves. Without the threat of riptides or undertow, children can safely explore the coastline in search of seashells.
Playa Carrillo: This beach is ideal for families with young children because of the lack of strong currents and gentle waves. A sandbar provides a safe place for children to swim, play, and unwind on the soft, warm sand. Towering palm trees frame the crescent-shaped beach. You can relax in the cool shade and enjoy the open area.
Playa Manuel Antonio: Many people visit Manuel Antonio National Park annually from around the world and all over Costa Rica. The hiking trails, waterfalls, and scenic views here are among the best in the country. The cove is characterized by its clear water, white sand, gentle waves, and shady almond trees. You will want to extend your vacation to enjoy the beautiful scenery. Join this tour to explore the National Park.
Is Costa Rica good for surfing?
Among surfers, Costa Rica has rapidly risen in popularity, and rightly so. The water temperature stays in the low 80s all year, the waves are consistent, and the laid-back atmosphere has the power to melt away any remaining stress.
If you want to learn how to surf in Costa Rica, check out this tour we have available at Jaco Beach. There is no better place to learn how to surf than in this region, with its large waves and pleasant beach conditions.