When planning a visit to Costa Rica in April, considering the weather conditions is crucial for a seamless trip. This blog will tell you everything you need to know about the weather in Costa Rica in April so you can make the most of your trip. Let's dive in!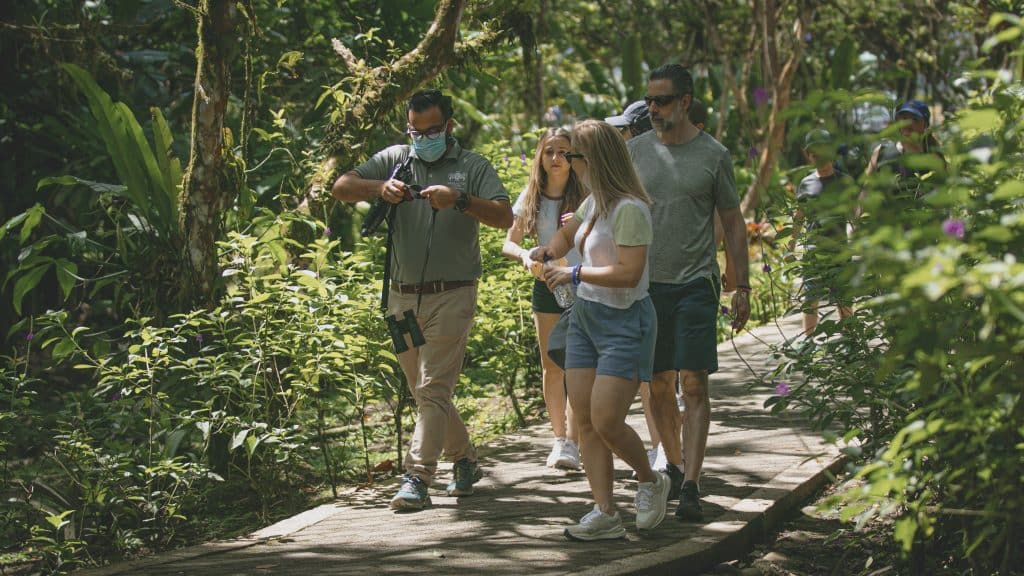 Is April a Good Month to Visit Costa Rica?
April, nestled within the dry season, brings excellent weather that makes it a popular time to visit this captivating destination in Central America.
The Caribbean Coast and Costa Rica's Pacific Coast experience dry weather during this time of the year, making it an ideal time to explore coastal areas and engage in outdoor activities.
In the Central Valley, which encompasses the capital city of San José and surrounding areas, the weather also takes on a unique character.
The Weather Conditions by Region
Costa Rica's diverse geography leads to various weather conditions across its regions. Understanding the climate in different regions will help you pack appropriately and make the most of your visit. Here's a breakdown of the weather conditions by region in Costa Rica:
Pacific Coast
Weather: Sunny and dry
Temperature: 32°C (70°F)
Low: 30°C (80°F)
High: 37°C (98.6°F)
Humidity: Moderate
Chances of rain: Low
Central Valley
Weather: Pleasant and mild
Temperature: 24°C (75.2°F)
Low: 18°C (66°F)
High: 28°C (83.6°F)
Humidity: Moderate
Chances of rain: Low
Caribbean Coast
Weather: Tropical with occasional showers
Temperature: 26°C (79°F)
Low: 21°C (71°F)
High: 31°C (87°F)
Humidity: Higher
Chances of rain: Moderate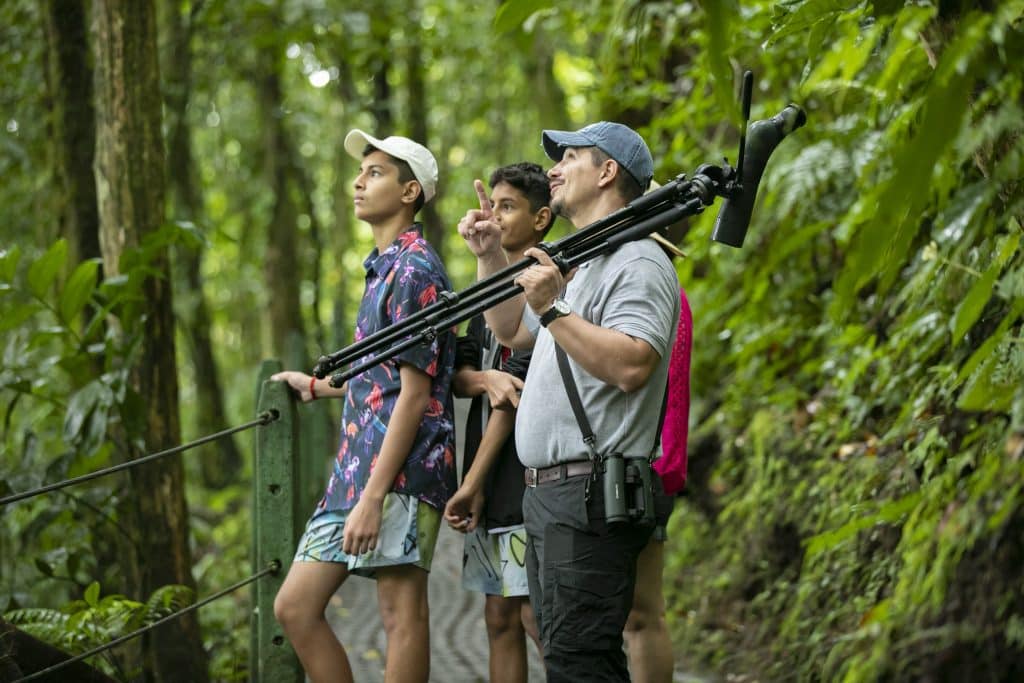 The Best Places to Visit in April
With the great weather in Costa Rica in April, you'll have the perfect opportunity to experience a variety of destinations that cater to different preferences. Here are some of the best places to visit in Costa Rica during this time:
Manuel Antonio National Park
Along Costa Rica's Pacific Ocean, Manuel Antonio National Park is a biodiversity hotspot offering a mix of lush rainforests and pristine beaches.
With average temperatures and clear skies, April is an ideal month to enjoy hiking, wildlife spotting, and relaxing on the park's beautiful beaches.
Arenal Volcano
Located in the northern part of the country, Arenal Volcano and its surrounding area provide a remarkable setting for outdoor enthusiasts. You can enjoy outdoor activities like hiking, hot springs, and zip-lining.
Monteverde Cloud Forest Reserve
If you're looking for a unique ecological experience, the Monteverde Cloud Forest Reserve in the Tilarán Mountains is a must-visit. You can explore misty forests, walk across hanging bridges, and immerse yourself in the rich biodiversity of this enchanting region.
Tortuguero National Park
If you love nature, head to Tortuguero on Costa Rica's Caribbean side. April marks the end of the dry season, and it's a prime time for turtles nesting on its protected shores.
You can take guided boat tours through the park's intricate network of canals to spot various wildlife species.
Puerto Viejo
Puerto Viejo is a vibrant coastal town in the Caribbean known for its laid-back atmosphere and stunning beaches. You can expect sunny days and light showers, creating an ideal setting to explore the town's colorful streets and enjoy water activities.
Guanacaste Province
The Guanacaste Province on the northwestern side of the country boasts beautiful beaches, including Tamarindo and Playa Conchal. With clear skies and warm temperatures, April is an excellent time for swimming, surfing, and soaking up the sun.
Corcovado National Park
Located on the Osa Peninsula, Corcovado National Park is a treasure trove of biodiversity. April offers a prime opportunity to explore the park's dense rainforests, spot exotic wildlife, and unwind on remote beaches.
San José
The capital city provides a cultural immersion into Costa Rica's urban life. Explore museums, visit historic sites, and experience the local lifestyle.
Nicoya Peninsula
The Nicoya Peninsula offers a mix of charming towns and pristine shores for a laid-back beach escape. Places like Santa Teresa and Montezuma are perfect for surfing, yoga retreats, and embracing the relaxed beach lifestyle.
How Crowded Are Tourist Attractions in Costa Rica in April?
April is considered one of the peak tourist seasons in Costa Rica due to the great weather and enjoyable outdoor conditions. This month attracts many tourists eager to experience Costa Rica's natural beauty and vibrant culture.
You can take advantage of this time to explore the country's renowned national parks, such as Corcovado National Park. The Nicoya Peninsula, known for its stunning beaches and lush landscapes, is also a popular destination during this time.
These are other things to consider when visiting Costa Rica in early April:
Average Temperature and Rainfall
It's important to note that temperatures can vary based on the Costa Rica region you're in. Coastal areas are warmer, while you might experience slightly cooler temperatures at higher altitudes. The average rainfall during this time is minimal, with only light showers occurring sporadically.
Pacific Coast vs. Caribbean Coast
The Pacific side, including popular destinations like Manuel Antonio and Guanacaste, experiences clear skies and sunny days in April. This is an excellent time for beach activities, ocean kayaking, and exploring the lush rainforests in the region.
On the Caribbean side, which includes the town of Puerto Viejo, you can expect slightly different weather conditions. While April is part of the dry season, the Caribbean may experience more rainfall than the Pacific Coast. However, these rain showers are usually short-lived and don't significantly affect travel plans.
Easter Season and Holy Week
April is also known for the Easter season, which includes the Holy Week leading up to Easter Sunday. This is a significant national holiday, and you will come across various events and celebrations, including colorful parades and religious activities.
Please note that during Holy Week or Semana Santa, some places, especially government offices and certain businesses, might be closed or operate on limited hours.
Key Events and Holidays
One of the important national holidays in April is the Día de Juan Santamaría, celebrated on April 11th. This day commemorates a national hero and is marked with various festivities, including street fairs and cultural events.
Additionally, Palm Sunday and Good Friday, part of the Easter week, are observed with religious ceremonies and traditions.
Local Cuisine and Delicious Food
Costa Rica offers a rich culinary scene, and in April, you can savor local delicacies like "Arroz con Leche" (rice pudding) and "Dulce de Coco" (sweet coconut). These treats are a great way to experience the flavors of Costa Rica's cuisine while enjoying the pleasant weather.
Packing Tips for April in Costa Rica
Packing for a trip to Costa Rica in April requires careful consideration of the weather and the activities you plan to engage in. Here are some packing tips to keep in mind:
Pack lightweight and breathable clothing, such as shorts, T-shirts, tank tops, and sundresses. You can opt for moisture-wicking fabrics that will help keep you cool and comfortable, especially during outdoor activities.
Make sure to pack your swimwear. Proper swim attire is essential if you plan to swim, surf, or relax by the ocean.
Pack comfortable and durable footwear suitable for various activities. Hiking sandals, walking shoes, and flip-flops are excellent for exploring urban areas and natural landscapes.
Include sunscreen with a high SPF, sunglasses with UV protection, a wide-brimmed hat, and a lightweight, long-sleeved shirt for sun coverage.
Pack a compact and lightweight rain jacket or poncho to stay dry without wasting too much space in your luggage.
Bring insect repellent with DEET or a natural alternative to protect yourself from bites.
Pack your camera, smartphone, and other electronics to capture the beautiful landscapes that only Costa Rica offers. Remember to bring chargers, adapters, and power banks to charge your devices throughout your trip.
Pack any necessary prescription medications, along with a basic first aid kit. Remember personal items like toiletries, travel-sized hand sanitizer, and essential health-related supplies.
Bring a reusable water bottle to refill daily and reduce your environmental impact.
If you plan to visit urban areas, consider packing some slightly dressier options for dining out or attending cultural events. Lightweight, breathable, and semi-formal clothing will suffice.
Ensure you have all necessary travel documents, including your passport, visa (if required), flight itinerary, hotel reservations, and travel insurance information.
Make sure to have a mix of payment methods to cover various situations. While credit cards are widely accepted, having some local currency (Costa Rican colones) for small purchases and tips can be convenient.
Carry a few energy bars, nuts, or snacks for when you're on the go. Staying energized is essential during your explorations.
As you prepare to embark on a journey to Costa Rica in April, you're in for a remarkable adventure. The average temperature, diverse landscapes, and cultural experiences make this tropical paradise a destination like no other.
Ready to begin your Costa Rican adventure? For more information, personalized itineraries, and assistance planning your April trip to Costa Rica, contact Find My Costa Rica. Start planning your unforgettable journey to Costa Rica with us!
FAQ:
Is Costa Rica humid in April?
Costa Rica experiences varying humidity levels depending on the region and the time of year. In April, which falls within the dry season, humidity levels are generally lower compared to the rainy season.
Does it rain in Costa Rica in April?
Some light showers, especially in rainforest areas and the Caribbean coast, may still occur. However, the chances of rainfall are significantly lower compared to the rainy season.
How many hours of daylight can I expect in Costa Rica in April?
In April, Costa Rica experiences approximately 12 to 13 hours of daylight, allowing ample time to explore and enjoy various activities.