Understanding weather conditions is key to planning a memorable vacation. Therefore, if you plan to visit Costa Rica soon, consider its weather conditions according to your activities.
From December to April, Costa Rica's dry season offers sunny days and warm temperatures averaging mid 70s °F (24 °C) during the day and 60s °F (18 °C) at night. In contrast, Costa Rica's rainy season, spanning from May to November, showcases the country's natural beauty in full bloom. During the rainy season, temperatures can drop to 50 °F (12-14 °C) at night.
Costa Rica offers a delightful climate in February, ideal for outdoor adventures and breathtaking natural beauty. As February marks the end of the dry season in many parts of Costa Rica, one of the highlights of February is the abundance of sunshine.
With its long, sunny days and minimal rainfall, the country offers ample opportunities to explore picturesque landscapes. Walk along pristine beaches or hike through lush rainforests while soaking up the warm glow of the sun.
Would you like to know more? Let our experts at Find My Costa Rica tell you all about it!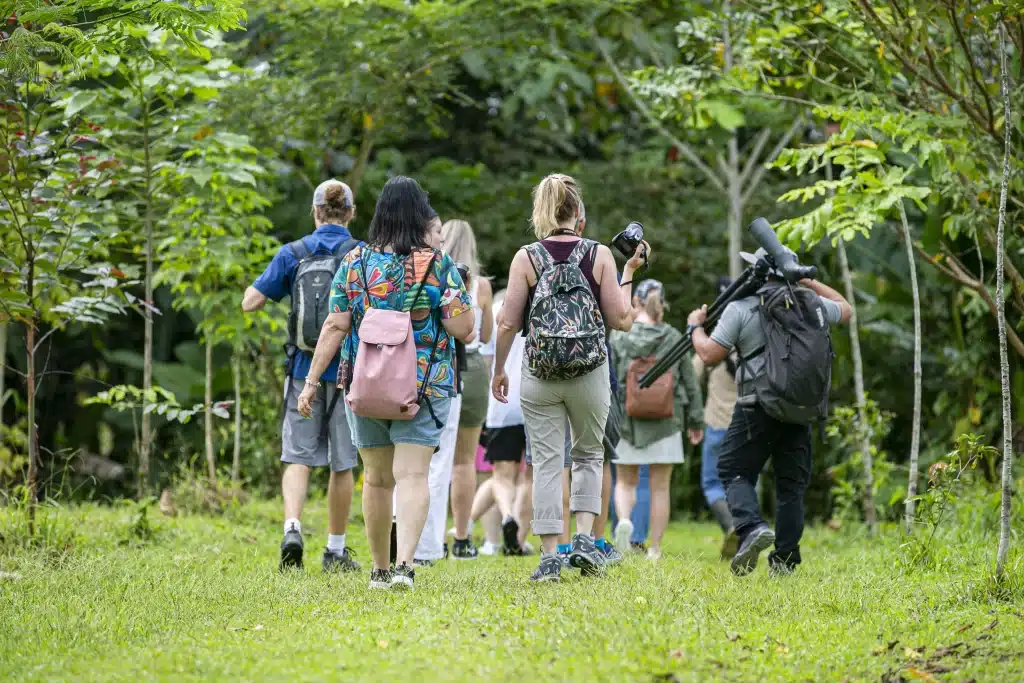 Costa Rica Weather in February
Visiting Costa Rica is a great way to escape the hustle and bustle of your daily life. The warm weather, delicious traditional food, and diversity of Costa Rica make it a truly unique paradise.
The weather conditions by region
During Costa Rica's dry season, the country's Pacific coast experiences warm temperatures, with lows dropping only a few degrees. However, the Caribbean side and central highlands typically experience more rainfall.
Places like Tortuguero National Park in the Northern Caribbean boast an average temperature of 81°F (27.2°C) in February but encounter about 15 days of rain.
Here is a closer look at Costa Rica's weather in February:
Pacific Coast
Weather: Sunny skies with little rain
Temperature: 82.9°F (28.3°C)
Low: 72°F (22.2°C)
High: 94°F (34.4°C)
Central Valley
Weather: Very little rain
Temperature: 72 °F (22.2°C)
Low: 64°F (18 °C)
High: 80 °F (26.4 °C)
Caribbean Side
Weather: Hot, sunny, and with occasional cloudy skies.
Temperature: 77 °F (25 °C)
Low: 70°F (21 °C)
High: 84°F (29°C)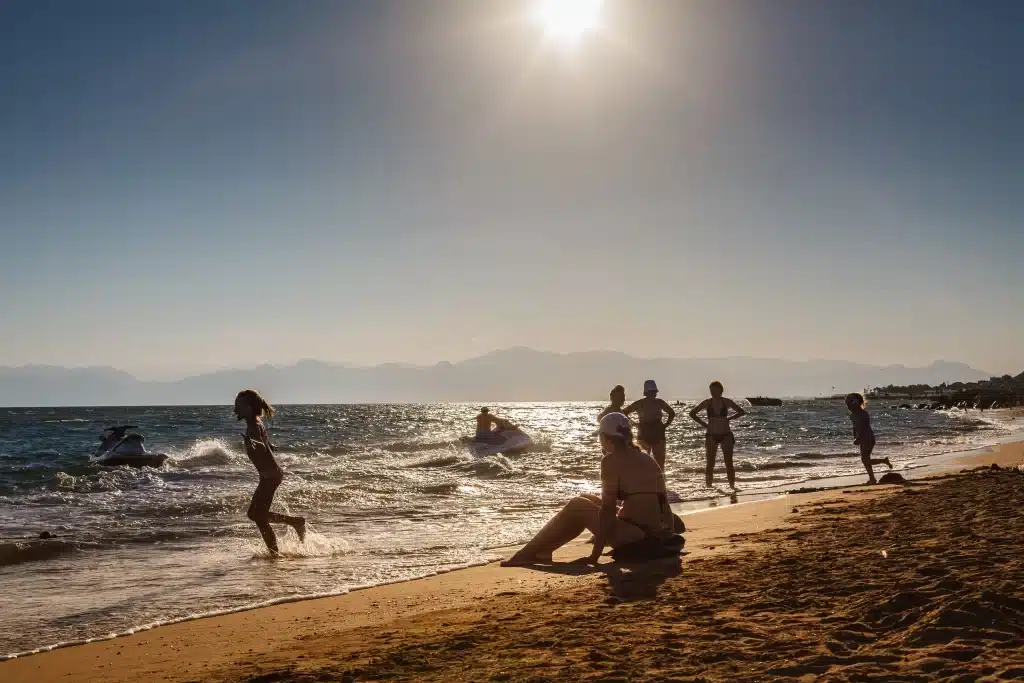 The Best Places to Visit in February
Visiting Costa Rica in February? You're in for a treat! There are many incredible destinations to discover in this tropical paradise. From vibrant cities to stunning beaches, incredible national parks, lush peninsulas, and much more.
Here are some of the best places to visit in Costa Rica in February:
San Jose
Costa Rica's capital city, San Jose, is the perfect place to begin your journey. Discover the rich culture and history of the country by visiting the National Cultural Center.
Explore Costa Rica's artistic and creative heritage through museums, art galleries, and theaters. Enjoy delicious local cuisine, bustling markets, and a lively atmosphere in this vibrant city.
Pacific Beaches
Head to Costa Rica's Pacific Coast and discover the pristine beaches that dot the shoreline. The golden sands, crystal-clear waters, and breathtaking sunsets of Playa Flamingo make it a must-visit destination.
In the Guanacaste Province, which is known for its beautiful coastlines, you'll find a variety of resorts and beachside towns where you can go scuba diving or snorkeling. Some of the most popular places among visitors are Isla del Coco, Caño Island, Playa Ocotal, and the Catalina Islands.
One of the finest surfing spots can also be found on the enchanting Nicoya Peninsula, renowned for its natural beauty and laid-back vibes. The most notable beach is Santa Teresa. This spot is ideal for improving your technique because it has consistent waves and surf breaks year-round.
National Parks
Costa Rica is known for its incredible biodiversity and protected areas. During February, you can explore the national parks to see various wildlife in their natural habitats.
On the Osa Peninsula, Corcovado National Park offers pristine rainforests, beautiful beaches, and an abundance of wildlife for nature lovers. At Monteverde Cloud Forest Reserve and Manuel Antonio National Park, you can also spot unique flora and fauna, hike along lush trails, and admire breathtaking views.
How crowded are tourist attractions in Costa Rica in February?
As February falls within the high season in Costa Rica, it's essential to anticipate larger crowds at popular tourist attractions. The combination of favorable weather and peak travel season attracts visitors worldwide, increasing foot traffic at renowned sites and destinations.
Consider booking activities and tours in advance to maximize your time and minimize potential delays or queues. This way, you can secure your spot and ensure a smoother experience, especially for popular excursions like zip-lining, wildlife tours, or volcano hikes.
Packing Tips for February in Costa Rica
Ready to visit Costa Rica during the month of February? To ensure a comfortable and enjoyable vacation, pack wisely for every activity, whether it's relaxing on pristine beaches, exploring lush rainforests, or embarking on thrilling adventures.
Here are some handy packing tips to consider:
Opt for loose-fitting shirts, shorts, and a light jacket or sweater for cooler evenings or higher altitude destinations to stay cool in the tropical climate.
Pack your swimsuits, cover-ups, and beach towels. For added sun protection, bring a rash guard or sun-protective clothing.
Bring insect repellent to protect against mosquitoes and other insects.
Pack sunscreen with a high SPF, sunglasses, and a hat to shield yourself from the sun's rays.
Although February is part of the dry season, occasional rain showers might still occur. Pack a lightweight rain jacket and a travel-sized umbrella to stay dry during short downpours.
Pack comfortable and sturdy footwear suitable for various activities. Sandals or flip-flops are great for the beach while hiking shoes or sneakers are essential for outdoor adventures.
Protect your electronics and other valuables with a waterproof bag or cover.
Making your dream of a sunny Costa Rican vacation come true is easier than you might think. Our local guides offer excellent tours that fully allow you to experience Costa Rica. Contact Find My Costa Rica today for more details about the mentioned destinations or to explore additional options.
FAQ:
Are there any safety concerns related to the weather in Costa Rica in February?
Costa Rica in February generally has favorable weather conditions with minimal safety concerns. However, it's always a good idea to stay updated on local weather forecasts and heed any advisories or warnings issued by authorities.
Can you swim in Costa Rica in February?
Absolutely! February offers warm temperatures and pleasant weather, making it a great time to enjoy swimming in the coastal waters of Costa Rica. Just remember to adhere to any safety guidelines and be aware of currents or specific beach conditions.
How humid is Costa Rica in February?
In February, Costa Rica experiences relatively lower humidity levels compared to other times of the year. While humidity can vary depending on the specific region, you can generally expect comfortable and enjoyable conditions throughout the country during this month.