Costa Rica is known for being a tropical paradise, and for good reason. Aside from its stunning natural beauty, the country has a tropical climate. This means the country only experiences two seasons per year, dry and rainy.
Therefore, understanding its dynamic patterns can help you pack appropriately for your trip, plan your activities, and ensure you have the best time.
Learn everything you need to know about Costa Rica's weather with our local guides at Find My Costa Rica! We're here to ensure you have a stress-free vacation.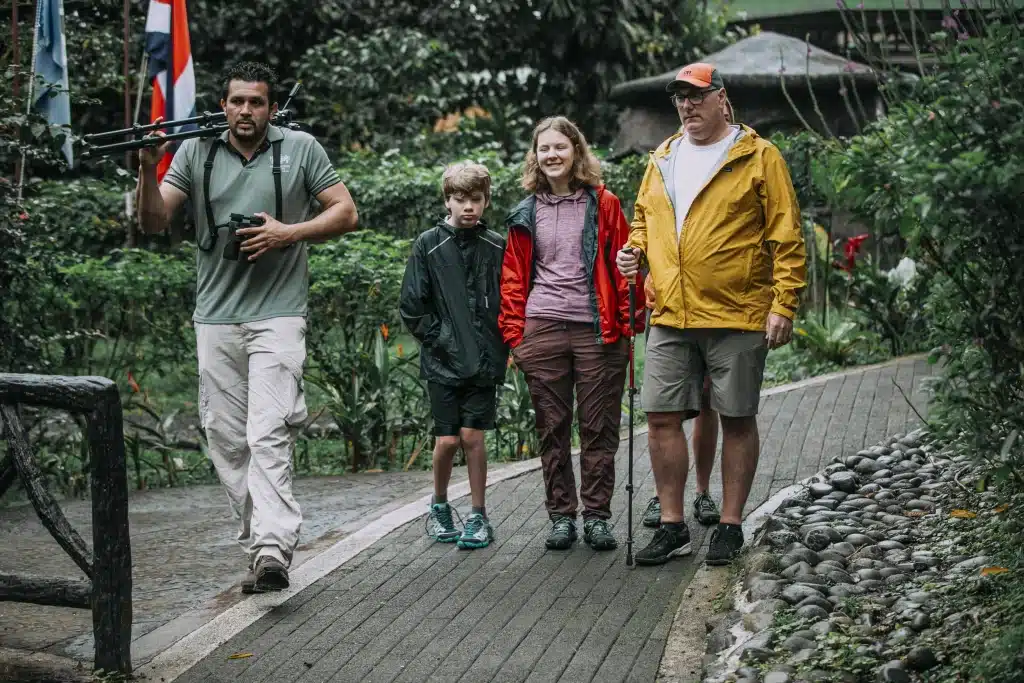 Costa Rica Weather in June
As mentioned before, Costa Rica only has two seasons. If you're planning a visit during June, you'll find yourself right in the middle of the rainy season, also known as the "green season."
What does this mean? We have periodic warm afternoons throughout most of the country. However, if you visit the Caribbean coast of the country, it tends to rain more.
One perk of visiting Costa Rica's rainy season is that you'll find lush vegetation everywhere, thanks to the abundant rainfall. Landscapes become incredibly green and picturesque during this time, showcasing their natural beauty.
Another advantage is that the rainy season is Costa Rica's low season. This means that prices are more affordable and there are fewer tourists, making it a win-win situation if you're not afraid of getting caught up in the rain for a while.
The weather conditions by region
With the ever-changing climate each day, you might think that Costa Rica's weather is a bit wild, but most Costa Ricans have found an effective way to cope. The best part? We're about to tell you vital details to consider when visiting Costa Rica in June.
Let's take a closer look at Costa Rica's weather in June:
Pacific Coast
Weather: Rainfall and humidity
Temperature: 82.2 °F (27.9 °C)
Low: 74 °F (23.6 °C)
High: 90 °F (32.2 °C)
Central Valley
Weather: Moderate precipitation
Temperature: 73.8 °F (23.2 °C)
Low: 67 °F (19.2 °C)
High: 81 °F (27.2°C)
Caribbean Coastal Areas
Weather: Mostly rainy
Temperature: 80.3 °F (26.9 °C)
Low: 74 °F (23.3 °C)
High: 87 °F (30.4 °C)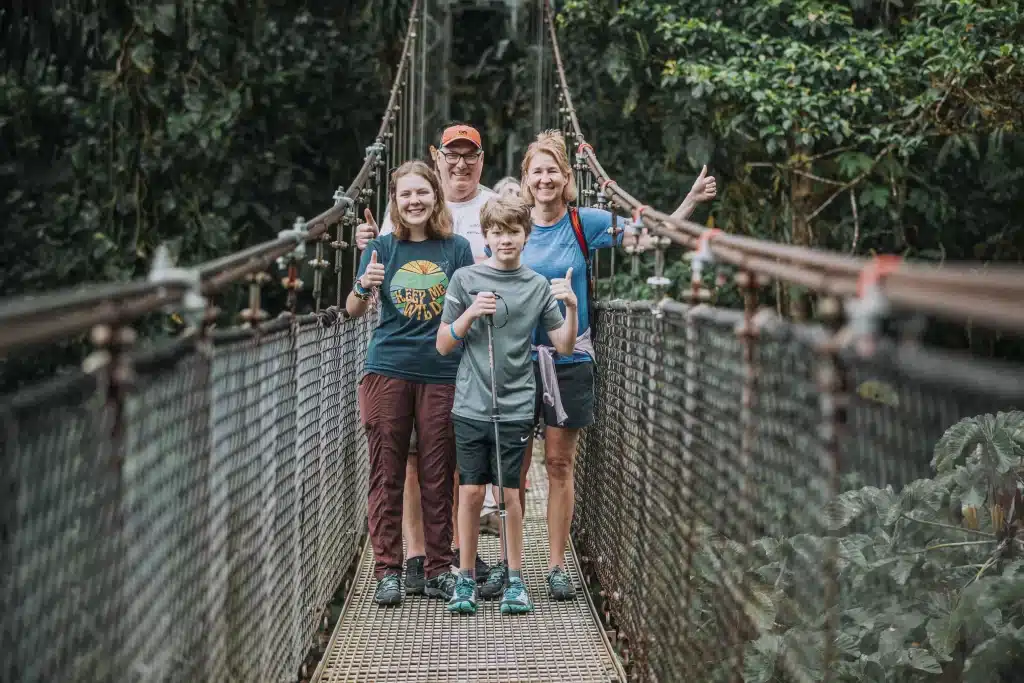 The Best Places to Visit in June
Are you eager to visit Costa Rica in June? This beautiful Central American destination beckons adventurers and nature enthusiasts alike.
Here are some of the best places to visit:
Tortuguero National Park
Tortuguero, Costa Rica, is situated on the northern Caribbean coast, nestled amidst dense jungles and ocean waters, and boasts pristine black sand beaches. It's a remarkable destination renowned for being home to the turtle nesting season during June.
This unique ecosystem also supports diverse wildlife, with opportunities to spot river turtles, caimans, otters, monkeys, and many bird species.
While Tortuguero Beach offers a scenic coastal retreat with its black sandy shores and towering palm trees, swimming is discouraged due to strong currents and bull sharks. However, witnessing the nesting process of green sea turtles becomes a memorable experience for visitors.
Puerto Viejo de Limón
There are many opportunities to experience whitewater rafting near Puerto Viejo. Among the most popular rafting rivers is the Pacuare River. When you get to Pacuare, you'll find yourself surrounded by gorgeous scenery and a variety of lush vegetation.
The rapid currents flow from southwest of San Jose to the Caribbean coast. You'll experience an adrenaline rush during this adventure as you navigate through level IV rapids.
Manuel Antonio
A true natural paradise, Manuel Antonio National Park is one of the most popular Protected Wildlife Areas, attracting visitors from around the world looking to see Costa Rican wildlife.
In addition to the amazing national park, Manuel Antonio offers one of Costa Rica's finest beaches. Manuel Antonio Beach. Renowned for its awe-inspiring natural splendor, its crystal-clear waters teeming with diverse marine life, and its unspoiled coral reefs, the beach is especially appealing to snorkelers.
Corcovado National Park
Corcovado National Park is one of the world's largest and most secluded national parks, allowing you to immerse yourself in nature away from the crowds. Compared to other national parks, Corcovado is more remote and requires a slightly more challenging journey.
Once you arrive, you'll find pristine, untouched beaches, breathtaking hiking trails, and an abundance of wildlife. In addition, this extraordinary place boasts 2.5% of the world's biodiversity.
Arenal Volcano
Arenal Volcano is renowned for its remarkable symmetrical cone shape, earning it a well-deserved spot among the top destinations to explore in Costa Rica.
If you're looking for invigorating hikes in scenic surroundings, this is the place to go. The park features a variety of trails, catering to individuals of all ages, from the youngest to the oldest. Options range from leisurely strolls to more challenging treks.
As you walk through these trails, you'll witness incredible views of the lush jungle that envelops the area. Moreover, you can relax in the region's hot springs, adding a touch of luxury to your adventure.
How crowded are tourist attractions in Costa Rica during June?
While the rainy season generally attracts fewer visitors compared to the peak dry season months, popular attractions may still have a moderate level of visitors. You may encounter fewer crowds if you plan your visits early in the morning or during the weekdays.
If you're planning a visit in June, keep in mind that there are some national holidays that take place during this month. Father's Day is celebrated on the third Sunday of June, and on June 29th, the country celebrates St. Peter and St. Paul Day. You can expect to see more gatherings and crowds of people on any of those days.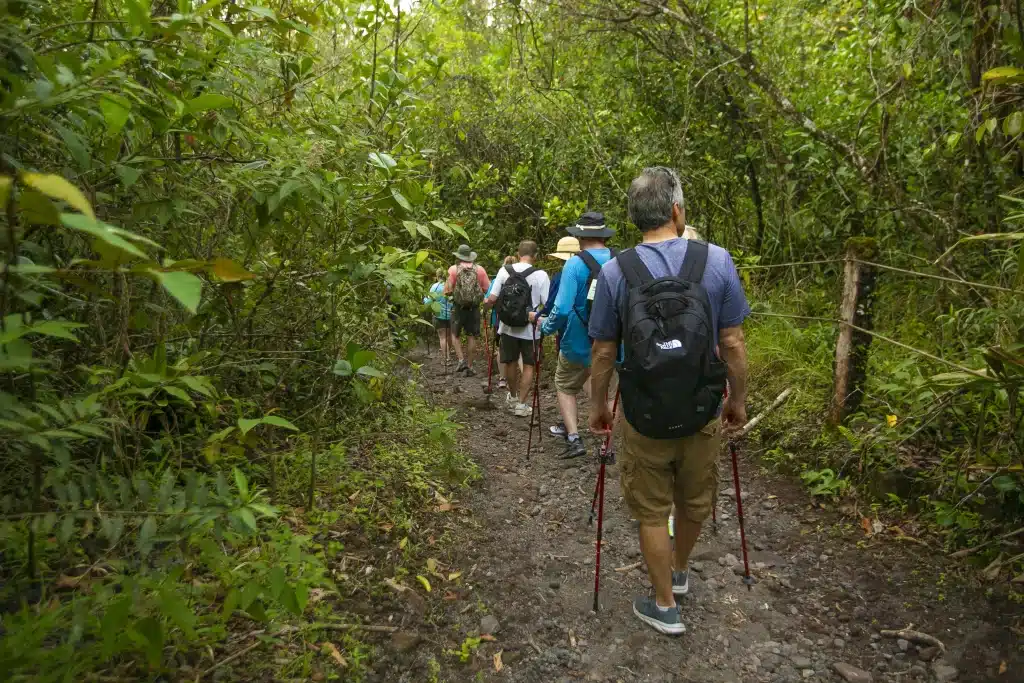 Packing Tips for June in Costa Rica
June marks the beginning of Costa Rica's rainy season, so packing with weather forecasts in mind is essential to ensure comfort and enjoyment despite the occasional showers.
Here are some essential packing tips to remember for your adventure:
Rain gear: Pack a waterproof jacket to stay dry during sudden rain showers.
Quick-drying clothing: Fabrics such as nylon or polyester ensure comfort even if you get caught in a downpour.
Layered clothing: Pack lightweight, breathable layers that you can easily add or remove as needed.
Insect repellent: Mosquitoes and other insects are more prevalent during the rainy season, so pack a reliable insect repellent to stay protected.
Waterproof footwear: Consider packing waterproof or water-resistant shoes or sandals that can handle wet conditions and muddy trails.
Travel umbrella: Carry a compact travel umbrella to shield yourself from rain.
Water-resistant bag: Keep your belongings safe and dry by packing a water-resistant backpack for day trips and adventures.
Sun protection: Despite the rain, the sun can still be intense. Pack sunscreen, a hat, sunglasses, and lightweight, long-sleeved clothing for sun protection.
Plan your June trip to Costa Rica confidently by contacting Find My Costa Rica. Our local guides are ready to create an unforgettable adventure for you, your friends, your family, or your loved one!
FAQ:
Are there any safety concerns related to the weather in Costa Rica in June?
As June marks the beginning of the rainy season, it's important to be aware of potential safety concerns, particularly on dirt roads in high-precipitation areas. However, don't let rainy days dampen your spirits! Our local experts at Find My Costa Rica will handle every aspect of your trip, ensuring your safety and peace of mind.
Is travel insurance recommended for a trip to Costa Rica in June?
Yes, as with any other trip, travel insurance is highly recommended for a trip to Costa Rica in June. It can provide coverage for unforeseen events such as trip cancellations, medical emergencies, and travel disruptions due to weather-related issues.