As the rest of the world prepares for chilly temperatures, November paints a different picture in Costa Rica. In this tropical paradise, you can escape the cold weather and immerse yourself in exciting adventures.
As the rainy season ends, Costa Rica welcomes the arrival of the dry season, which brings sunny mornings and warm days throughout November, making Costa Rica the perfect getaway to beat the winter blues.
Discover how the gorgeous landscapes and fantastic November weather merge seamlessly with our local guides at Find My Costa Rica, making your vacation memorable!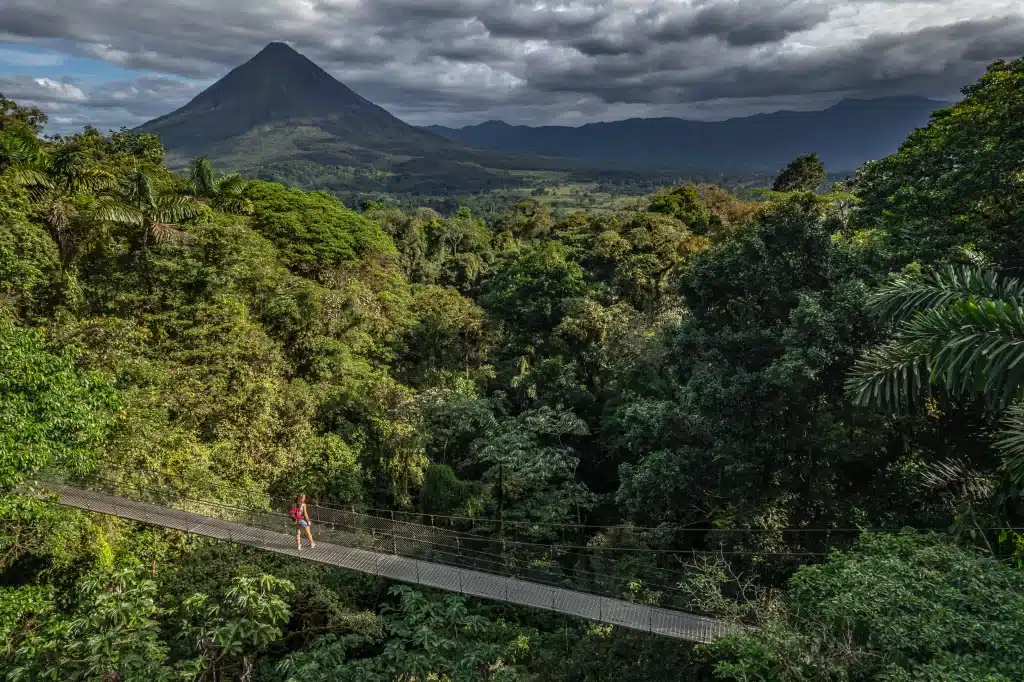 Costa Rica Weather in November
As November is a transitional month, you can expect a mix of dry and rainy days. The average monthly rainfall decreases in mid-November, and showers become less frequent.
Overall, November is an excellent time to visit Costa Rica. As a result of the previous months' rains, the vegetation is still lush, and you can see vibrant green landscapes all over the country.
The weather conditions by region
As mentioned above, November marks the end of the rainy season and prepares Costa Ricans for the beginning of the dry season. When you visit Costa Rica this month, you'll experience average temperatures between 70 and 80 °F (20 to 20°C).
Some coastal areas in the Pacific might be warmer. Also, higher elevation areas like Monteverde might be cooler than other areas in the Central Valley, like San Jose. On the Caribbean Coast, it gets hot, but there's also a greater chance of rain.
Here's what you need to know about visiting Costa Rica in November:
Pacific Coast
Weather: During this month, the Pacific side of Costa Rica varies between rain and sunshine.
Temperature: 81.1 °F (27.3 °C)
Low: 73 °F (22.8 °C)
High: 89 °F (31.8 °C)
Central Valley
Weather: Day-by-day variation in rain and sunshine
Temperature: 72.4 °F (22.5 °C)
Low: 65 °F (18.6 °C)
High: 79 °F (26.3 °C)
Caribbean Coast
Weather: Mostly rainy
Temperature: 78.7 °F (25.9 °C)
Low: 72 °F (22.2 °C)
High: 85 °F (29.7 °C)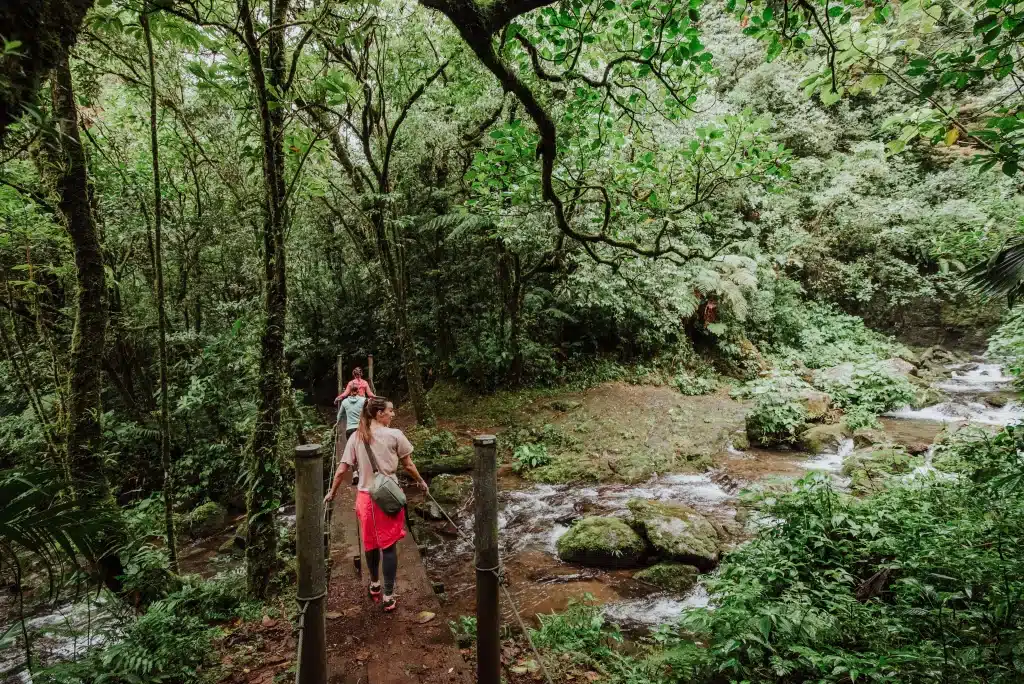 The Best Places to Visit in November
Costa Rica is a tropical country with many beautiful places to explore, including pristine beaches, lush rainforests, mountains, volcanoes, rivers, and much more.
Here are our top 5 places to explore during November:
San José
The vibrant heart of Costa Rica is San Jose. The breathtaking capital city is a multicultural melting pot with a dynamic mix of old and new, enticing travelers with a unique charm.
With its busy streets and modern buildings, you'll also find lush greenery and vibrant nightlife, including the largest international airport in the country.
San Jose is located in the Central Valley and is home to over 2 million people. So expect the city center to be bustling. Despite this, you'll have the ability to explore some of the hidden gems at a slower pace.
With Christmas around the corner, watching the city come to life with decorations will be a sight to behold. Pair the beauty of Costa Rica during November with its historical buildings, art, delicious cuisine, and boundless entertainment.
La Fortuna
La Fortuna is a hidden gem located in Costa Rica's enchanting rainforests, crowned by the majestic Arenal Volcano. During your visit, you'll discover natural wonders, thrilling activities, and a vibrant culture. In addition to its amazing wildlife and natural hot springs, it's also known for its popular attractions.
In La Fortuna, you can go horseback riding, go on a guided coffee tour, walk through hanging bridges, and enjoy a delicious lunch. Rio Celeste is also nearby, with a beautiful waterfall and a stunning light blue river.
Monteverde Cloud Forest
The Monteverde Cloud Forest Reserve is a natural wonderland that will leave you spellbound. Located only a few hours' drive from San Jose, visiting this national reserve during your stay in Costa Rica is a must.
In the mountains of Costa Rica, this verdant paradise beckons explorers and nature enthusiasts from around the world, offering an unforgettable experience. In this forest biological reserve, you'll find over 2,500 plant species, including orchids, bromeliads, and mosses.
The cloud forest of Monteverde is also home to a wide variety of animals, making it a paradise for nature lovers. Keep your eyes open, and you might see some of the world's most magnificent animals.
Tortuguero National Park
Located on the Northeast Coast of the Caribbean Sea in Costa Rica, Tortuguero is surrounded by dense jungles and ocean waters. The pristine black sand beaches and the turtle nesting season are among its most remarkable attractions.
Numerous marine species find refuge in Tortuguero's mangrove forests, which are vital to this ecosystem's well-being. When you visit Tortuguero National Park, you can observe wildlife such as seven species of river turtles, caimans, otters, many crustaceans, and over 50 types of fish.
Additionally, through Tortuguero's vast network of freshwater creeks and lagoons, you can see spiders, howler monkeys, capuchin monkeys, and dozens of bird species.
Puerto Viejo
There is something for everyone in Puerto Viejo de Talamanca, located on Costa Rica's Caribbean Coast. It is highly recommended that you take the chocolate tour in Puerto Viejo. Throughout the tour, you will learn everything you need to know about cacao and the history behind Costa Rican chocolate.
Another exciting way to explore the beautiful area of Puerto Viejo is by renting a bike. Besides being fun, riding a bike allows you to experience Puerto Viejo de Talamanca from a whole new perspective.
What about surfing, you ask? Here is a list of nearby beaches you can visit to take surfing lessons or simply hang out and relax:
Playa Puerto Viejo
Playa Cocles
Punta Uva Beach
Playa Chiquita
Playa Negra
How crowded are tourist attractions in Costa Rica during November?
If you're trying to avoid crowded and expensive accommodations, November is the best month to visit Costa Rica. This is the last month of Costa Rica's rainy season, so you can expect fewer crowds at the attractions and the hotels than in the peak season.
You may see crowds during national holidays early in November, such as "Dia de los Muertos," a Costa Rican holiday when locals remember their deceased loved ones. Due to this, we recommend you plan your trip for mid-to-late November. Make sure to avoid Thanksgiving week or weekend, since this holiday tends to be more crowded.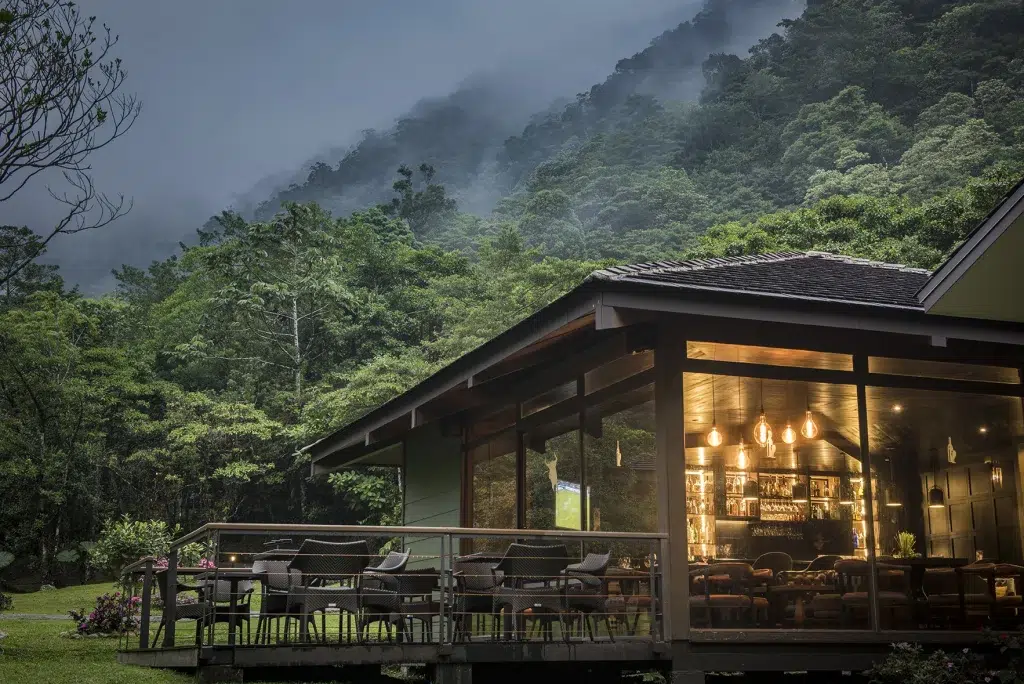 Packing Tips for November in Costa Rica
Be prepared for an unforgettable vacation in this tropical paradise. With occasional showers and warm temperatures, packing smartly makes a huge difference in your overall travel experience. We've compiled a list of essential packing tips to make the most of your journey.
Take a look at some of the things you should bring:
Lightweight, breathable clothing: Pack light, loose-fitting clothes made from breathable materials to stay comfortable in warm and humid weather.
Layered clothing options: Although November is generally warm in Costa Rica, it's a good idea to pack a light sweater or a jacket, as evenings can be cooler in certain areas or at higher elevations.
Rain gear: Pack a compact rain jacket for occasional showers. It's also a good idea to bring a small umbrella or a waterproof cover for your backpack.
Comfortable walking shoes: Bring comfortable, sturdy shoes for walking and hiking. Costa Rica offers plenty of opportunities for outdoor adventures, so having proper footwear is essential.
Swimwear and beach essentials: Remember to pack your swimsuit, as November still offers warm temperatures perfect for enjoying the beautiful beaches. Also, bring sunscreen, a hat, sunglasses, and a beach towel for sun protection.
Insect repellent: Mosquitoes are common in Costa Rica. You should pack insect repellent to protect yourself from insect bites.
November in Costa Rica is a true gem. It offers the perfect backdrop for an unforgettable experience. If you're ready to explore our beautiful country during this time of the year, contact Find My Costa Rica today! Our expert team will tailor your ideal November getaway, ensuring every moment is filled with awe and delight.