Are you considering becoming a digital nomad? Costa Rica offers more than just a pretty backdrop for your conference calls! With the introduction of the digital nomad visa in July 2022, you can begin your morning with sunlight filtering through the jungle canopy or distant waves calling your name. 
However, managing visas for digital nomads, securing the best co-working spaces, and gaining a grasp of living in this tropical paradise are all part of the important process of preparation. With our assistance, you can take remote work to a whole new level. This blog will provide all the information you need to join our country's vast digital nomad community.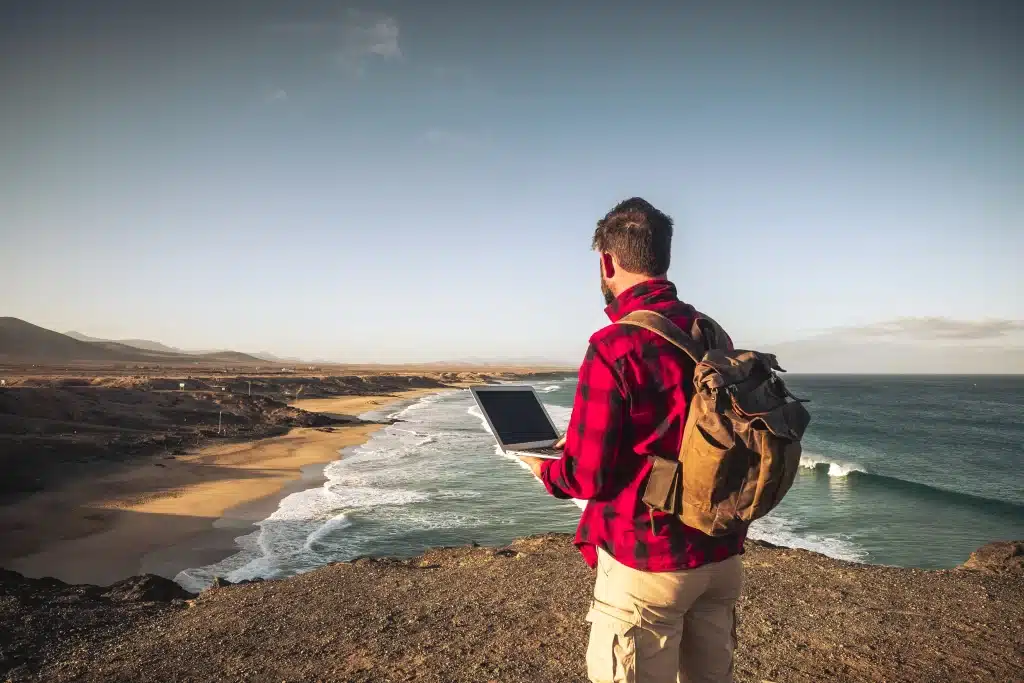 Is Costa Rica a Good Place for Digital Nomads?
Absolutely, Costa Rica is a digital nomad's dream destination. Since introducing the new visa for digital nomads, our doors have been wide open for global remote workers.
One of the most significant advantages is that you're not considered a regular resident for tax purposes, meaning you have no formal tax duties. Also, the General Department of Migration and Foreigners' website explains that you don't need to leave the country every 90 days, which is mandatory with a tourist visa. 
Additionally, you can request an extension, validate your foreign driver's license, and even open a local bank account. 
Why is Costa Rica a popular destination for digital nomads?
Costa Rica has become a popular destination for digital nomads worldwide because of its stunning natural wonders, laid-back lifestyle, vibrant local culture, and fun activities.
Among the many natural wonders to explore are beautiful beaches, active volcanoes, and lush rainforests. 
Additionally, you can get all the conveniences required for a productive workplace. There are many coworking spaces, quick internet connections, and digital nomads across the nation who can give you the best advice on how to live the digital nomad lifestyle.
Ultimately, Costa Ricans have a welcoming culture that will make you feel comfortable and joyful anywhere you go.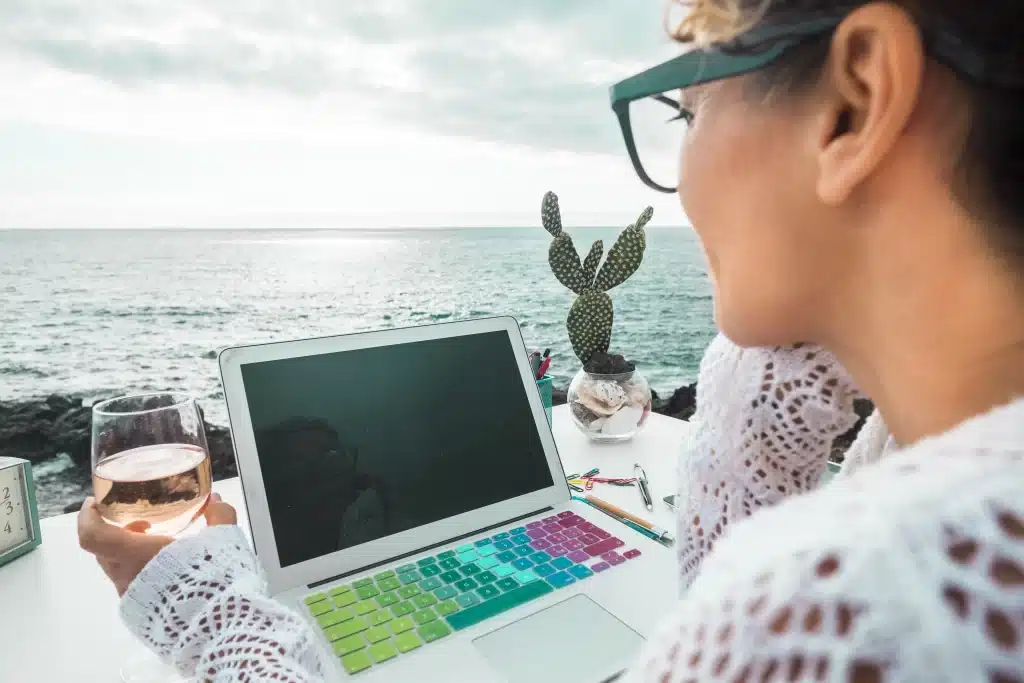 Tips for Preparing for Your Move to Costa Rica
Becoming a digital nomad in Costa Rica is more than just a change of scenery; it's a transformative experience. There are a few things you should do to help the adjustment to this tropical paradise go as smoothly as possible.
Here's how to make the transition to Costa Rica as a digital nomad seamless and fulfilling:
Check out the visa requirements
Whenever you visit Costa Rica, you need to request a visa. However, to become a digital nomad in our country, you must undergo a different process than the usual tourist visa. Therefore, checking with the website of the Costa Rican embassy about the proper steps is essential.
Once you know all the details, you can get all your paperwork in order, submit your application form, and await a response.
Some of the documentation you need to provide includes:
Original bank statements and a notarized affidavit attesting to the preceding year's consistent monthly income of $3,000 are required. For families, the combined foreign income must be $4,000.
Secure medical coverage worth $50,000 for your stay.
Pay the visa fee to the Banco de Costa Rica.
Make a budget
A well-defined budget is critical for successfully transitioning as a digital nomad in Costa Rica. With visa requirements mandating a stable monthly income of $3,000 or $4,000 for families, aligning your finances with the local cost of living is essential. Consider accommodation, transportation, daily expenses, and any unexpected costs that might pop up during your stay.
Find a place to stay
Something truly unique about our country is that Costa Rica's safe surroundings and breathtaking views make finding the perfect spot to call home a delightful experience. Also, compared to other countries in Central and South America, the cost of accommodations can be a bit cheaper.
While the options are diverse, a few standout locations have captured the hearts of many remote workers, including:
San Jose: The capital city, San José, is known for having a bustling city life, offering a mix of modern amenities and cultural experiences.
Tamarindo: Nestled along the North Pacific Coast, Tamarindo beckons with its vibrant beach scene and lively community.
Puerto Viejo: Positioned on the South Caribbean Coast, Puerto Viejo exudes a laid-back charm, drawing nomads to its reggae rhythms and relaxed pace.
Santa Teresa: Located on the Nicoya Peninsula, Santa Teresa is synonymous with surf and wellness, providing a serene backdrop for both work and play.
Manuel Antonio: Along the central Pacific, Manuel Antonio boasts stunning beaches and lush landscapes, creating a tranquil yet inspiring atmosphere for remote workers. 
Improve your Spanish speaking skills
While it's not mandatory to be fluent in Spanish to relocate to Costa Rica, having some basic knowledge of common phrases can be incredibly useful. The size of the expat community can vary depending on the region you choose to live in.
If you're unfamiliar with the language, you might find yourself in situations where you need to interact with our friendly locals, who may or may not be proficient in English.
Pack the necessary items for the move
Packing smartly when preparing for your transition to life as a digital nomad in Costa Rica is essential. Since Costa Rica's weather is characterized by two distinct seasons, the dry and the rainy, make sure to include appropriate clothing and gear to suit both weather patterns. 
Beyond clothing, also consider the essentials for your work and daily life. Ensure you have all necessary documents, including your passport, visa, and work permit. Additionally, bring your work tools, such as your laptop, iPad, or other devices crucial for your remote work.
Research about health insurance options for digital nomads
Remote workers in Costa Rica are required to have health insurance. Consider a health insurance plan that offers comprehensive coverage for routine and unexpected medical needs. Having the right insurance and knowing your healthcare options will give you peace of mind to enjoy the "Pura Vida" bliss without worry.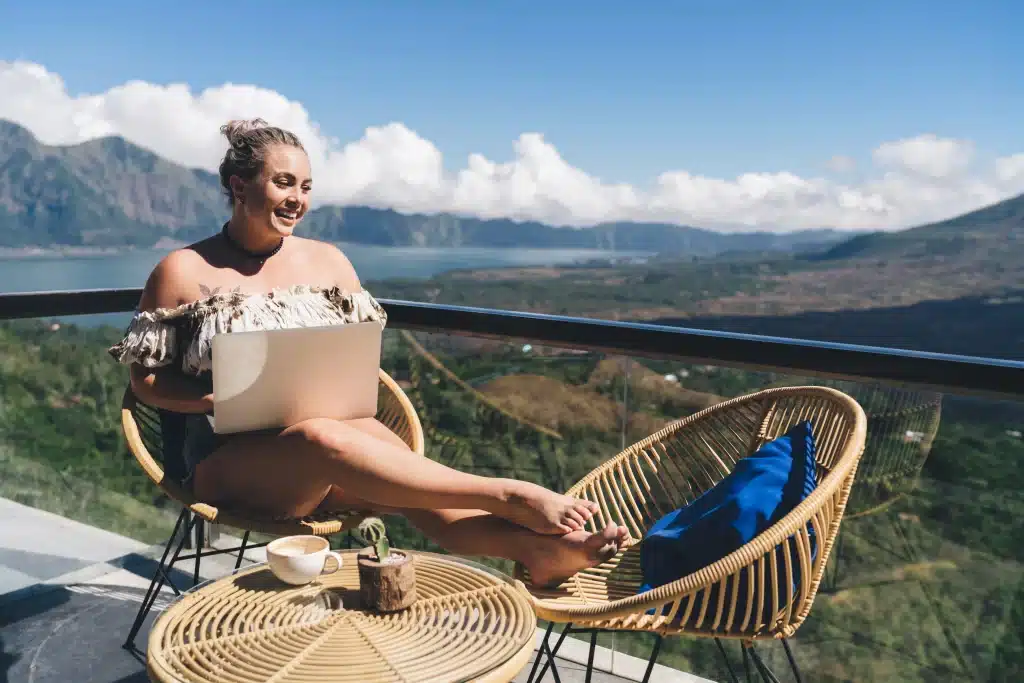 Work Remotely While Traveling Around Costa Rica
With breathtaking rainforests, pristine beaches, and a vibrant local scene, working remotely in Costa Rica is a whole new experience.
Don't miss the chance to explore our country during your stay. Contact Find My Costa Rica to make memories that last a lifetime! We can make your nomadic dreams a reality by curating an unforgettable journey where work and wanderlust seamlessly blend.
FAQ:
Where do digital nomads stay in Costa Rica?
Digital nomads in Costa Rica can choose from many accommodations, including hostels, co-living spaces, guesthouses, and rental apartments.
Do digital nomads pay taxes in Costa Rica?
No, since digital nomads in Costa Rica are not considered regular residents, you're exempt from the formal tax duties typically associated with residency.
How long can digital nomads stay in Costa Rica?
Costa Rica allows digital nomads to stay for a year, and if they spend 180 days in the country during that year, they can apply for an extension.