We're searching for digital nomads looking for the perfect work-play balance! If the thought of a tropical escape while staying productive intrigues you, you've come to the right place.
Your dream of traveling around Costa Rica as a digital nomad is about to come true, and our local guides at Find My Costa Rica are here to guide you every step of the way. Let's get started!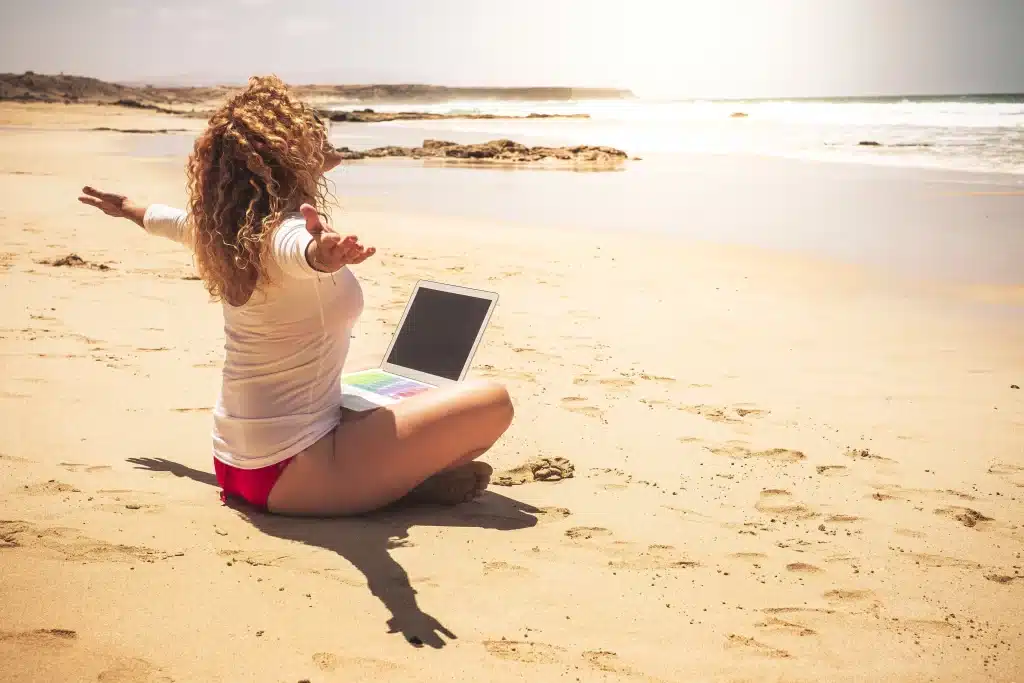 Transportation Tips for Digital Nomads
Ready to hit the road and explore Costa Rica your way? As a digital nomad, exploring this stunning country is an adventure, and we're here to help you.
Here are the most common options to get around Costa Rica:
1. Public buses: cost-effective but time-consuming
If you're a budget-conscious digital nomad, public transportation is your go-to option for getting around Costa Rica. They're a wallet-friendly choice that lets you experience local life up close.
Public buses crisscross the country, connecting even remote areas. While they're a great way to save money, remember that local buses tend to be time-consuming due to frequent stops and routes.
Tips for taking a public bus:
Before you hop on, research routes and schedules to plan your trip carefully.
Keep small denominations of colones handy for fares.
Remember to pack water and snacks for longer rides.
2. City taxis to move easily around the city
Taxis are your swift, door-to-door solution when exploring major cities in Costa Rica. They're excellent options for city escapades, short trips, airport transfers, or when you want to avoid public transportation.
In Costa Rica, you can come across pirate taxis, often found near bus stations, parks, restaurants, or tourist areas. These drivers are not licensed, and taking a ride with them can have numerous disadvantages.
Tips for taking taxis:
Be cautious and look for official taxi drivers with metered cabs.
When riding in official taxis, always ensure that the meter is activated. Costa Rican law mandates that taxi meters be used.
It's advisable to keep smaller denominations of colones on hand to pay for your ride.
Remember that tipping is customary but not obligatory.
3. Rent a car: Freedom of movement with added responsibilities
Renting a car is a fantastic way to explore Costa Rica, allowing you to visit remote areas and picturesque spots at your own pace.
However, additional obligations come with car rentals, such as insurance, navigation, and road conditions.
Tips for rental cars:
To ensure a worry-free trip, research international car rental agencies. Some of the most renowned rental car companies, like Enterprise, Hertz, Economy Car Rental, or Budget, also operate in Costa Rica.
Plan your trip and choose a suitable vehicle.
Consider making reservations in advance.
Familiarize yourself with road signs in Costa Rica.
Always have a GPS or map app with you.
4. Domestic flights: for quick hops between major destinations
Domestic flights in Costa Rica offer fast connections between major destinations, saving you a long road trip.
In Costa Rica, there are three operational domestic airlines: Sansa, Prestige Wings, and Aero Caribe. These airlines are perfect for those who want to maximize their exploration time. They offer direct routes to at least 14 destinations across the country, including Limón, Tortuguero, Drake Bay, Quepos, Nosara, Tamarindo, and La Fortuna.
Tips for flying with local airlines:
Compare prices and book early to get the best deals on domestic flights.
Check baggage allowances: items like surfboards can be considered checked baggage.
Make sure to arrive at the airport with ample time, as some regional airports have unique procedures.
5. Alternative transport: bikes, ferries, and horseback
Seeking unconventional adventures? Costa Rica offers alternative transportation options like bikes, ferries, and horseback riding.
A few ferries crossing the Nicoya Gulf shorten travel between Puntarenas and Paquera and reach remote destinations like Tortuguero. Ferries used along the route vary in structure, size, and passenger capacity, but they accommodate many travelers.
Beach towns and other coastal communities offer bikes, ATVs, golf carts, and scooters for rent, allowing you to move around. Also, you can book some horseback riding tours, like the ones we have crafted at Find My Costa Rica. These tours allow you to explore nature and the natural wonders of these areas.
Tips for ferry travel:
Ensure a spot on the ferry by arriving at the terminal with plenty of time to spare, especially during busy travel seasons.
Be aware of ferry schedules and plan your journey accordingly. Some routes may have limited daily departures.
Consider booking ferry tickets in advance if they are available.
Tips for biking:
Before setting off on a bike adventure, ensure the brakes, gears, and tires are in good working condition.
Always wear a helmet while biking. Additionally, consider wearing bright or reflective clothing to enhance visibility, especially if you'll be riding on roads.
When making stops, use a sturdy lock to secure your bike. Theft can be a concern in some areas.
Tips for horseback riding:
During the tour, follow the instructions and guidance of the experienced guides. They know the terrain and how to handle the horses safely.
Wear comfortable, closed-toe shoes for riding and dress appropriately for the weather.
Sunscreen is also important during outdoor rides.
Where Do Digital Nomads Go in Costa Rica?
The top digital nomad destinations include San Jose, Santa Teresa, Puerto Viejo, Samara, Manuel Antonio, Jacó, and Tamarindo. With these locations, you can meet your remote work needs and indulge your wanderlust at the same time.
However, you can get off the beaten path and explore every corner of this tropical gem if that's what your nomadic spirit craves. How? That's what we're about to talk about!
Accommodation Options for Every Budget
Traveling around Costa Rica can be exhilarating, but it can also leave you tired and longing for a peaceful nook of calm. Your choice of accommodation is not just a place to sleep; it's your retreat, workspace, and home.
Here are some great Costa Rica vacation accommodations:
Hostels and shared accommodations: Networking with fellow nomads
If you're a budget-conscious nomad looking to connect with like-minded travelers, hostels and shared accommodations offer more than just a place to sleep in Costa Rica.
These communal spaces are hubs for networking and sharing experiences. While they often come with dorm-style sleeping arrangements, they provide opportunities to meet fellow digital nomads and create lasting memories.
To ensure a pleasant experience:
Take the time to research hostel reviews
Look for amenities you need for your activities, like shared kitchens and work-friendly spaces.
Pack essentials like earplugs and a lock for your belongings.
Airbnb and vacation rentals: A home away from home
Airbnb and vacation rentals are ideal options if you want to feel at home while traveling. You have many choices, whether you want a cozy apartment or a spacious villa.
When booking, read reviews and ask hosts for recommendations. Pay attention to the property's location, amenities, and additional costs, such as cleaning fees.
Eco-lodges and retreats: Merging work with relaxation
Eco-lodges and retreat centers in Costa Rica offer the perfect blend of relaxation and work. Many eco-friendly accommodations are nestled in lush surroundings, so you can work remotely and unwind after a hard day's work with yoga classes or meditation sessions. You can rely on our local guides to choose a place that aligns with your wellness goals!
Balancing Work and Exploration
An ideal digital nomad lifestyle balances work and exploration. With the help of this section, you'll discover how to maintain a productive work routine while enjoying Costa Rica's natural beauty. Let's take a look!
Setting a work routine while on the move
Do you dream of staying on top of work tasks while enjoying Costa Rica? Building a consistent work routine is the key to success. Establish a routine that keeps you productive and flexible.
Start by identifying your most productive hours, exploring coworking spaces, and investing in tools like noise-canceling headphones. You can work efficiently and fully embrace Costa Rica's adventures with a structured routine.
Weekend getaways and day trips for the busy nomad
Picture yourself exploring Costa Rica and going to exotic rainforests, golden beaches, and charming towns during your downtime. Weekend getaways and day trips can turn your busy schedule into memorable micro-adventures. These mini-adventures allow you to recharge without sacrificing work commitments.
To make the most of your weekends and holidays, research nearby destinations, plan outings, and set aside dedicated downtime.
Even so, unplanned adventures can still occur, so be prepared for spontaneous excursions. Corcovado National Park, Tortuguero National Park, Manuel Antonio, Arenal Volcano, and Lake Arenal are some popular destinations.
Joining digital nomad communities and meetups
As a digital nomad in Costa Rica, building meaningful relationships and expanding your network is essential for personal and professional growth.
The best way to find these opportunities is to join local Costa Rican digital nomad groups and events. Join meetups, workshops, and coworking sessions with an open mind and a willingness to connect.
You will enhance your nomadic experience and create a supportive community that can assist you in succeeding in your remote work endeavors if you foster relationships and expand your network.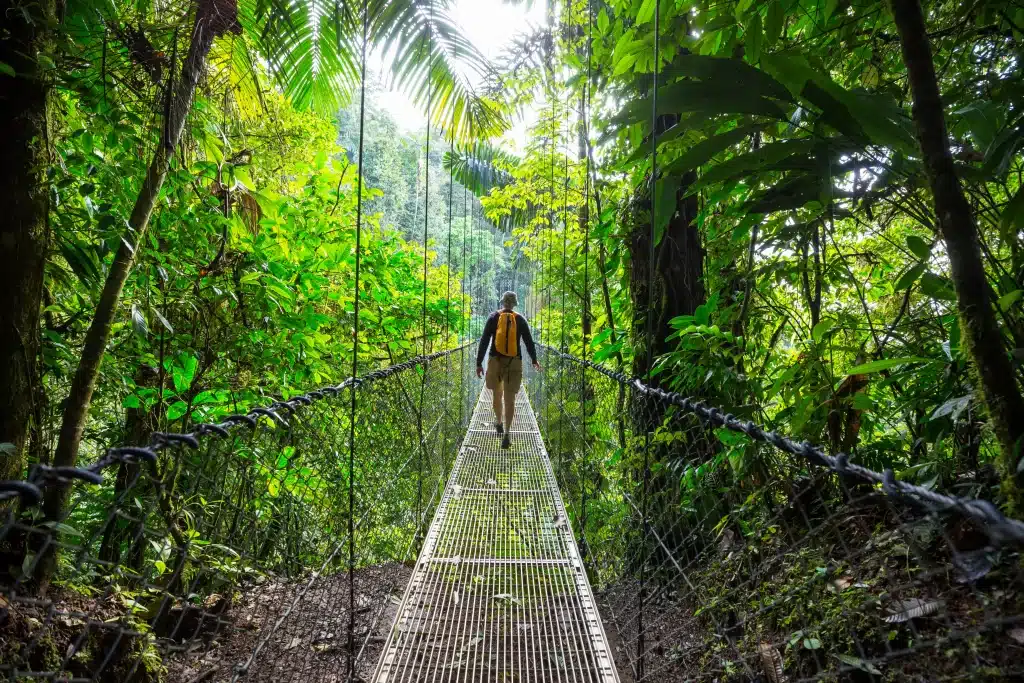 Embrace the Pura Vida Lifestyle as a Digital Nomad
At Find My Costa Rica, we've compiled the ultimate guide to help you enjoy Costa Rica from start to finish while staying connected, productive, and immersed in the Pura Vida lifestyle. Leaving the details to our local expert team will ensure seamless exploration as a digital nomad.
Let us take you to beautiful beach destinations, blooming rainforests, and bustling cities. Contact Find My Costa Rica, and let us help you kickstart your nomadic journey!