Costa Rica is a country full of natural wonders that capture visitors and locals alike. Among these treasures are its waterfalls.
Imagine yourself in a lush jungle, experiencing the cooling mist of cascading water on your skin and listening to its tranquil sounds. In this blog, we'll tell you about six waterfalls you must see in Costa Rica. Let's dive in!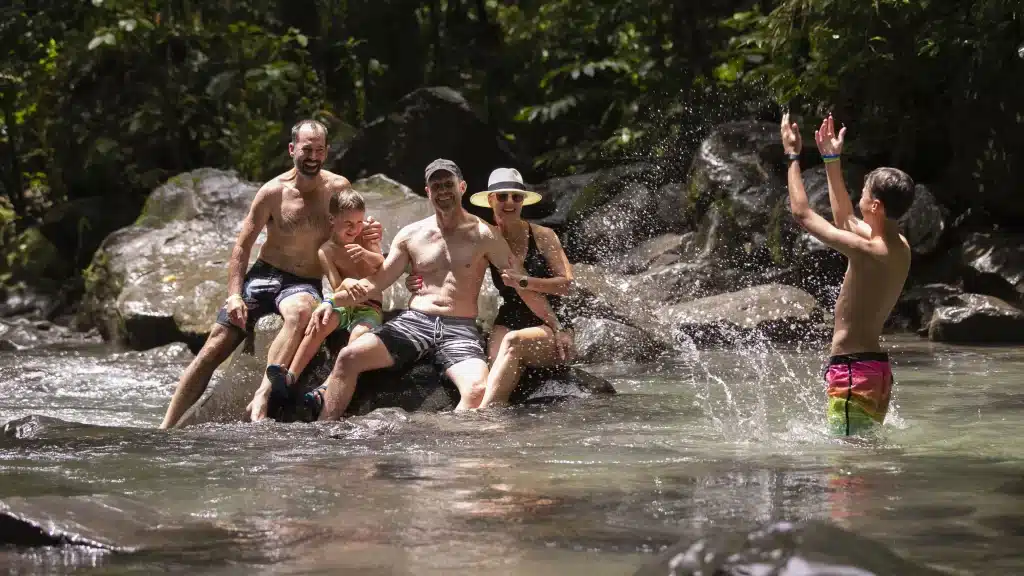 Why is visiting Costa Rica's waterfalls a must?
The answer is quite simple: waterfalls in Costa Rica are more than just a breathtaking view; they're an opportunity to explore, relax, or be part of an exciting adventure! So, visiting waterfalls is the perfect choice if you want to add a special touch to your Costa Rican vacation.
Explore Costa Rica's 6 Must-See Waterfalls
Get ready to discover the magic of Costa Rica's incredible waterfalls, where you can make memories you'll never forget. We've rounded up six stunning waterfalls in Costa Rica that show our country's natural beauty at its best.
#1 Rio Celeste Waterfall
Located in San Carlos, Alajuela, the Rio Celeste Waterfall originates from the merging of two bodies of water that flow from the Tenorio volcano.
This beautiful waterfall in Costa Rica is quite popular for the crystal-clear, light blue color that the name suggests (celeste means light blue in Spanish). The water's color results from a chemical reaction between sulfur and carbonate, which are present due to volcanoes.
Still, despite how amazing it would be, you're not allowed to swim in the natural pool surrounding the waterfall to prevent pollution, but the view is well worth the visit.
The bright side is that, since it's located in the Tenorio Volcano National Park, there are many activities you can take part in, including hiking, taking in incredible views, or relaxing in hot springs.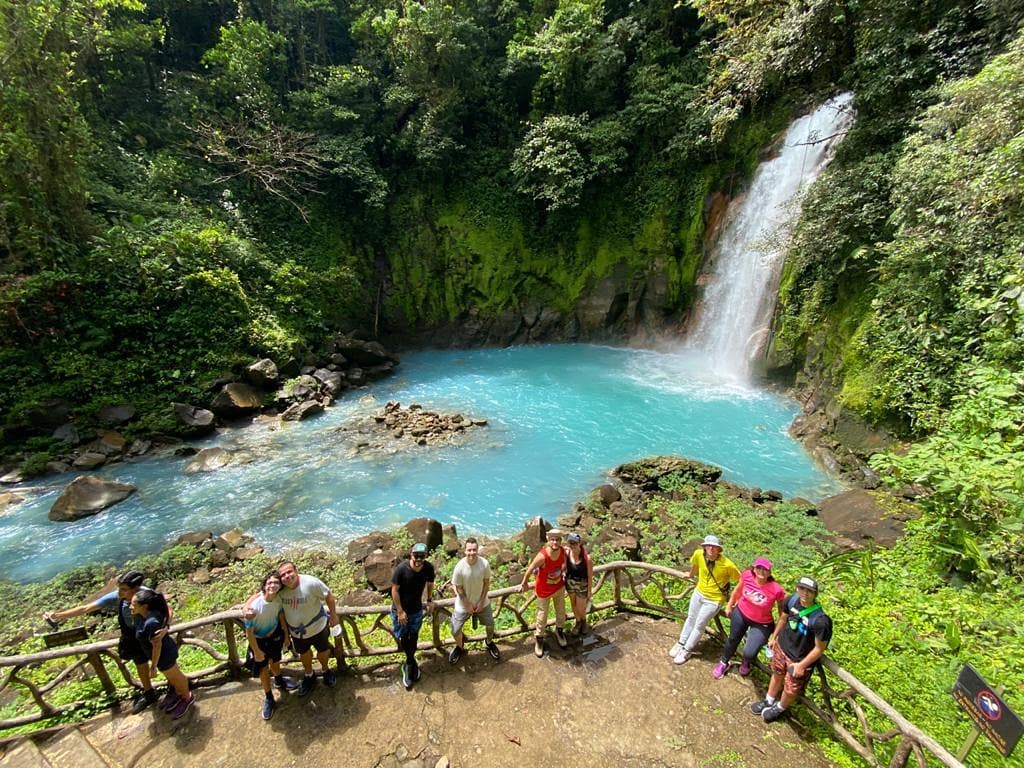 #2 La Fortuna Waterfall
You'll find the impressive La Fortuna Waterfall near the famous Arenal Volcano. These falls drop from a height of 230 feet (70 meters) into a clear pool, creating a beautiful view. It's surrounded by lush greenery, offering a peaceful spot to relax.
Aside from being close to Arenal Volcano, people also love La Fortuna Waterfalls because it's near the Tabacón hot springs and has exciting activities like walking on hanging bridges, going on canopy tours, and hiking near the La Fortuna area.
#3 La Paz Waterfall Gardens 
Spanning 8 kilometers of volcanic terrain, La Paz Waterfalls showcase cascades and natural beauty fed by the La Paz River. This waterfall area has five breathtaking falls amidst lush greenery and mossy rocks.
If you'd like to truly take the time to admire the beauty of these waterfalls, you can stay at the La Paz Waterfall Gardens in Poas. On this private property, you'll find a wildlife refuge, explore the gardens with trails, and spot hummingbirds, butterflies, and orchids. Stroll, take pictures, and enjoy the five lovely waterfalls in this beautiful setting.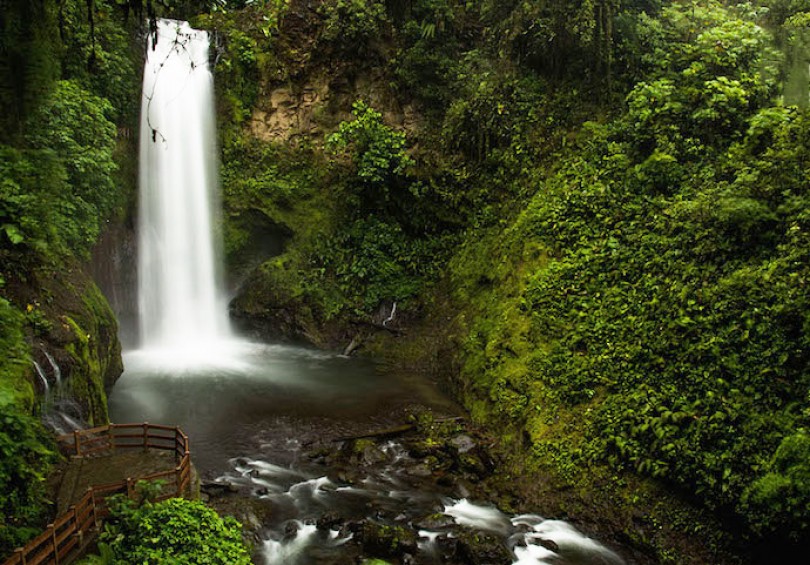 #4 Llanos de Cortez Waterfall
If you are in Guanacaste and want to escape the heat, come and visit the Llanos de Cortez Waterfall in Bagaces, Liberia. The waterfall is near several beaches and has a parking lot.
The road that leads to the waterfall is short but rocky and slippery, so one must be careful. The entrance fee is less than $10, and the place is open to the public from 8 a.m. until 4:30 p.m. If you want adventure and a place to beat Guanacaste's hot weather, grab your swimsuit and come to Llanos de Cortez Waterfall.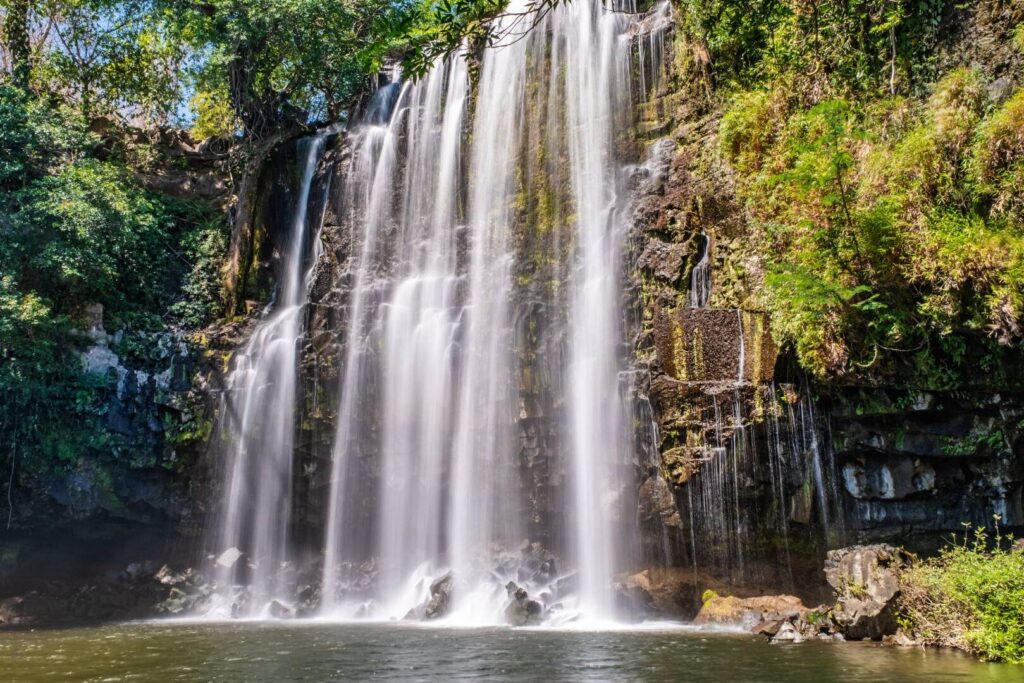 #5 Nauyaca Waterfalls
In Puntarenas, you will find the Nauyaca Waterfalls, two grand waterfalls that are 60 meters high. The hike is of moderate difficulty, and from Monday to Saturday, they offer horseback riding tours to the waterfall.
You will initially reach the small waterfall, which is about 20 meters high and 10 meters wide and is surrounded by a small natural pool (or, as we call them here, pozos).
If you look up and continue hiking, you will reach the 40-meter waterfall. The place is ideal for swimming, jumping, enjoying the view, and even having a picnic.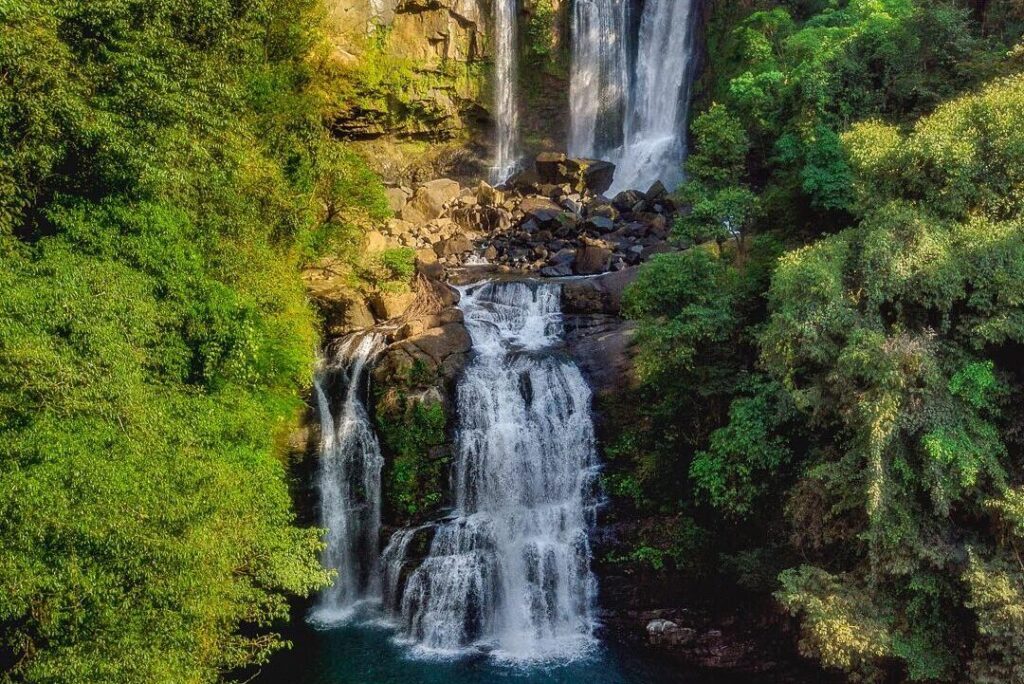 #6 Diamante Waterfall
To say you genuinely know Costa Rica's best waterfalls, you must visit the Diamante waterfall, one of the biggest waterfalls in our country. The waterfall is located in Perez Zeledon and has medium to high-difficulty access with a 2-kilometer walk to its base and steep slopes. You will need comfortable clothes, sneakers, a swimsuit, a towel, and a headlamp to hike up this waterfall.
The area has a parking lot, and despite not being pet-friendly and not having campsites, it has beautiful and fully equipped caves hidden behind the waterfall for those who wish to spend a night or two there. Visitors will be given the option to pay for a morning or a night tour.
The tour begins in a garden with various plants and exotic fruits you can sample. After leaving the park, you will have to walk for about 20 minutes to reach the waterfall, where you will spend the night.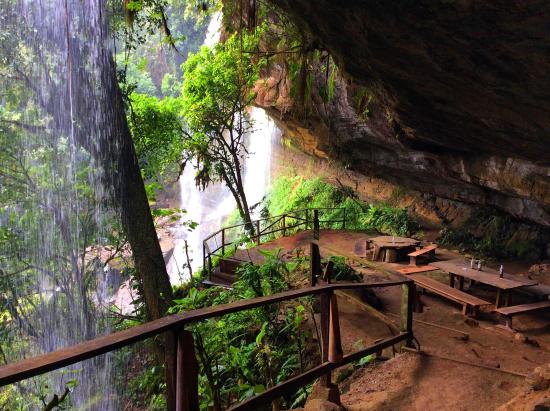 Plan Your Trip to See the Best Waterfalls in Costa Rica!
Costa Rica's waterfalls showcase the country's stunning natural beauty and provide unforgettable experiences for anyone who visits them.
If you're eager to explore more of these captivating wonders, check out our other blogs that delve deeper into the enchanting world of Costa Rica's natural treasures.
You can learn more about other amazing waterfalls in Costa Rica, including the captivating Montezuma Waterfall, the serene Los Chorros Waterfalls, and the beautiful Bajos del Toro Waterfall.
Are Costa Rica's waterfalls calling your name? Contact Find My Costa Rica today and let us help you plan your unforgettable vacation in this paradise.