Discover the Pura Vida enchantment of Costa Rica! In this dynamic country, there are accommodations to fit every budget and need. Whether you're a budget backpacker or a high-end vacationer, your idyllic getaway is waiting for you in this tropical paradise.
Get ready to explore the diverse landscapes, unwind in charming lodges, and embrace eco-friendly hideaways with the help of our local guides at Find My Costa Rica. We're about to tell you the best places to stay in Costa Rica to make your journey unforgettable.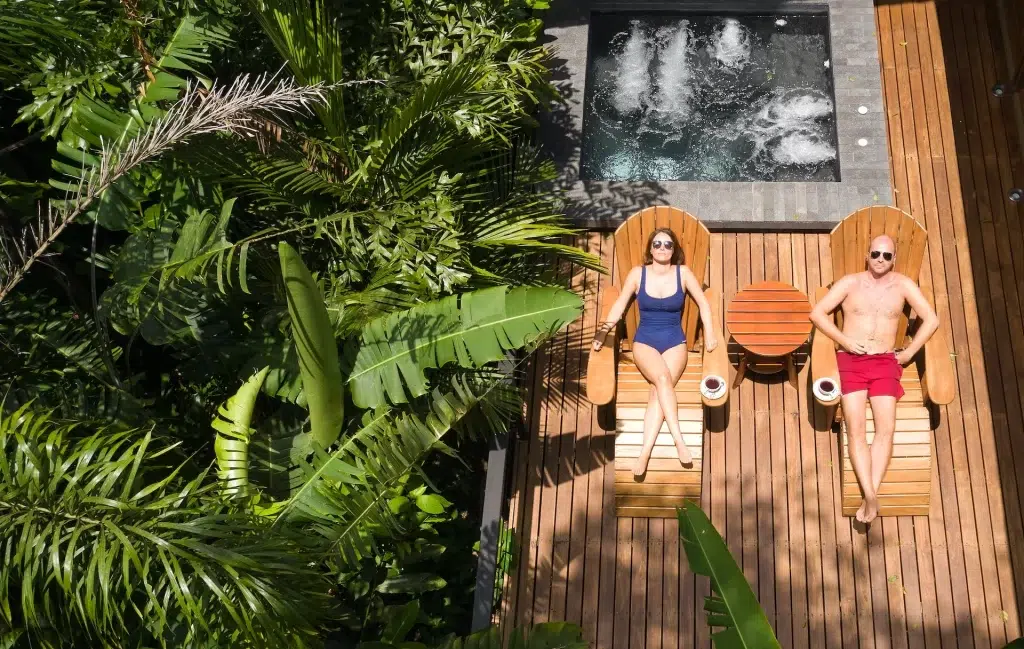 Luxury Stays
Let us help you find the best luxury hotels in Costa Rica, where you can enjoy the best amenities and personalized service while immersing yourself in the rich biodiversity. These exquisite retreats offer a harmonious blend of luxurious comfort and pristine beauty.
Arenal Kioro Suites & Spa, Arenal (La Fortuna)
Whether you're seeking relaxation, adventure, or memorable events, Arenal Kioro Suites & Spa has it all.
With breathtaking views of Arenal Volcano, it offers a unique and tranquil experience in the heart of Costa Rica's rainforest. On 27 acres of lush countryside, this eco-friendly luxury hotel offers thermal water spas, hydromassage hot tubs, and spacious suites.
Additionally, you can enjoy personalized service, complimentary access to hot springs, and award-winning cuisine with outstanding views.
Santarena, Las Catalinas – Guanacaste
Santarena Resort at Las Catalinas is a tropical escape that beautifully captures the essence of "pura vida." This bohemian gem sits on Costa Rica's Pacific Coast, within the beach town complex of Las Catalinas. Conveniently located just 45 minutes from Liberia International Airport. Accessing this vibrant and welcoming oasis is easy, where relaxation and adventure harmoniously coexist.
The hotel's accommodations, featuring king beds, sustainable wood floors, and locally sourced amenities, provide a luxurious retreat for all guests. Also, whether traveling solo, with family, or with friends, Santarena offers many activities, including nature adventures and sea exploration.
Mid-Range
Our selection of mid-range stays in Costa Rica perfectly balances affordability and quality, offering a comfortable and memorable base for your Costa Rican adventures.
Parador Resort & Spa – Manuel Antonio
The Parador Resort & Spa in Manuel Antonio is a tropical haven with Spanish-inspired architecture. This gorgeous resort has a spa, four restaurants, and three pools. The rooms are tastefully decorated, some with ocean or rainforest views.
Wildlife abounds on the resort's 12-acre grounds, including monkeys, sloths, and birds.
Also, it's an excellent base for exploring the area's natural wonders, including guided hikes in Manuel Antonio National Park or kayaking at Biesanz Beach.
Buena Vista del Rincón – Rincón de la Vieja
Buena Vista del Rincon is an amazing destination for nature lovers. Here, you can connect with nature and experience true wellness. In the heart of the primary rainforest, this eco-adventure park allows you to reconnect with yourself and immerse yourself in our country's culture committed to ecotourism.
Located in Guanacaste, Costa Rica, this mountain hotel offers lush vegetation, hot springs, trails, waterfalls, and panoramic views of the pampas and the Pacific Coast. It's an authentic paradise where you can find harmony with nature.
This hotel includes 76 well-equipped rooms that blend seamlessly into the natural environment. You can unwind and find comfort in each hotel room while listening to forest sounds and mountain breezes.
Budget-Friendly
Get a taste of Costa Rica without breaking the bank. Traveling on a budget doesn't mean compromising on comfort or experiences. Take a look at our selection of affordable accommodations that will make your trip unforgettable. 
Hostels and guesthouses
Staying in hostels and guesthouses is one of the best ways to stretch your travel funds. You can find excellent options in the vibrant capital city of San Jose, Costa Rica. These cozy and wallet-friendly accommodations provide affordability and a chance to connect with fellow travelers.
Here are some of the most popular accommodations:
Selina San Jose
Selina San Jose is nestled within Barrio Otoya's historic neighborhood. Its location offers convenient access to the National Museum of Costa Rica, the Spirogyra Butterfly Garden, and the Jade Museum, all within a 10-minute walk. It's also near vibrant farmers' markets, historic art galleries, and Barrio Escalante, a foodie haven.
Costa Rica Backpackers
Since they opened in 2001, Costa Rica Backpackers has offered a personal and independent touch. Located in the city's heart, it's close to bus terminals, vibrant nightlife, and just 30 minutes from the airport, making it the perfect place to start your Costa Rican adventure.
There's a pool, kitchen facilities, hammocks, and a welcoming atmosphere at Costa Rica Backpackers. Here, you'll also find friendly travelers from all over the world sharing stories and experiences.
Hostel del Paseo
Hostel del Paseo is the perfect budget and family-friendly getaway for families. It's only a 15-minute drive from the National Amusement Park and 1 km from downtown San Jose. Plus, you can find a playroom and board games.
With 10 rooms and a continental breakfast, you'll be able to relax and prep with ease for your upcoming family adventure. 
Eco-lodges
Ecotourism is booming in our country. You can find unique eco-lodges along Costa Rica's Caribbean Coast that offer a sustainable way to connect with nature and comfortable accommodations.
Take a look at these stays if you want to make your trip to Costa Rica really special:
Evergreen Lodge
Evergreen Lodge is located just 5 minutes by boat from Tortuguero National Park's main entrance. Only accessible by air and water, this eco-lodge offers 66 comfortable rooms, a pool, an excellent restaurant, a bar, and bilingual tours.
Pachira Lodge
Pachira Lodge is another excellent place to stay near Tortuguero National Park. The Pachira Lodge offers 94 comfortable guest rooms, buffet-style meals, a bar, bilingual tour guides, and daily departures from San José with no minimum passenger requirement.
Mawamba Lodge
Mawamba Lodge is one of Costa Rica's closest gateways to Tortuguero National Park. It's located in the evergreen Tortuguero Canals and National Park. Its laid-back Caribbean style is excellent for people of all ages, whether they're looking for soft boat outings or adventurous kayak tours.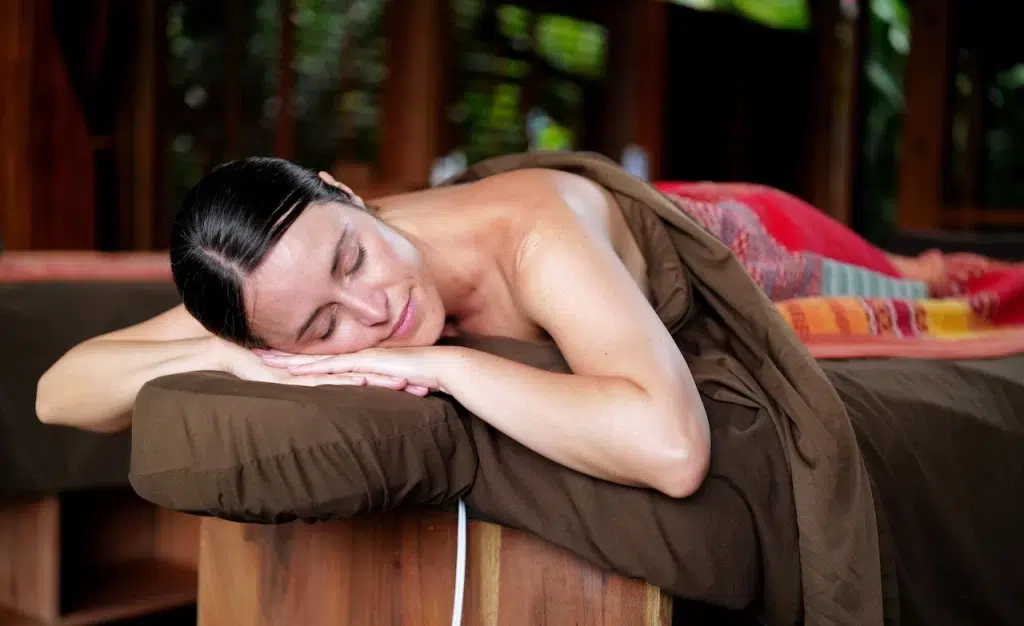 Ready to Enjoy Your Own Costa Rica Experience?
Pack your bags and get ready to discover paradise! Whether you're drawn to explore Arenal Volcano National Park, Monteverde Cloud Forest Reserve, Tortuguero, Puerto Viejo, San Jose, Drake Bay, Quepos, or any other place in our country, you'll find plenty of accommodations to suit your needs.
Contact Find My Costa Rica today, and let our local guides craft your perfect adventure!
FAQ
1. What part of Costa Rica is best to stay in?
Costa Rica offers diverse regions to stay in, allowing you to choose based on your interests. Still, popular choices include Arenal Volcano National Park for adventure, Guanacaste for beaches, and Monteverde Cloud Forest Reserve for mountains.
2. How do I decide where to go in Costa Rica?
First of all, consider your interests. Are you looking to explore beaches, rainforests, adventure, or wildlife? Research each region's attractions and choose the one that aligns with your preferences. You can also consult our local guides for the best recommendations.