Are you planning your next vacation? Adding Costa Rica to your bucket list is a must! You'll love Costa Rica's lush rainforest, amazing beaches, and tropical bliss. There are also tons of fun things to do in our county, like zip-lining, whitewater rafting, hiking, scuba diving, snorkeling, surfing, bird watching, and more.
With the help of our local guides at Find My Costa Rica, we can help you discover the best places to visit in Costa Rica based on the adventure you're looking for. Let's not waste any more valuable time and get right to it!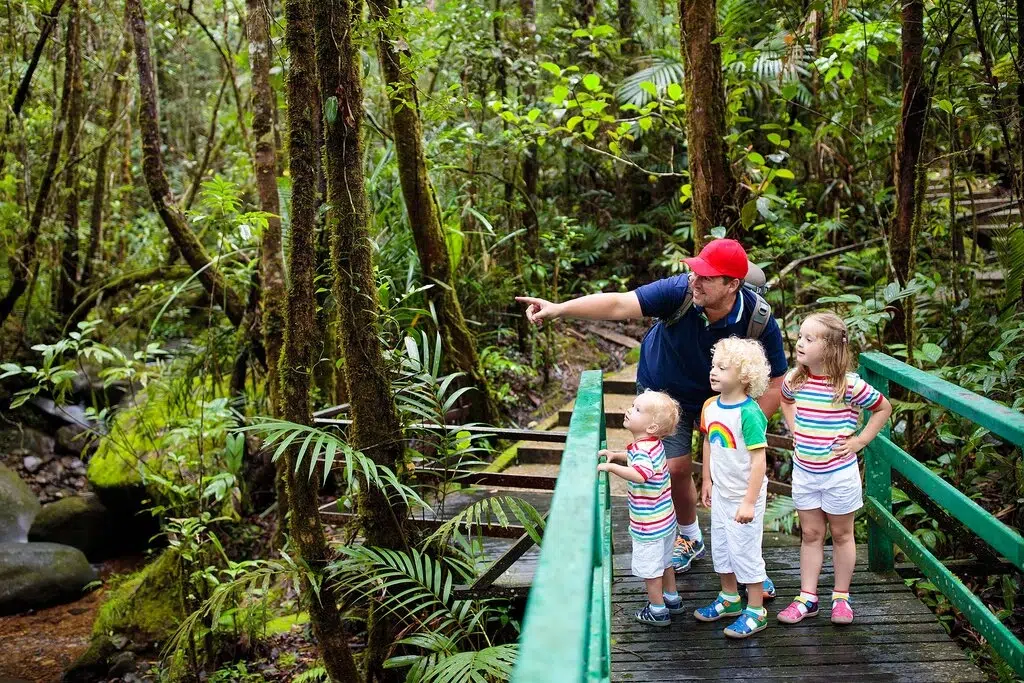 For Adventure
Costa Rica is the perfect place for adventure enthusiasts. Here, every corner invites you to push yourself. Would you like to go on a trip that will challenge you? Check out Costa Rica's top action-packed spots!
La Fortuna
La Fortuna is located in northern Costa Rica. While Arenal Volcano National Park is the main attraction in the area, it's also known for its stunning wildlife, natural hot springs, and stunning views of the Arenal Volcano.
To fully experience everything that this area has to offer, we recommend the following tours:
Live an unforgettable adventure in La Fortuna! This tour lets you walk across hanging bridges, cool off at La Fortuna Waterfall, savor a delicious lunch at Arenal Vida Campesina, and hike a volcano. And if that's not enough, you can unwind in the naturally flowing Ecotermales Hot Springs!
Walk through cacao plantations, learn about bean-to-bar chocolate-making, and savor delicious chocolate treats. You'll then explore the enchanting rainforests to see gentle and slow-moving sloths. Here, you'll learn about their unique behaviors and conservation efforts dedicated to preserving their home.
Walk through a lush rainforest canopy on hanging bridges and take in the views from above. You'll see wild boars, vipers, tarantulas, poisonous dart frogs, toucans, sloths, and monkeys along the way.
The next stop is La Fortuna waterfall. Take a refreshing dip before going on a culinary journey in Dona Mara's kitchen. On her open-air terrace, you'll taste authentic local specialties and learn to make tortillas from scratch.
View additional tours on our website under La Fortuna. 
Monteverde
Monteverde is in Costa Rica's Puntarenas province, in the northwest part of the country. It's located along the Cordillera de Tilarán between Puntarenas and Alajuela. With over 2,500 plant species, Monteverde is truly a paradise.
Try these tours to see the unique landscapes and live the experiences this location has to offer:
Fly between the canyons, glide above the trees, and enjoy breathtaking views on Sky Trek Ziplines. Or hop on the Sky Tram Aerial Tramway for a more relaxing ride. Whatever you choose, you'll have stunning views of Monteverde from above.
Experience the charm of the Costa Rican countryside. An experienced cowboy will lead you around a 120-acre farm after you meet your horse and receive some basic riding instructions. On this ride, you'll see breathtaking scenery, plants, and, with luck, birds and small wildlife.
Take a hike through Monteverde Cloud Forest Biological Reserve, a global biodiversity, conservation, and scientific research icon. You'll spend two hours trekking through 3,500 hectares with a knowledgeable guide. You'll experience one of the world's most renowned private reserves in the heart of nature.
Don't miss out on learning more about our exciting tours at Monteverde.    
Rincon de la Vieja
Rincon de la Vieja is a paradise untouched by time on Costa Rica's Pacific Coast. In addition to its legend, Rincon de la Vieja is, without a doubt, filled with natural wonders. You can hike nature trails, explore waterfalls, and see wildlife.
Discover the magic behind Rincon de la Vieja with the following tour:
Trek through one of Costa Rica's best hiking destinations, where you'll see plenty of wildlife, breathtaking views, and natural spectacles like bubbling mud pools and fumaroles. Afterwards, we'll take you to Liberia City for lunch and shopping.
In the area, you can also test your limits on a zip line and enjoy panoramic views of the surrounding scenery while flying through the trees. Rappel down towering cliffs or navigate canyons on a canyoning adventure. Don't forget to partake in horseback riding, mountain biking, or take an ATV tour. Browse our website under Rincon de la Vieja to see everything we offer.
For Nature and Wildlife
Costa Rica is one of the best destinations for nature and wildlife enthusiasts. Explore these destinations to see wildlife up close while learning about their habitat. 
Osa Peninsula
The Osa Peninsula is in Costa Rica's South Pacific and is part of the Puntarenas province. It's one of the most beautiful and remote places in Costa Rica and Central America. Among its popular tourist destinations are Corcovado National Park, Drake Bay, Isla del Caño, and Finca 6.
Here are some of the things you can do to get a taste of everything Osa Peninsula has to offer:
Visit Corcovado National Park

: With lush rainforests, stunning beaches, and exotic wildlife like monkeys, jaguars, and macaws, this park has one of the most diverse ecosystems in the world.

Explore Puerto Jimenez Mangrove Estuary

: Explore this stunning mangrove forest and discover the unique ecosystem that thrives here. It's filled with birds, reptiles, and marine life, including crocodiles and sea turtles.

Experience the Osa Wildlife Sanctuary

: This rescue center takes in orphaned and injured animals, including monkeys, sloths, and toucans. Take a guided tour and learn about the center's conservation efforts while getting close to some cute animals.
Manuel Antonio National Park
Manuel Antonio is one of the most popular Costa Rican destinations. Its diverse ecosystem makes it the perfect place for nature and wildlife lovers. Plus, its beautiful beaches offer the perfect setting for a relaxing getaway.
Here are some tours that can help you experience Manuel Antonio to the fullest:
This unique tour combines nature exploration with thrilling activities in one unforgettable half-day trip. We'll start in Matapalo, a serene coastal town south of Manuel Antonio, and then head to Quepos, where you can see pristine rivers and waterfalls.
With four different activities, including a tour of waterfalls, paddleboarding, ocean kayaking and snorkeling, and surfing, this tour will be the highlight of your Costa Rican getaway!
This tour departs from Manuel Antonio and heads south along the coast through the Dominical, Matapalo, and Uvita beaches. As you cruise through the warm Central Pacific waters, you'll see magnificent pilot and humpback whales and their adorable offspring.
If the conditions allow it, you can jump off the boat for a refreshing swim or snorkel.
This catamaran adventure begins along the scenic coast of Manuel Antonio National Park. Watch for dolphins and the chance to spot whales and sea turtles. We'll stop at a picturesque jungle bay where you can swim or snorkel. All snorkel gear is provided – bring a towel and a bathing suit. Onboard, we'll serve snacks and juice.
Visit our website under the Manuel Antonio tab to see more tours. 
Tortuguero
Located along Costa Rica's Caribbean Coast, Tortuguero is a tiny town. It's one of the best places to see turtles in the country. Apart from nesting sea turtles, the pristine beaches, canals, and mangrove forests also serve as a nursery and refuge for numerous marine species.
Here are some of the ways to explore this charming town:
Visit Tortuguero National Park at night:

During turtle season, you can take a night tour, usually between 8 p.m. and midnight, to see these mighty creatures navigating their way back to the sea. With expert guides, you can also see turtles lay their eggs.

Take a Boat and Canoe Tour:

Take a boat ride or canoe tour through Tortuguero's canals and discover its thriving ecosystem.

Hike to Cerro Tortuguero:

Cerro Tortuguero is the highest hill in an area of flat land. It has a stunning view of canals, tropical rainforests, lagoons, and the Caribbean Sea from Tortuguero Hill.
Explore our website under the Tortuguero tab to discover more adventures.
For Beach, Sun, & Surf
Costa Rica's sandy shores and blue waters are perfect for soaking up the sun. And, with our list of coastal towns, you'll find the perfect blend of relaxing and thrilling experiences on Costa Rica's beautiful beaches.
The Nicoya Peninsula
Costa Rica's Nicoya Peninsula beaches offer something for everyone, including surf hotspots and palm-lined shores. Here's your chance to explore these gorgeous spots in this coastal Costa Rican paradise:
Playa Tamarindo:

The waves at Tamarindo are legendary. You can learn how to surf at plenty of local surf schools. If you're an experienced surfer, Tamarindo Beach has some of Costa Rica's best surf breaks.

Avellana Beach:

There are several fishing villages along Avellanas' coast, where you can charter a boat or go fishing with locals who know where to find the best fish.

Samara Beach:

You can go swimming, surfing, scuba diving, or snorkeling. Also, you can practice kayaking, take a boat ride, or even visit Izquierda Beach, a secluded beach with a natural swimming pool.
The Caribbean Coast
Puerto Viejo de Talamanca is located on Costa Rica's southern Caribbean Coast. With turquoise water, pristine sand, and lush vegetation, it's one of the most famous places in the country. 
Here, you'll find calm waters for swimming or perfect waves for surfing. You'll also love these beach destinations in Puerto Viejo:
Playa Puerto Viejo:

One of Costa Rica's best surf spots for experienced surfers.

Punta Uva Beach:

A picture-perfect tropical paradise. 

Playa Chiquita:

A secluded beach perfect for snorkeling and swimming.

Playa Negra:

A must-visit dark sand beach that contrasts sharply with the turquoise waters of the Caribbean Sea.
Las Catalinas – Guanacaste
Las Catalinas is a beautiful beach town located on the shores of the Pacific Ocean in the Guanacaste Province of Costa Rica. The beaches around here are known for their crystalline waters and exceptional beauty. Playa Penca, Prieta, Azucar, Playa Danta, and Playa Dantita are some of the most popular.
Here, you can take part in the following activities:
Traveling on a catamaran tou

r: Set sail on a catamaran tour, a perfect way to explore the coastal beauty of Costa Rica, taste delicious food, work on your tan, and ultimately, have fun!

Snorkeling

: Snorkel in the crystal-clear waters, immersing yourself in the breathtaking marine biodiversity of this pristine destination.

Fishing

: Las Catalinas is renowned for its fishing. Several boats are available for hire. You can fish from the beach or rent a boat.
See more activities on our website under Las Catalinas.
For Culture & Traditions
Costa Rica is a culturally rich country. When you visit Costa Rica, you can't miss experiencing the Pura Vida lifestyle firsthand. The following places offer an authentic blend of adventure and culture that will leave you with memories of a lifetime.
San José
Costa Rica's capital and largest city, San Jose, is home to more than 2 million people. You'll find dense greenery and vibrant city life among the streets and modern buildings.
Discover San Jose's beauty with this tour:
This tour starts with a scenic drive through Sabana Park. Then, we'll explore Costa Rica's unique museums and walk through the National Theater, a masterpiece of art and architecture. You'll also see the University of Costa Rica, the Supreme Court, and other city landmarks. Lastly, we'll stop to shop for exquisite art and crafts.
The Central Valley
The Central Valley is an enchanting region. Here, you can discover the true essence of Costa Rican life. To explore some of the most popular tourist destinations in the area, we recommend this tour:
Discover Costa Rica's coffee heritage and natural beauty. On this tour, you'll explore a real coffee plantation, hike to Poas Volcano's stunning Botos Lagoon, and wander through the lush rainforests of La Paz Waterfall Gardens.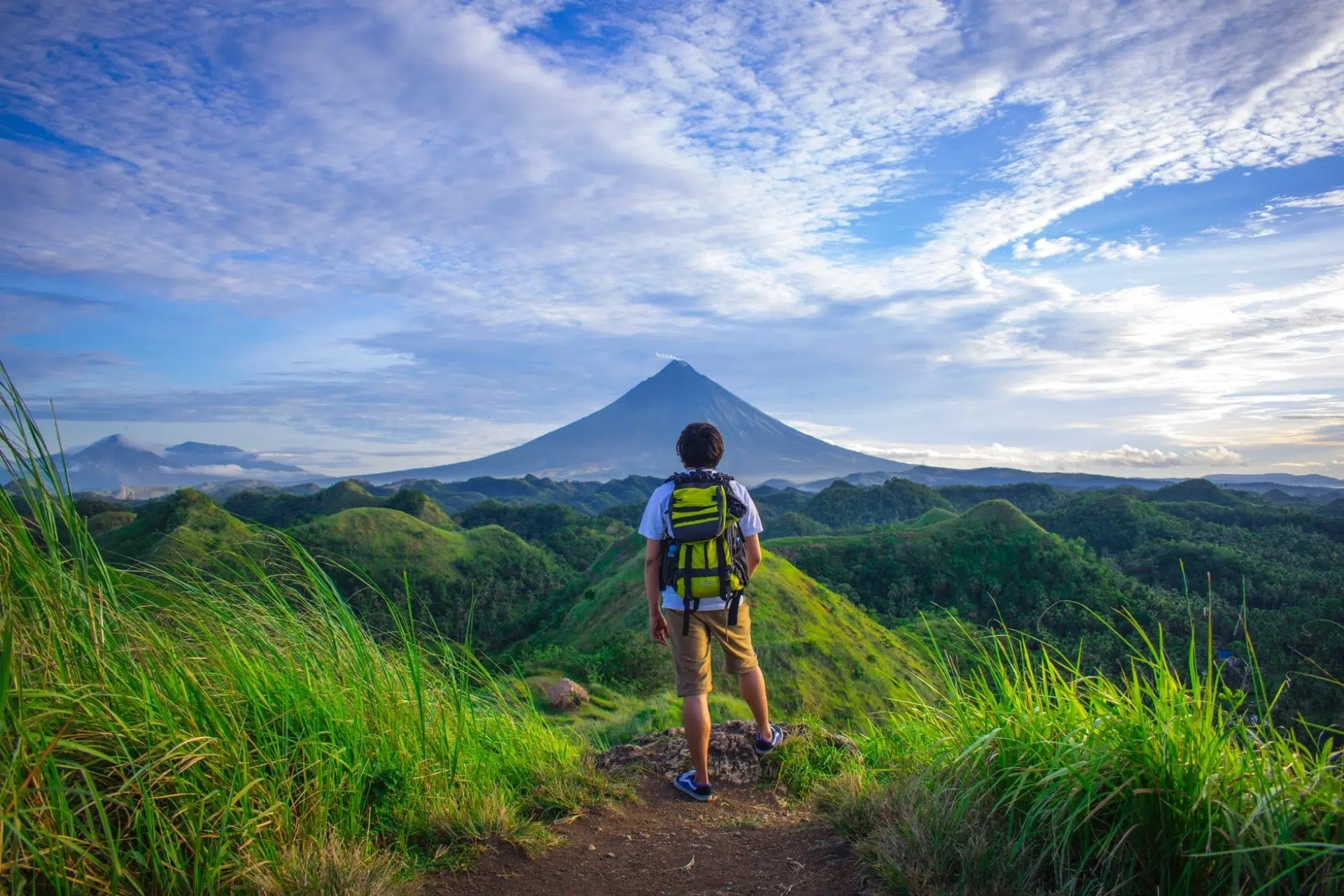 Explore Costa Rica's Wonders with Find My Costa Rica
Take a trip beyond the ordinary and discover Costa Rica! Whether you want to spot green sea turtles, explore hiking trails, visit active volcanoes, marvel at incredible wildlife, explore surf towns, or experience the unique cloud forests, we're your go-to guides.
As local guides, we love Costa Rica and are committed to making your experience unforgettable. Contact Find My Costa Rica today to plan your adventure!