Visiting Costa Rica in September gives you a complete feel for the country's tropical climate. With occasional rain showers, sunny days, and temperatures ranging from 70°F to 80°F (21°C to 27°C), this month offers charm and abundant opportunities to view Costa Rica's vibrant biodiversity.
Along with comfortable exploring conditions, you can also benefit from the lack of tourists. This gives you a more intimate and authentic interaction with Costa Rica's natural wonders. If you want to ensure your visit is an enjoyable experience, keep reading to know what to expect from the weather this month.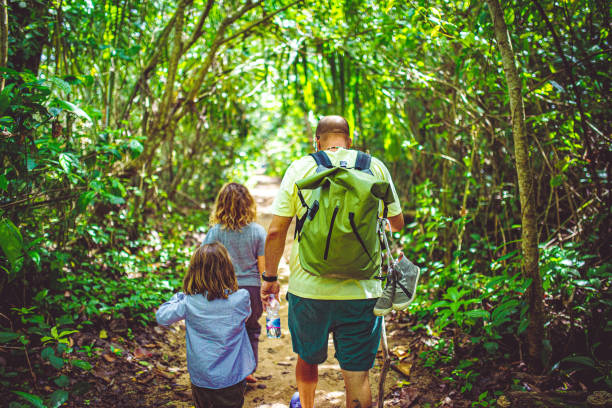 Costa Rica Weather in September
Costa Rica only has two seasons, the dry and rainy seasons. September falls within the rainy season, which runs from May to November. As a result of the rain showers, Costa Rica is bursting with lush vegetation this month.
The rainy season is also called the "green season." Why the color green? Due to the vivid green landscapes that offer scenic views of the area's natural beauty.
The weather conditions by region
When you visit Costa Rica in September, you'll find varying conditions across the country. The Pacific Coast and the Central Valley offer a mix of climates that differ from those of the dry season. While on the Caribbean Coast, you'll find more sunshine.
Here's a breakdown of the September weather in our country:
Pacific Coast
Weather: Rainy
Temperature: 81.5 °F (27.5 °C)
Low: 74 °F (23.1 °C)
High: 89 °F (31.9 °C)
Central Valley
Weather: Rainy
Temperature: 73 °F (22.8 °C)
Low: 65 °F (18.5 °C)
High: 81 °F (27 °C)
Caribbean Coast
Weather: Mostly sunny days
Temperature: 80.3 °F (26.8 °C)
Low: 73 °F (23 °C)
High: 87 °F (30.6 °C)
The Best Places to Visit in September
Costa Rica, with its diverse landscapes and vibrant culture, attracts visitors every month of the year. September, however, offers a distinct charm that sets the stage for unforgettable explorations.
Here are our picks for the top September destinations to enjoy lush rainforests, serene beaches, and captivating cultural celebrations.
San Jose
There's something uniquely inviting about Costa Rica's capital, San Jose. With a population of over 2 million, this Central Valley gem is humming with activity. Because of the significant rain each year, the weather is usually mild and warm.
When September rolls around, San Jose shines even brighter. On September 14th, Costa Rican Independence Day, the city celebrates vibrantly. Streets come alive with handmade lanterns, casting a warm glow of national pride as the national anthem resonates through the night.
Arenal Volcano
Arenal Volcano National Park is a paradise of outdoor activities for locals and tourists alike. Arenal Volcano takes center stage, a towering and symmetrical sight that once held the title of Costa Rica's most active volcano until 2010.
Located in La Fortuna, you can enjoy many activities in the area. Since September is a slower month for tourism, you can escape the crowds. Explore the serene beauty of Lake Arenal, Costa Rica's largest lake; visit La Fortuna waterfall; and don't miss the renowned Tabacón Hot Springs, an oasis of pure relaxation.
Manuel Antonio
Manuel Antonio is one of the most popular destinations in the country. It teems with wildlife such as monkeys, sloths, and over 1,000 bird species. Also, the Manuel Antonio coast has many pristine beaches, like Escondido, Manuel Antonio, and Playa Espadilla Sur, suitable for relaxation.
You can also go on guided tours to see rainforest biodiversity. Trails wind through the lush rainforest, ranging from strolls to challenging hikes. In September, you can explore this area's serene landscape with fewer crowds, making it an excellent time to visit.
Cabo Matapalo
Nestled in the heart of the Osa Peninsula, Cabo Matapalo glimmers with pristine beaches, lush jungles, and vibrant wildlife.
Central America's finest surf breaks, with year-round waves and warm waters, are here. Also, Playa Matapalo's rugged terrain is suitable for hiking and horseback riding.
Moreover, you can indulge in snorkeling and scuba diving tours to see the area's underwater wonders. You can also visit the towering King Louis Waterfall, which promises an unforgettable experience. Matapalo boasts year-round beautiful weather, and September is no exception.
Puerto Viejo
Puerto Viejo de Talamanca is a lovely coastal town on Costa Rica's Caribbean Coast. You can relax on its golden sands, explore local shops and restaurants, and feel the chill Caribbean vibe.
Various cultures live here, including Afro-Caribbean, Bri Bri Indigenous, Ticos, Americans, and Europeans, making it a culturally diverse location.
Visiting Puerto Viejo in September is brilliant because it's one of the warmest months. It can be the ideal time to enjoy the heat and have an enjoyable time by the beach.
Tortuguero National Park
September is a great time to see Tortuguero National Park's incredible wildlife. Turtle nesting season is still underway for Green, Leatherback, and Hawksbill sea turtles.
Still, Tortuguero has more than just sea turtles to offer. Take a boat trip through its natural canals for an iconic rainforest experience.
On these tours, you might see monkeys, caimans, turtles, birds, frogs, snakes, and other animals. Jaguars and tapirs are common, but spotting them is a lucky treat.
How crowded are tourist attractions in Costa Rica in September?
In September, most Central American countries celebrate Independence Day. In Costa Rica, this celebration can lead to increased gatherings in popular areas like San Jose. One example is the vibrant 'faroles' (lanterns) tradition on September 14th.
Tourist attractions in Costa Rica are generally less crowded during September compared to the high season, so it's a good time to visit. Additionally, you'll get low season prices on accommodations and tours during this time of the year.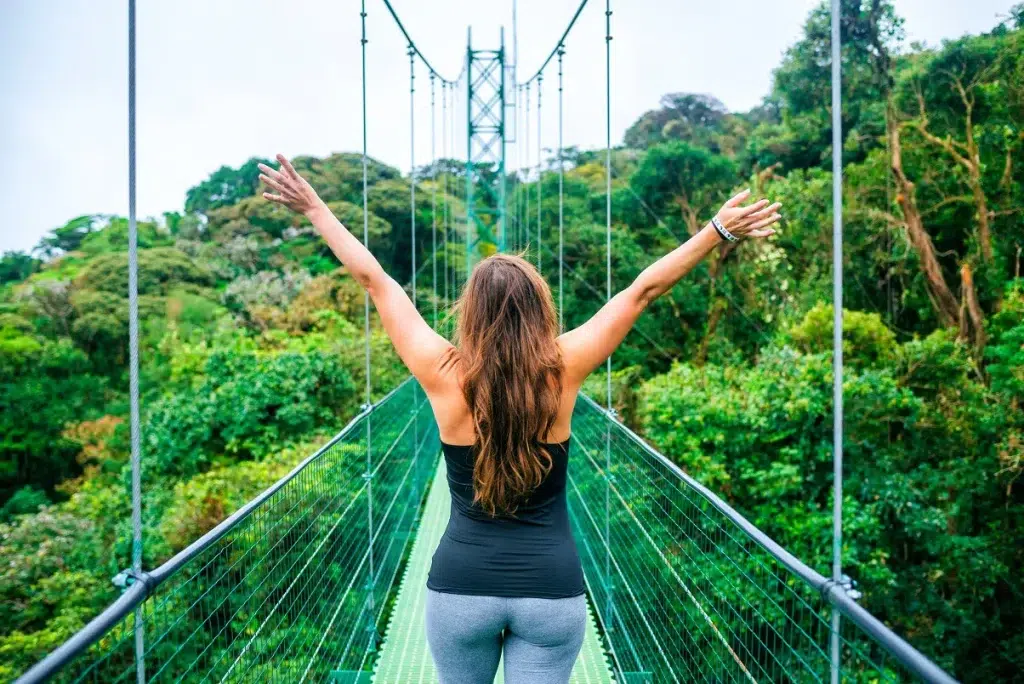 Packing Tips for September in Costa Rica
Considering the distinct dry and rainy seasons, which significantly impact weather patterns, it is helpful to be prepared for unexpected weather conditions when planning your trip. Packing strategically can make all the difference in ensuring a comfortable and enjoyable adventure.
Here are some practical packing tips tailored to Costa Rica's unique September climate:
Layer up: With changing weather patterns, it's a good idea to bring lightweight, breathable clothing that you can readily add or remove based on temperature variations.
Rain gear: Be prepared for occasional rain showers. Pack a compact, waterproof rain jacket or a small umbrella to stay dry when the rain falls.
Quick-dry clothing: Consider packing quick-drying fabrics for both clothing and swimwear. These materials are ideal for staying comfortable after unexpected rain showers or water activities.
Comfortable footwear: Wear comfortable, sturdy shoes for light hikes and city walks. Closed-toe sandals or lightweight hiking shoes are suitable choices.
Insect repellent: September still carries some rainy season humidity, so pack insect repellent to keep pesky bugs at bay, especially in rainforest areas.
Sun protection: While rain might appear, the sun is intense. Pack sunscreen and sunglasses to protect yourself.
By following these practical tips, you'll be well-prepared for whatever adventures come your way. Ready to plan your unforgettable trip? Reach out to Find My Costa Rica, and let us assist you in creating an unforgettable journey!
FAQ:
Is Costa Rica rainy in September?
Yes, September in Costa Rica is part of the rainy season. Therefore, expect occasional rain showers.
Is it hurricane season in Costa Rica in September?
No, September is not hurricane season in Costa Rica. The country's location in Central America experiences fewer hurricanes than other regions.