With countless natural resources, there are numerous reasons why visitors might decide to explore Costa Rica. If you love a good cup of coffee or enjoy its aroma, visiting coffee plantations in Costa Rica can be a dream come true.
Coffee plantations in Costa Rica have become a benchmark and a point of pride for the country. So the real question is, why wouldn't you visit a Costa Rican coffee plantation? Let's explore together why you should include this on your bucket list!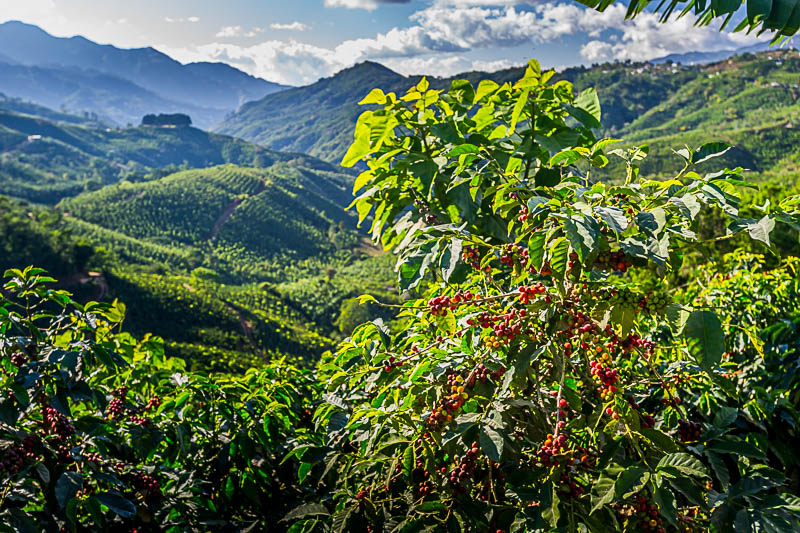 About Costa Rica Coffee Plantations
Within its more than 50,000 km2, we have eight regions where coffee is produced: Tarrazú, Tres Ríos, Turrialba, Central Valley, Western Valley, Brunca, Orosi, and Guanacaste.
These coffee harvests have become a draw for wildlife and coffee enthusiasts, with guided excursions available throughout the country. The best coffee plantations are located in the Central Valley, a place known for its natural grandeur, and in Guanacaste, known for being one of the provinces that preserve and protect the native culture of Costa Rica.
Why is Costa Rican coffee so good?
Costa Rican coffee is good because coffee beans have the proper conditions to grow well thanks to its high altitudes, fertile volcanic soil, diverse microclimates, and steady rainfall.
Also, since Costa Rican coffee represents less than 1% of world production, the industry decided to focus on quality to produce specialty coffees and make them a standard.
Therefore, our country has a strong commitment to cultivating high-quality beans. This commitment has been reinforced by a 1989 law that encourages Costa Rican farmers to produce only 100% Arabica coffee beans. This law also prohibits the planting of low-quality beans. Which ultimately guarantees the best quality coffee beans.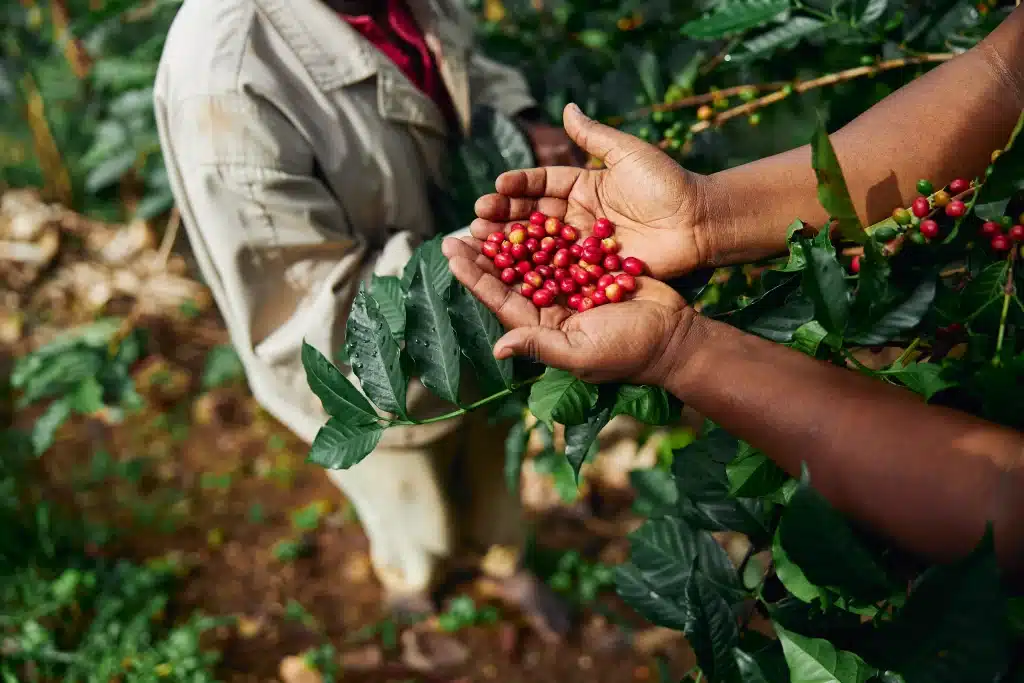 From Crop to Cup, These Are the Types of Coffees Cultivated in Costa Rica
For almost two centuries, coffee was the primary source of family income and national currencies. Nowadays, it is recognized as a world standard for gourmet coffee quality.
In addition to cultivating quality coffee in Costa Rica, we also handle the milling and roasting processes, ensuring a high standard in every aspect of the production.
Some of the most renowned species of coffee we produce include:
Costa Rican Organic Coffee
Costa Rica Organic Coffee is known for its commitment to sustainability. This coffee is grown without synthetic fertilizers or pesticides.
Organic farming methods prioritize the ecosystem, resulting in a harmonious cup with floral and fruity notes, making it a guilt-free and flavorful choice for conscientious coffee lovers.
Costa Rican Light Roast Coffee
Costa Rican Light Roast Coffee has a nuanced and captivating flavor. It's roasted to perfection at a lower temperature, highlighting the bean's intrinsic qualities with bright acidity. Due to its light body, subtle floral undertones shine through, creating a refreshing and vibrant cup.
Costa Rican Dark Roast Coffee
Costa Rica Dark Roast Coffee is bold and enticing for those who like more robust, intense coffee flavors. This coffee is roasted longer, giving it a deep, full-bodied flavor with dark chocolate and nut notes.
Costa Rican Black Honey
Costa Rican Black Honey Coffee is among the most unique and sought-after varieties. When the coffee cherries are processed, their skins are removed, but the sticky mucilage is left on. The final cup has a delicious sweetness and tropical fruit essence with an exceptionally smooth taste.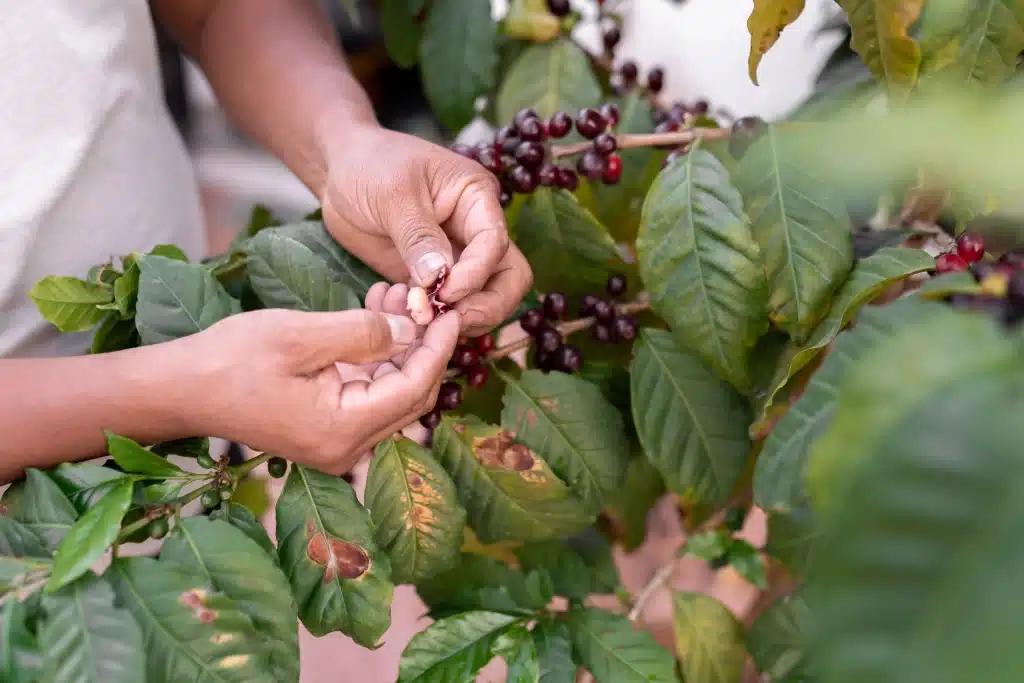 Top 5 Reasons to Visit Costa Rica's Coffee Plantations
If you're visiting a new country, it's always fun to learn about its culture, history, and what makes it unique so you can better understand what you're seeing.
If you're in Costa Rica, you must visit a coffee plantation to understand the culture and the people. Whether they take it in the morning or during an afternoon break to get through the day, coffee plays a huge role in Costa Ricans' lives.
Here are the five top reasons to go on a Costa Rican coffee tour:
Spectacular landscapes: As most coffee plantations are located in the mountains of Costa Rica due to their favorable climate conditions, you can enjoy picturesque landscapes and serene locations that provide a picture-perfect setting for your visit.
Aromas and tasting: Experience guided tastings of exquisite coffee blends while inhaling the enticing scent of freshly roasted coffee beans.
Hands-on experience: Most tours provide hands-on activities. You can see and participate in the coffee harvesting or processing activities firsthand, gaining a deeper appreciation for the labor-intensive craft.
Cultural immersion: Meet the farmers and learn about their way of life, traditions, and why coffee is important to them.
Rich coffee heritage: You'll learn about Costa Rica's longstanding history and traditional coffee cultivation as you explore the country's rich coffee heritage.
Discover Costa Rica's Coffee Plantations!
There are many excellent opportunities to explore a coffee plantation in Costa Rica! At Find My Costa Rica, we have hand-picked some of the most popular and thrilling destinations. Immerse yourself in Costa Rican coffee's rich aromas and flavors while enjoying breathtaking landscapes and learning about the art of coffee production.
Here are some of our best coffee tours:
Golden Bean Coffee Tour
Don Juan Coffee.
Doka Estate Coffee Tour
Don't miss out on this unique and enriching experience! Visit our blog to learn more about these remarkable tours, or contact Find My Costa Rica's local guides now to plan your extraordinary coffee adventure in Costa Rica!
FAQ
Where is the best coffee grown in Costa Rica?
The best coffee in Costa Rica is primarily grown in the regions of Tarrazú, Tres Ríos, and Dota.
Is Costa Rican coffee the best in the world?
Costa Rican coffee is highly regarded and considered among the best in the world, especially for its exceptional, high-quality Arabica beans.
What is Costa Rican coffee known for?
Costa Rica is renowned for producing premium Arabica coffee beans known for their bright acidity, full body, and complex flavors.
Is Costa Rican coffee a light or dark roast?
Costa Rican coffee is typically light to medium roasted, which helps preserve the beans' unique flavors and characteristics.