Costa Rican cuisine is simple but exquisite. Every meal offers a broad array of sensory pleasures thanks to a magnificent combination of Latin and Caribbean influences.
Costa Rican food tastes so fresh and healthy to Costa Ricans and visitors, and that's because it is! The cuisine in Costa Rica is not overly spicy and is typically made with ingredients that have never met the inside of a can.
When in Costa Rica, you simply must try some of the local cuisines. A typical Costa Rican meal combines the cozy warmth of home cooking with the flavorful spiciness of Latin ingredients.
Home-style cooking in Costa Rica is another distinctive aspect of the cuisine. Each meal would appear to have been prepared just for you by your beloved grandmother. Here is when you discover the authentic "Pura Vida" food style: warm and delicious.
The Costa Rican Cuisine
When visiting Costa Rica, eat as Costa Ricans eat. Some traditional Costa Rican dishes are easier to find because they are part of everyday meals. However, others are less common or more specific to certain regions.
The main staples of traditional Costa Rican food are rice, beans, vegetables, and fruits. Meats like pork and beef are the most commonly eaten, but chicken and fish dishes are also widely available, especially on the Caribbean coast.
If you are planning a trip to Costa Rica soon and don't want to miss out on its cuisine, keep reading to learn about the traditional foods you MUST try for breakfast, lunch, and dinner, as well as delicious snacks.
Are you ready to eat "tico" style? Let's explore traditional flavors and foods!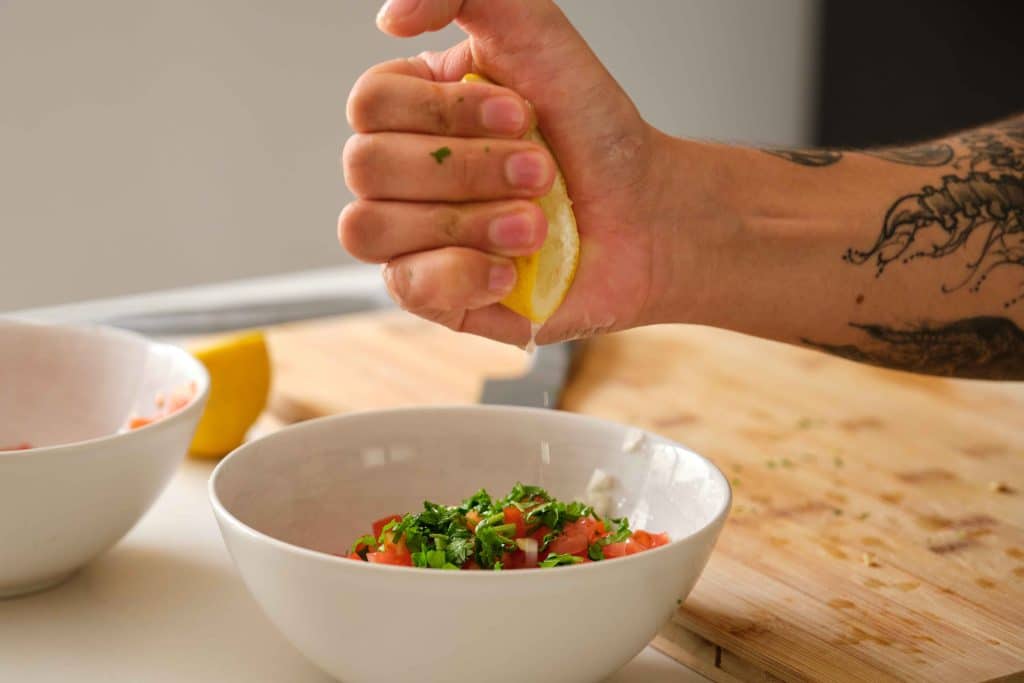 What Is a Typical Breakfast in Costa Rica?
Gallo Pinto
Their traditional breakfast, Gallo Pinto, makes every morning special in Costa Rica. It's a straightforward dish with white rice and black or red beans, sauteed in oil with diced onions, sweet peppers, and cilantro.
This well-liked Costa Rican dish is typically served with eggs, fried plantains, ham, sausage, or natilla (a sort of sour cream). Check to see if any fresh avocados are available; adding them would result in an explosion of flavors and make the meal an authentic "breakfast of champions."
On the Caribbean coast, you can find a kind of Gallo pinto prepared with coconut oils, which is called "rice and beans." It is regularly served with chicken (pollo) and is a mouthwatering explosion of Caribbean flavor.
You must also accompany your Gallo pinto with the popular "Café chorreado" with your Costa Rican breakfast. This technique gets its name from the common extraction tool known as a chorreador, which is equivalent to the word dripper in Spanish. After doing this, you'll notice that the coffee is smoother and richer in flavor.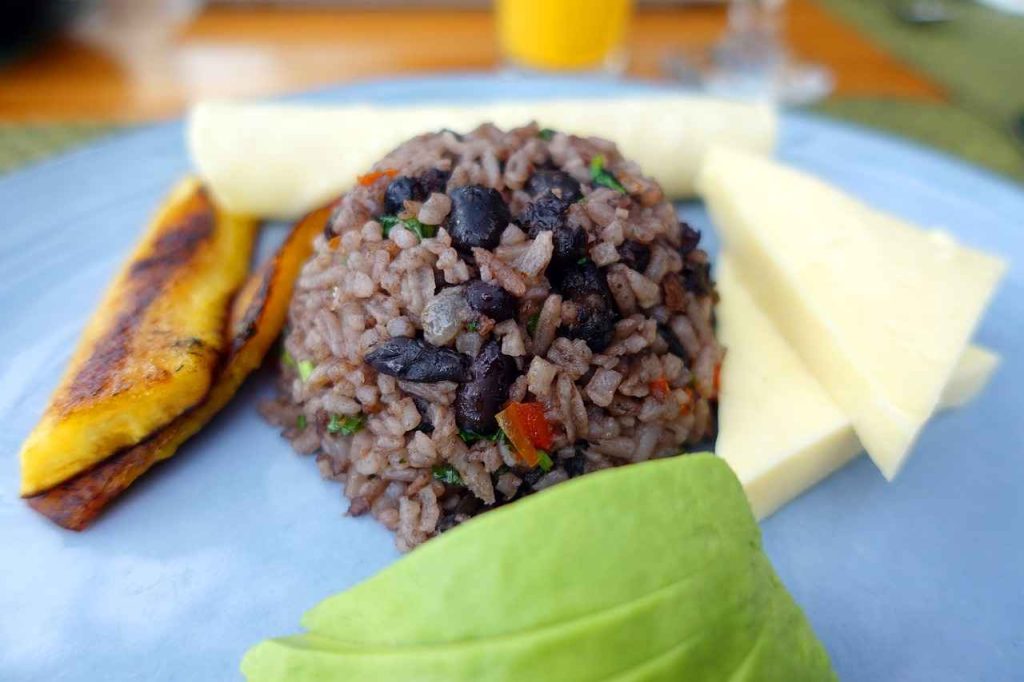 Chorreadas
Chorreadas are a staple in Costa Rican traditional restaurants and Sodas (a small local restaurant). Served for breakfast or as a snack, it is a pancake made from corn that can be either sweet or savory. The ingredients include sweet corn, sugar, flour, eggs, butter, milk, and vanilla.
The sweet version may be topped with honey or syrup, and the savory variation often includes a dollop of sour cream-like natilla on top.
Traditional Costa Rican Lunch
Casado
The Casado, which translates to "married man," is a classic Costa Rican lunch plate offered in every Soda. It comes with a portion of white rice, beans, the meat of your choice (fish, chicken, pork, or beef), vegetables, fried plantains, and a salad.
Although each Soda will prepare its Casado slightly differently, depending on the region and the season, they might also include fresh cheese or pieces of avocado. But one thing is certain: They're a delectable lunch fit for hungry tourists or hard-working Costa Ricans.
Arroz con pollo
Another popular Costa Rican food for lunch and sometimes dinner is Arroz con Pollo (rice with chicken). It is made with rice, diced carrots, green beans, sweet peppers, onions, garlic, and shredded chicken. Additionally, it frequently includes French fries and a side salad.
Arroz con Camarones (rice with shrimp) or Arroz con Calamares (rice with squid) are filling variations in every Costa Rica restaurant. This dish may have a few ingredients but a ton of flavor.
Pescado Entero
Pescado entero is another traditional food in Costa Rica found in Pacific and Caribbean Coast restaurants. This dish is typically served with grilled fresh fish, such as red snapper, vegetables or salad, fried plantains, and various potato side dishes.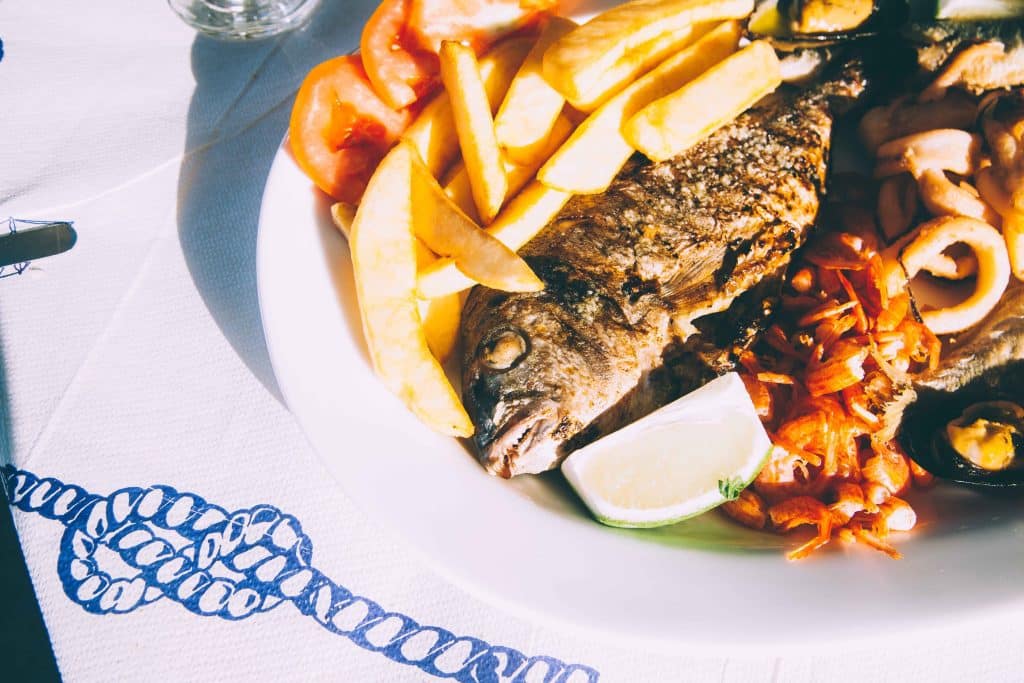 Olla de Carne
This is a typical meal that Costa Ricans make every weekend and can also get in traditional restaurants. The ingredients in this slow-cooked stew are both healthy and delicious. Various vegetables, including chayote, corn, carrot, potato, green beans, sweet potato, and yuca, are combined with beef jerky or ribs to make this stew.
Olla de Carne often comes with a serving of white rice and a mixture of herbs and spices. You can ask the server to replace this with tortillas.
Sopa Negra
Black beans are the main ingredient of Sopa Negra, or black bean soup, a traditional Costa Rican dish cooked with cilantro, sweet pepper, and onion. Typically served with two hard-boiled eggs, a cup of rice, and a side of corn tortillas.
You can enjoy this meal in traditional restaurants, but you will enjoy it more in provinces that have lower temperatures, like the Central Valley. Sopa Negra will be a warming dish for the soul.
What Is a Typical Dinner in Costa Rica?
There is no specific meal for dinner in Costa Rica; rather, it is typical for Costa Ricans to eat something similar to their lunch. Nevertheless, the following options could work as a dinner meal:
Patacones
Patacones are an excellent choice if you like to eat a bit of dinner. This dish is incredibly common in restaurants, bars, and Sodas all around Costa Rica. In simple words, patacones are green plantains sliced thickly, crushed to a pulp, and deep-fried.
This delicious Costa Rican food is often served with black beans and shredded cheese or guacamole. They are better when served fresh from the stove and combined with a delicious drink.
Carnitas
Meat lovers will be in heaven with carnitas because of the flavor and texture. Another well-liked dish in Costa Rica consists of chopped pieces of beef or pork cooked at a low temperature. Carnitas is often eaten with tortillas and served on a stick with veggies and some spices. You can find this meal in almost every traditional restaurant.
What Is a Typical Snack in Costa Rica?
Empanadas
This is a popular Costa Rican bite that you can find in small restaurants and is sold by small vendors. It can be enjoyed on the go for breakfast or an afternoon snack.
Empanadas are mostly made of corn flour and filled with cheese, mashed beans, pork, or chicken. They are frequently cooked in oil to create a crispy exterior.
Ceviche
One of locals' favorite snacks for a hot day is the Costa Rican Ceviche, a seafood salad marinated in citrus juice, spices, and peppers. Most restaurant menus provide various seafood options, such as fish, shrimp, or mixed seafood, which are delectable.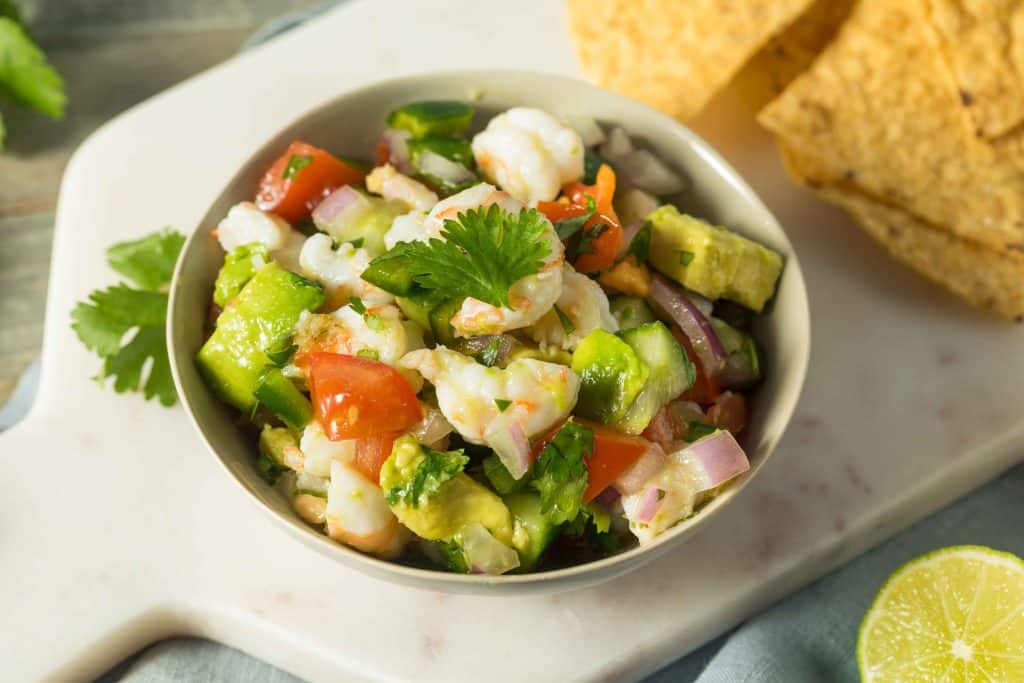 Traditional Foods You Have to Try in Costa Rica
Chifrijo
This famous and authentic Costa Rican dish (which is different from Gallo pinto) gets its name from the combination of its two specific components: fried pork rinds (chicharron) and beans (frijoles). It is presented in a bowl with a layer of rice and side servings of garnishes such as tortilla chips, avocado, and Pico de Gallo (which is a mix of tomatoes, chopped onion, and coriander).
Chifrijo is a common bar food, but you can also find it in Sodas and restaurants, especially near the capital of San José, where it was first created. This dish is ideal if you're only a bit hungry and don't want to commit to something larger.
Tamales
You can find Costa Rican tamales all over Central America, but they vary from region to region and even from home. Tamales are a traditional food in Costa Rica that are produced from a combination of cornmeal, meat, and veggies. After that, all the components are wrapped in plantain leaves and steam-cooked. This is a traditional meal for Christmas, but it's also standard on the menu.
Tres leches
You can find this dessert in many Central American countries, and it has become part of Costa Rican tradition. Tres Leche combines evaporated milk, sweetened condensed milk, and heavy cream; then, it is topped with whipped cream and sometimes fruit. In a few words, it is luscious and indulgent.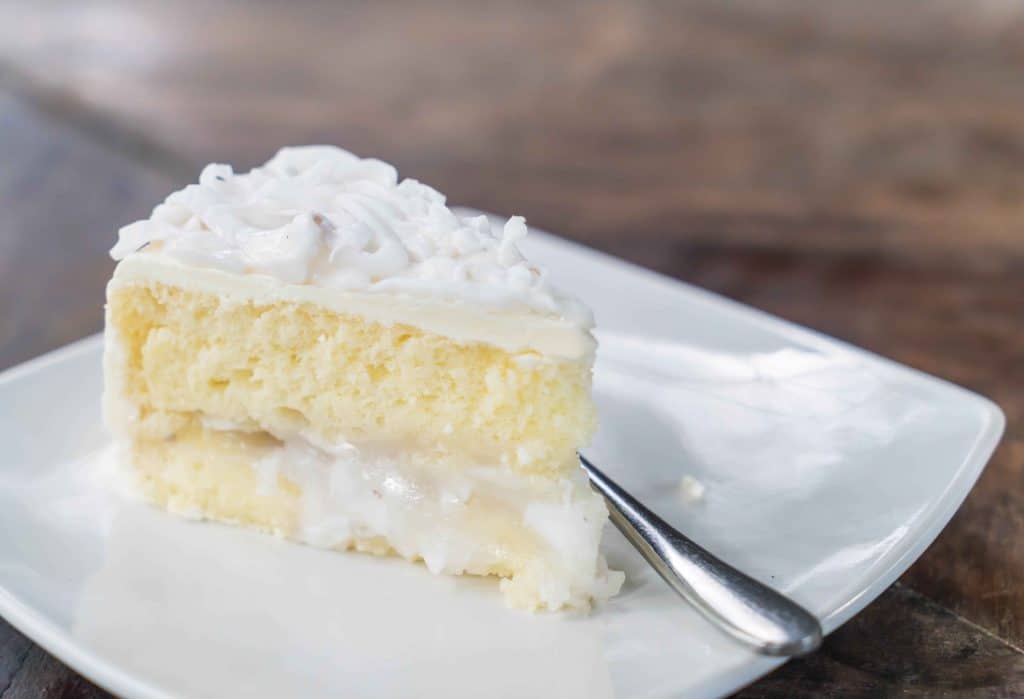 Rondon
When heading to the Caribbean in Costa Rica, you NEED to try Rondon, a typical dish of the region. It is a soup with fish, root vegetables, legumes, green plantains, and spices. Rondon is also prepared with coconut milk, which makes it even tastier. You can accompany this meal with rice, patacones, or corn tortillas.
Plan the Perfect Trip to Costa Rica!
There you have it! We hope you have the opportunity to sample Gallo pinto and some of Costa Rica's culinary specialties when you travel to the green pearl of Central America.
There's more to Costa Rican food than creatively covering up beans and rice (Gallo pinto), though. Nearly everyone finds a new favorite tropical fruit here; the "rich coast" pseudonym is justified by the quality of the seafood, and there are a variety of delicious Tico specialties and regional cuisines to sample.
Don't hesitate to contact us so we can show you the true flavor of the real "Pura Vida" because one of the best ways to truly understand a country's culture is by eating what they eat.
FAQ:
What is Costa Rica's national meal?
Gallo Pinto is considered the Costa Rican national meal, which you will find in every soda and restaurant for breakfast, lunch, or dinner. Locals call it pinto. Besides being made with rice and beans, this dish contains nutrients that provide energy.
What is the most popular food and drink in Costa Rica?
Casado is the most popular Costa Rican food, and you will find it in different variants, like chicken or pork. The popular drink in Costa Rica is coffee, and we recommend you drink it the "Chorreado" way; it is a unique style worldwide.
Can you eat fruits in Costa Rica?
Since Costa Rica is a tropical country, you will find many fruit options in different shapes and sizes here. Some may look a bit weird, but they are worth trying. You should try some tropical fruits: Maracuya (Passion Fruit), Mamon Chino, Mangoes, Watermelon, Jocote, and Pitahaya, just to mention a few.
What is the cost of food in Costa Rica?
The cost of meals depends on where and what you choose to eat. Prices can vary significantly, and you should know whether the sales and service taxes are included in the meal.
A simple meal like Casado at a Soda will likely cost $5 per person. Regardless, a main course in a restaurant with a buzzing atmosphere in a tourist destination will likely cost between $10 and $20.
A beer will likely cost $2.50 for a local mass-produced beer (e.g., Imperial) and $5 for a craft beer.
Is there street food in Costa Rica?
Like in every country, you will find street food in Costa Rica. If you want a real local dining experience, head to Soda, a traditional and budget-friendly Costa Rican restaurant. After a snack or smaller meal, visit the local cantinas; here, you can find patacones and chifrijo.
What is the traditional Christmas Costa Rican food?
Tamales are the TOP traditional Christmas food you must try if you visit the country during the holidays. This particular meal is covered in plantain leaves; its main protein can be chicken, pork, or beef. Other meal options include Christmas cake, grapes and apples, and roast pork.
Can you drink tap water in Costa Rica?
Short answer: yes. Tap water is safe to drink in most areas of the country. Compared to many other parts of the world, drinking water in Costa Rica is not a big concern.
Is tipping acceptable in Costa Rica?
It's people's choice; you can leave a little extra for the server depending on the service received—anywhere from an additional 5–10%. Don't forget you will be charged a 10% service distributed between the server, kitchen, hostess, etc.
What is the largest meal of the day in Costa Rica?
Breakfast is a substantial meal in Costa Rica, consisting primarily of Gallo pinto, eggs, and, of course, delicious coffee. But Costa Ricans think of lunch as the most important meal of the day, and experienced travelers know that lunch specials are often tasty. Gallo Pinto and Casado will be the highlight options.
Is Costa Rican food healthy?
Yes! Costa Rican food is healthy thanks to the ingredients that come from the land. Meats, fresh vegetables, and herbs are the backbone of Costa Rican cuisine, which is known for its high nutritional quality. Everything that you choose will be fresh and tasty.